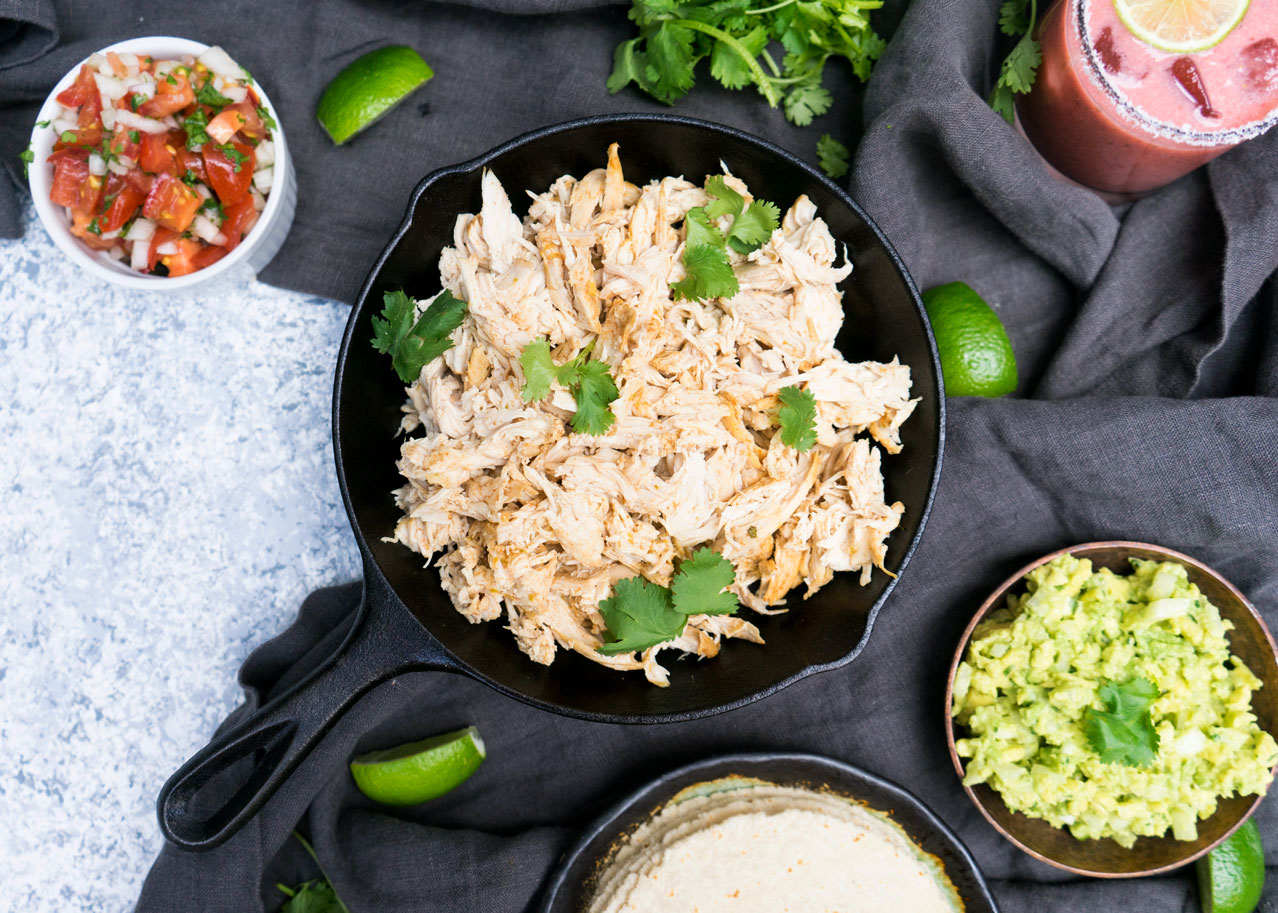 Avocado-Lime Chicken Tacos are a MUST in the Summer months.
It's finally starting to heat up people!! Instead of jumping on the grill tongs first (which we also suggest you do soon), how about creating your own taco bar for your next party? It's easy, its fun and there is something for everyone! Your guests can mix and match between the Lamb Barbacoa Tacos & these Pulled Avocado Lime Chicken Tacos! Plus, who doesn't love all those sides, we're talking guacamole, corn salsa, tomatillo, sour cream or greek yogurt & allllll the cilantro (coriander!)!!
These tacos also pair perfectly with a Margarita like this one or they can be perfectly finished off with some pops like these! The taco marinade is so so good, it smells amazing and gives the chicken such a delicious juicy and tangy lime flavor with a hint of spice!
I love all taco's equally 🌮
Well, I should preface that with, I love all HOMEMADE taco's equally! One of the reasons is that I just love the ease of picking up a taco and how everyone can be involved. Allen always says that taco nights at home were so much fun. Each family member could make their tacos differently so that they were perfect for each individual. His dad would try out crazy flavor combinations and he would follow suit! Sounds perfect to me!
Let us know your favorite Taco night memory below! 💚
Pulled Avocado Lime Chicken Tacos
2017-05-05 12:04:24
Ingredients
4 small-medium chicken breasts
homemade or store bought tortilla wraps
Guacamole
Salsa
Sour cream or Chipotle Lime crema
For the Marinade
⅓ cup avocado oil
juice & zest of 2 limes
2 tsp. coconut sugar
1 tsp. cumin
1 tsp. cayenne pepper
1 tsp. garlic powder
2 tsp. pink Himalayan salt
Instructions
Mix all marinade ingredients together and place the rinsed dry chicken breasts in a bowl or Ziploc bag and pour over marinade
Cover and place in the fridge for at least 30 minutes or as long (within reason! A few hours/overnight) as you like!
Pre-heat your oven to 400 F when you are ready to cook your chicken
Bake for 25-30 minutes dependent on the size of your chicken breasts. Check the internal temp reaches 165 F.
Remove from the oven and let cool a little before pulling – use forks or claws to pull the chicken into strips.
Get your extras ready, tortilla wraps, guac, salsa, cheese, sour cream and cilantro!
Make your tacos or taco bar and enjoy!!
IVGreenhouse - Exploring Food http://www.ivgreenhouse.com/