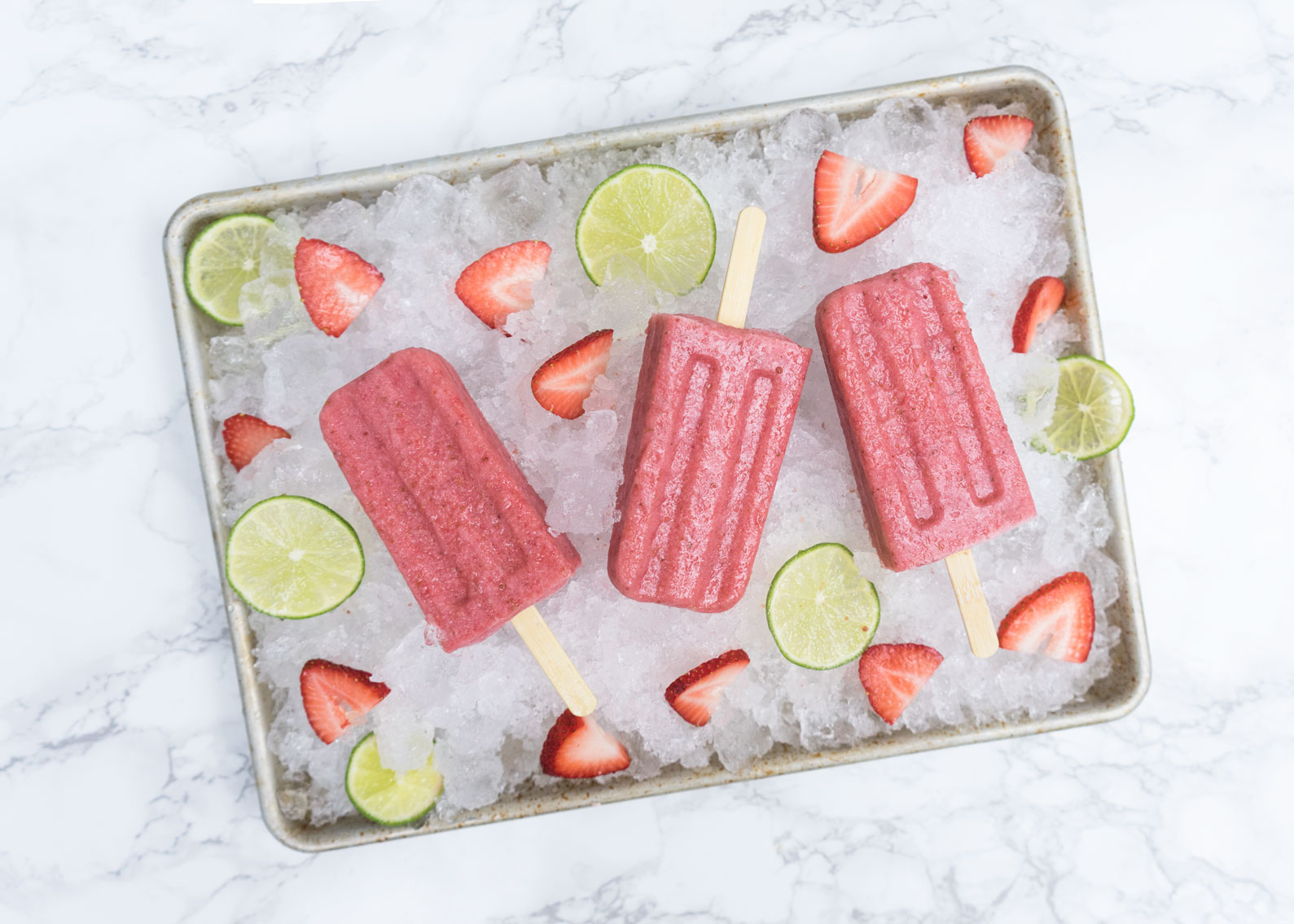 If you're wondering whether it is okay to have a Margarita at noon on Cinco de Mayo…it totally is! 🙋
Especially when it's in the form of these delicious strawberry coconut margarita pops!
My sister and her boyfriend were visiting NY this past week and boy do they love Mexican as much as we do! We dubbed the trip as the Mexican food and drink tour of NYC. I'm pretty sure we have managed to visit most of the great ones in the span of a year or so together! It's a great feeling when you find that spot that makes the perfect margarita, not too sweet & made with all fresh ingredients.
I'm also quite a fan of the frozen slushy style margaritas and god knows what's in those sometimes 😳. I like to close my eyes and pretend it's all good stuff! HOWEVER, these margarita pops are the BEST, made with all natural ingredients, they're almost a health drink….(honest!) They are so simple to make and I promise you'll want more than one and so will your guests! If you make them now, they'll be ready in perfect time for a cinco de mayo treat later on today!
I had some great taste testers (thanks Chlo & Andy!) and there was nothing left on their popsicle sticks so I took that as a GREAT sign. The texture is creamy, the taste is refreshing and finished with a little kick of tequila & a sprinkle of salt 💃.
Please let us know your cinco de mayo plans & how you'll be celebrating today! We're getting ready for #cincodesantis and celebrating the marriage of two wonderful friends! Couldn't ask for a better way to spend the day! Love 💚
Strawberry Coconut Margarita Pops
2017-05-05 08:36:32
Ingredients
4 cups strawberries
0.75 cup coconut milk
Zest & Juice from 2 limes
0.5 cup of your favorite tequila
0.25 cup of cointreau
1 tbsp. coconut sugar
Instructions
Place all ingredients into a blender or food processor and blend until smooth (about one minute on med-high)
Pour mixture into your popsicle molds - this recipe makes 8 pops
Freeze for an hour+ until frozen.
To remove from the molds - run under warm water and wiggle until free!
Sprinkle a little salt if desired & enjoy!
IVGreenhouse - Exploring Food http://www.ivgreenhouse.com/