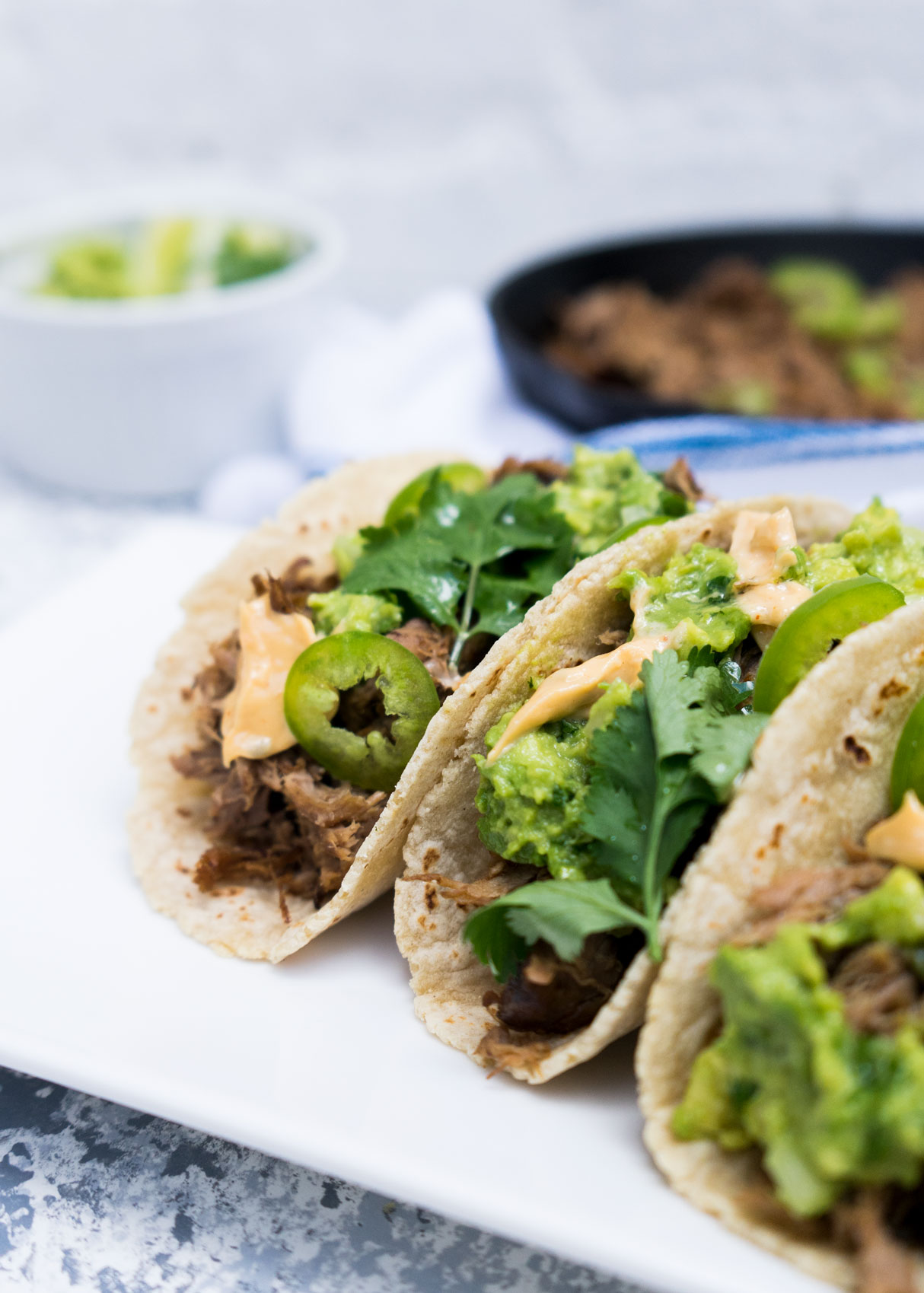 Lamb Barbacoa Tacos 😍 … Please excuse me while I run back to the Kitchen!
So, a friend and I were wandering around one of our favorite parts of the City the other day and we stumbled into Taqueria on St. Mark's Place. We sat down ordered two margaritas (which came super fast and were so, so good), we then proceeded to order food. I was deliberating over carnitas, barbacoa and pollo tacos. I went with 2 carnitas and 1 barbacoa…DAMN. I should have got 3,000 Lamb Barbacoa because they were JUST. THAT. GOOD.
In our house, Mexican food is a pretty huge favorite, it creeps into our menus weekly and almost by accident. It is such a great go-to food. This weekend, as we all know, is an even bigger excuse to eat Mexican & Spanish food.
It's Cinco de Mayo weekend People!! 🎉
This recipe is a slow cooker recipe (no slow cooker, no problem (its in the notes!) adapted from Rick Baylass. These lamb barbacoa tacos went down extremely well for lunch this week and I couldn't recommend getting them made in advance to spice up your cinco de mayo weekend plans! Perfect made in a large batch for a party. OR go crazy and get that taco bar situated – pulled chicken tacos coming tomorrow!
We'll also be posting an awesome way to enjoy your margaritas this Friday! 🙌
If you need us, we'll be sipping on margaritas and eating these barbacoa tacos! As always, let us know what you think when you make them!! 💚
Lamb Barbacoa Tacos
2017-05-04 15:07:31
Serves 8
FOR THE LAMB
2 tablespoons olive oil (or butter)
3.5 lbs. boneless lamb shoulder
12-ounce bottle of beer (or stock)
Salt
FOR THE MARINADE
1 dried chilli stemmed, seeded and torn.
3 garlic cloves, peeled
1 tbsp. cider vinegar
1tbsp. coconut sugar
1 tsp. salt (we used pink Himalayan)
3 chipotle chile en adobo (the canned variety with a little sauce)
0.25 tsp. ground cinnamon
0.5 tsp. oregano
FOR SERVING
Primal Kitchen chipotle lime mayo (or similar!)
Guacamole
A handful of cilantro leaves
Homemade or store bought corn tortillas!
Instructions
In a large skillet or frying pan, heat the oil over medium-high heat.
Pat the lamb dry with a paper towel, sprinkle generously with salt
Place the lamb in the hot pan & cook, turning occasionally, until dark brown on all sides, about 8-10 minutes.
Transfer the meat to your slow cooker.
Combine all the marinade ingredients in a blender with 2 cups of water and blend to a smooth puree.
Pour marinade over the lamb in the slow cooker, add the beer and turn your slow cooker on HIGH for 6 hours.
When you are ready to serve, coarsely shred the lamb with two forks or 'claws' if you're lucky enough to own some!!
Pour the liquid from the slow cooker into a medium saucepan and boil for a few minutes to reduce. Spoon as much as you like over the lamb.
Now get all your sides ready, warm up some tortillas and you are ready for one hell of a dinner!
If you don't have a slow cooker
In a large le cruset or dutch oven combine the ingredients as above.
Cover and braise in a 300-degree oven for about 3 hours, adding water occasionally if necessary to ensure the liquid stays at about the same level.  Finish as above!
Adapted from Rick Baylass
Adapted from Rick Baylass
IVGreenhouse - Exploring Food http://www.ivgreenhouse.com/