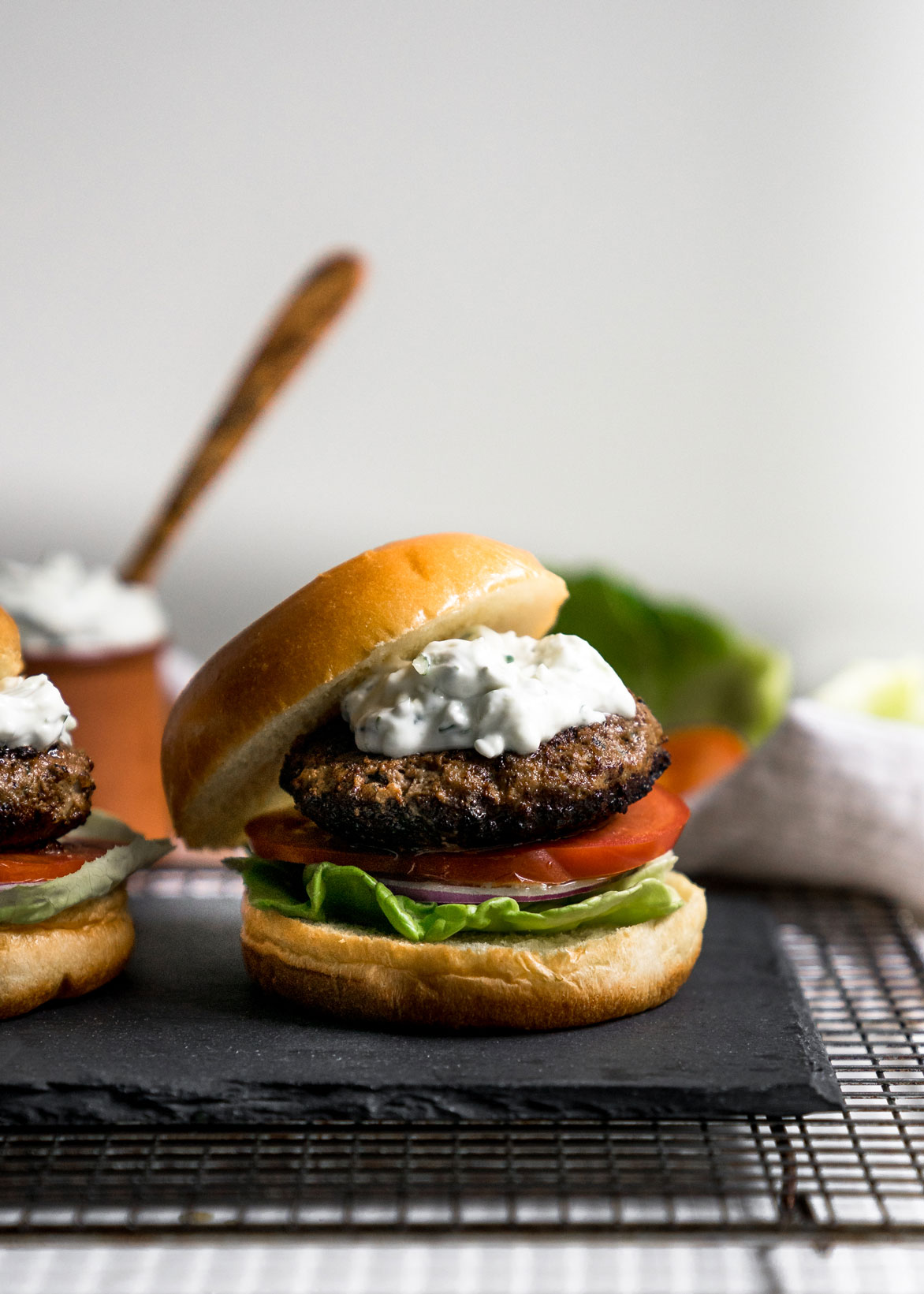 These Lamb Burgers are the Juiciest Lamb Burgers we've ever enjoyed! 🙌
You know sometimes, if you order a lamb burger at a restaurant – it comes out kinda dry? We think people are worried about undercooking lamb, but really you should be more worried about overcooking it! But, we LOVE lamb in this house, you can cook it any way you like, we just love it regardless!
Recently we've been eating a lot more of it, and these burgers were the latest experiment in a long line of lamb dishes! This recipe was mainly decided upon because I was really craving tzatziki dip this past weekend. One of my favorite things in life is a good mezze platter at a mediterranean or greek restaurant (or in Greece itself of course!). I love the delicious flavors, all the choices & the way they're put together!
So we got into the Kitchen and made some! 🔥
Everything about this combination is our favorite. The juiciness of the lamb (coming from a kinda secret ingredient if you ask me!), the tartness and flavorful nature of the tzatziki finished with the red onion & tomato is just perfection! The taste is super authentic and reminds you of the last great Lamb Gyro that you enjoyed or your latest mediterranean trip. The flavors have to be one of my favorite combinations of all time.
We urge you to make these lamb burgers this week/weekend and you won't regret it! Plus leftover Tzatziki is just a perfect excuse to put together your own Mezze platter for Super Bowl Sunday with some of these other dips: Beet Hummus, Homemade Hummus & Savory Squash Dip.
We hope you have a wonderful weekend – if you make these, let us know! 💚
Juicy Lamb Burgers with Tzatziki
2018-01-30 13:31:28
Serves 4
For the Lamb Burgers
1 lb. Ground Lamb (we use lean grass fed)
1 egg (lightly beaten)
0.5 small onion - finely diced
3 garlic cloves - crushed
1 tbsp. mustard
1.5 tsp. horseradish
1 tsp. worcestershire sauce
2 tbsp. fresh parsley - finely chopped
2 tbsp. fresh mint - finely chopped
0.5 tsp. cumin
large pinch of salt & pepper
For the Tzatziki Sauce (Makes one quart approx.)
1 large cucumber - grated with skin on.
3 cups greek yogurt (3 x 7 oz pots~)
2 tbsp. finely chopped dill
1 tbsp. white wine vinegar
4 garlic cloves - crushed
4 tbsp. olive oil
Pinch salt
Optional Extras
Burger Buns
Onion
Tomato
Lettuce
For the Lamb burgers
Mix all of the ingredients together well (except the lamb)
Once the ingredients are well combined - add the lamb and combine with your hands until all ingredients are evenly dispersed.
Split the mixture into 4 balls - flatten into burger shapes (we have a burger press we love!)
Put in the fridge to chill while you prepare your tzatziki sauce. (If not making sauce - chill the burgers for 30 mins anyway)
Once the burgers are chilled - heat a cast iron or heavy bottomed skillet (frying pan) with a tbsp. butter and a tbsp. oil until hot.
Add your burgers to the pan and leave undisturbed for 4 minutes.
Flip and cook for a further 4 minutes.
Let them rest on a wooden board until ready to serve.
For the Tzatziki Sauce
Grate the cucumber (if you have an attachment on your food processor, use it now)
Place in a sieve or colander and place kitchen towel over the top - you can apply pressure to get the juices out or ball it up in some cheese cloth and squeeze until most of the liquid has come out. (save the juice to drink if you like! We do!)
Add the rest of your ingredients and stir to combine.
You can refrigerate for 3-5 days or use straight away!
Assemble your burgers
If using a bun, place this on your plate (or use lettuce wraps!)
Put your onion and tomato on top, add your burger and top with a generous amount of Tzatziki, finish with the other half of the bun and ENJOY!
IVGreenhouse - Exploring Food http://www.ivgreenhouse.com/
SaveSave
SaveSave
SaveSave
SaveSaveSaveSave
SaveSave
SaveSave
SaveSave
SaveSave