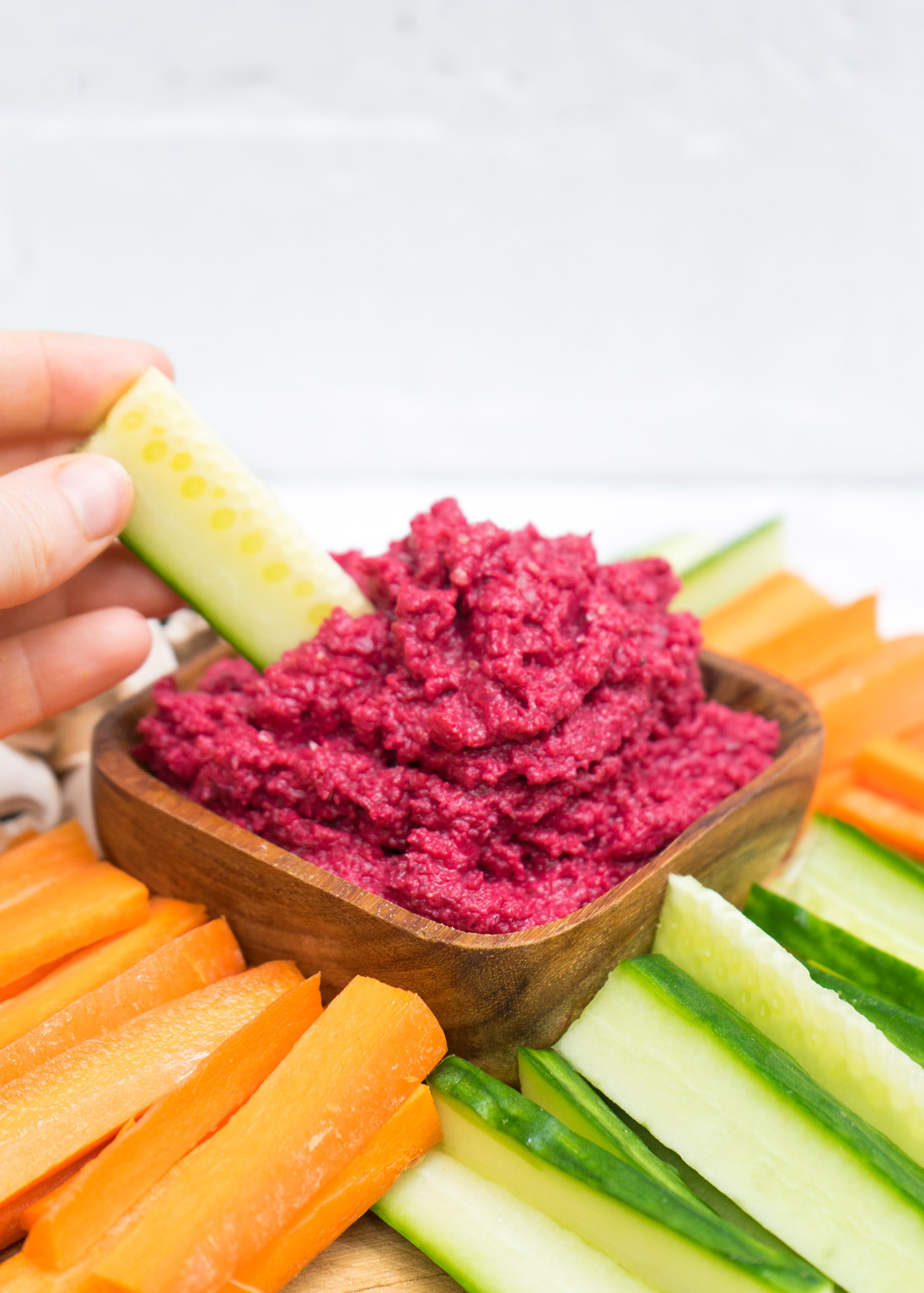 I LOVE BEETS! 💜
Like you didn't already know that, right!? This beet hummus is out of this world. Its so easy, has only a handful of ingredients and tastes oh so good! It is perfect with veggie crudite, flat breads, pita chips or a personal fave – on toast with an egg on top 😍. Maybe that will have to be a whole other post! Just too much excitement for one!
The vibrancy of this dip is one of my favorite things about it – imagine the amazing ways it can brighten up any crudite or cheese board! My idea of heaven is a veggie board with a trio of hummus! A traditional one like this one from last year, this beet one and an avocado one (recipe coming soon!). The perfect accompaniment to anyones healthy snacking!
As we are hard into Picnic season now – another perfect item to add to your picnic basket for sure! Such amazing ingredients, just Beets, lemon, garlic, tahini & of course some salt & pepper! 🙌. The benefits of beets are extensive; They contain nutrients that can help lower blood pressure, fight cancer and inflammation, boost stamina and support detoxification! Not that I need any other reason to eat beets than how amazing they taste, but in case you do, it's always fun to research the facts!
There is something so satisfying about having homemade dips ready in the fridge to pull out when a snacking urge starts. They are also perfect to have around to spice up any dish, bowl, pizza etc! Much better than reaching for the store bought condiment and they taste better 99% of the time in my experience!!
Excuse me while I go cut some veggies for dipping! Let us know what your favorite use for this best beet hummus is! We can't wait to hear what you're dippin' 💚
Best Beet Hummus
2017-06-19 13:43:00
Ingredients
4 medium beets, roasted & peeled (roast as below)
2 tbsp. tahini paste
1 crushed garlic clove
zest of one lemon
juice from one lemon
Salt & Pepper
Instructions
Scrub your beets and pat dry with a paper towel.
Put each beet on a piece of foil (large enough to wrap around.
Put a tbsp olive oil in with each and wrap them up tightly in foil packets
Bake in the oven at 350 F for approx. 1 hour or until you can pierce easily with a fork.
When beets are ready, peel them - you can use a paper towel to rub the skin off at this point.
Place peeled beets in blender or food processor with the other ingredients and pulse and blend until semi-smooth.
Season with salt and pepper to taste
Place in a bowl and either chill to serve later or serve as is with crudite!
IVGreenhouse - Exploring Food http://www.ivgreenhouse.com/