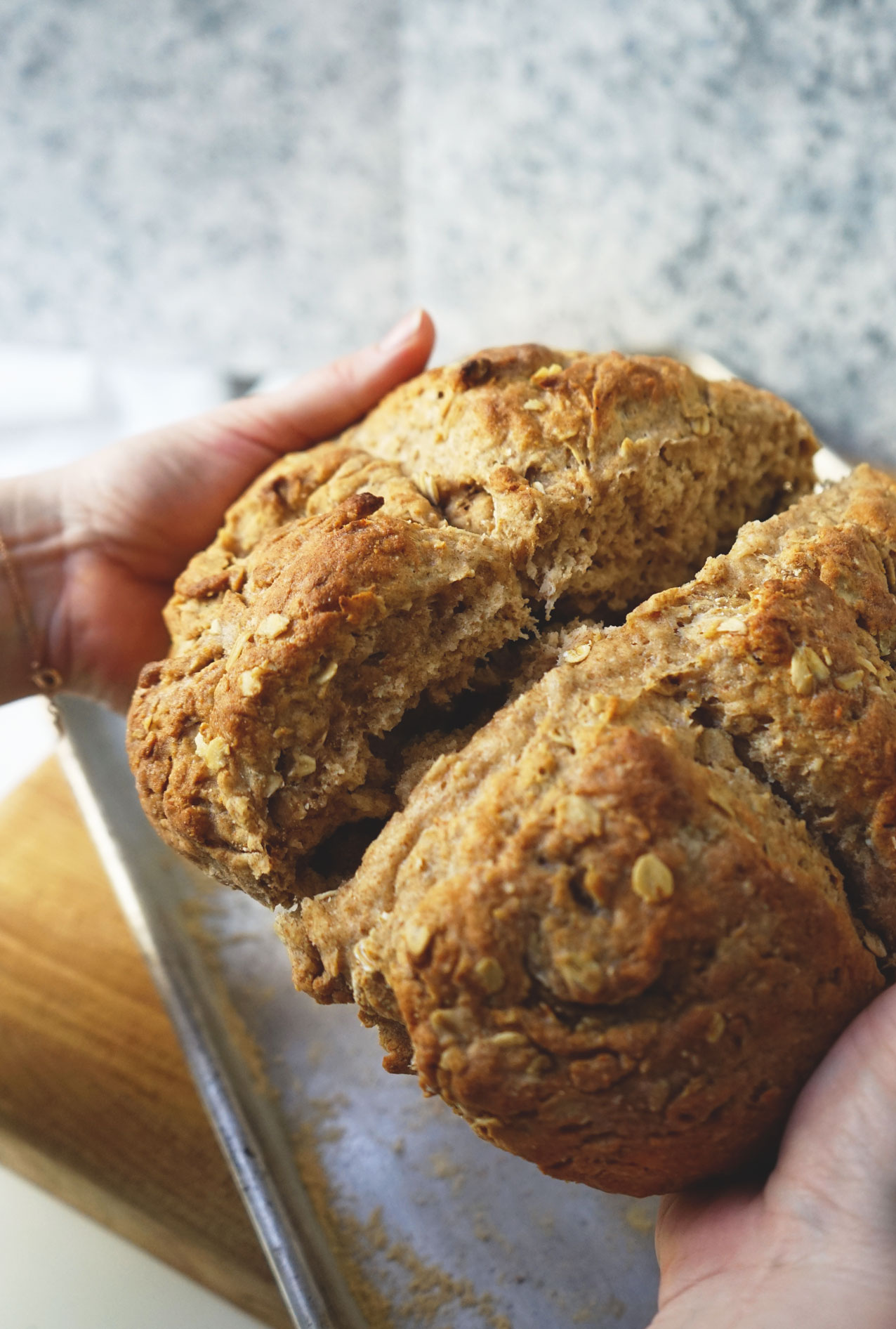 This Irish Soda Bread is 👌! We had people taking it home in doggy bags last night. 😆
I have always wanted to get better at bread baking. It always seems like such a long process that I am really going to have to carve out some serious time for soon! But this bread!! It takes 45 minutes maximum from start to finish and oh my! The finished product is warm, fluffy, comforting and perfect with a little butter straight from the oven!! We served it with a full St. Patrick's day menu last night.
Our St. Patrick's menu consisted of the following: leek & Potato Soup, Traditional Irish Stew with Champs & savoy cabbage, finished off with a little Guinness Cake of course! Bread was served throughout and got rave reviews. There is something that is just so wonderful about freshly baked bread that's still warm from the oven.
I am so intrigued by some of the parts that make up Irish Soda Bread. Mainly that it is said to be a traditional outcome of a poor country using the most basic of ingredients. Flour, Sour Milk, Oats & Butter. To be honest I am not sure why the rest of the world moved away from the idea of 'Quick Breads' as they are fast becoming my favorite to bake due to their simplicity and speed! My other favorite thing about this Soda Bread is that making the cross on the top is supposed to "let the fairies out" or "ward off any evil spirits". I love the idea of this tradition or protecting your household and the legend it refers to from the 1800's.
Living in New York, St. Patrick's day has become a much bigger part of my life due to the amount of pride that the Irish New Yorkers have for their native Ireland. They celebrate this day more than any other on the calendar and it is quite apparent! You can Check out the 2017 NYC Parade Route here. We live right in the middle of the parade route so, we get some great scenes from our windows!
Irish bars in the city have an amazing atmosphere for most of the year, but today, I guarantee you will have an eventful and especially fun time! We hope you have a great day whatever you are doing! 💚
Happy St. Patrick's Day!!
We hope you have the Luck of the Irish today! 🍀
[amd-zlrecipe-recipe:15]