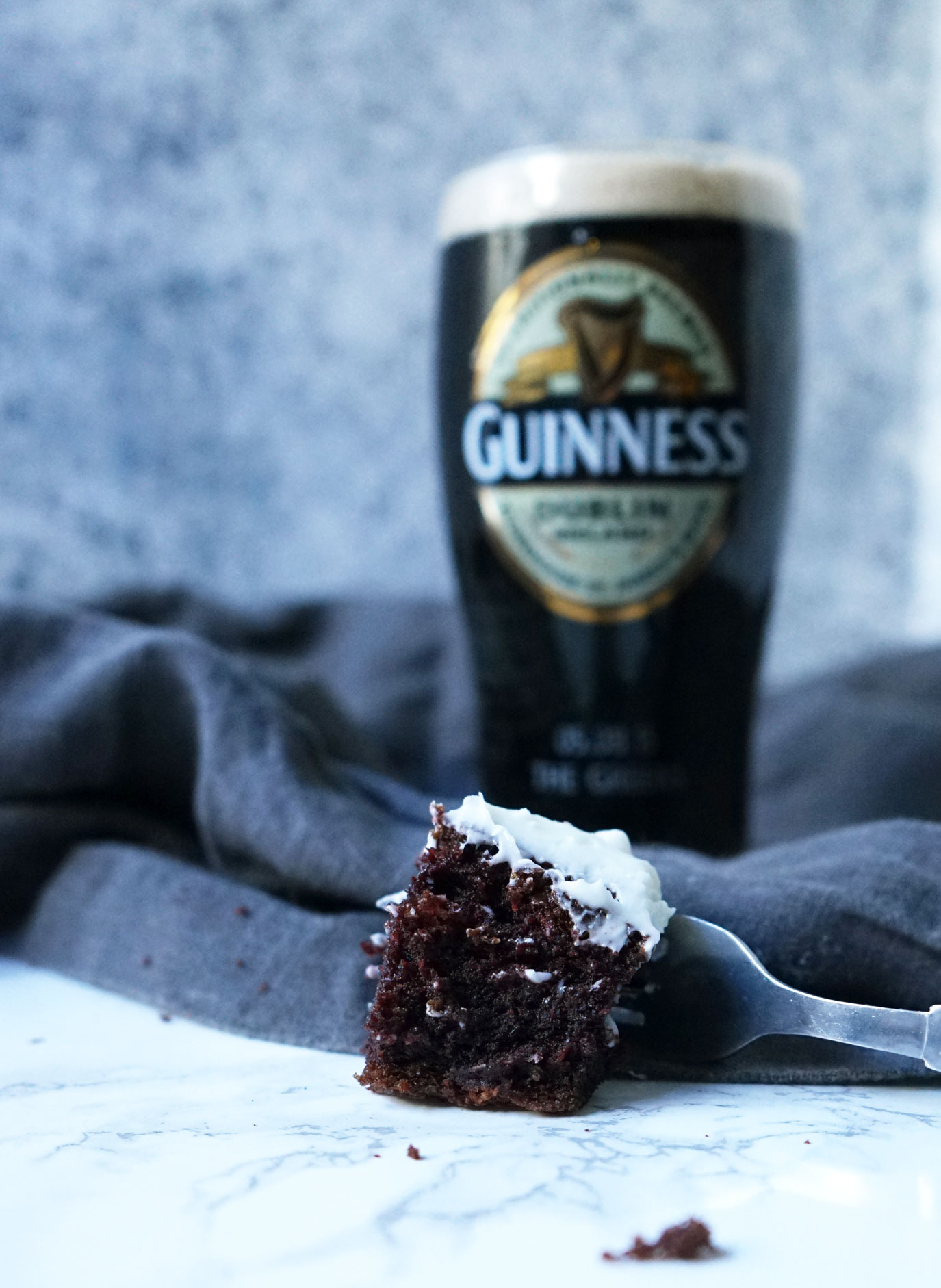 Guinness Cake means a few different things to me…let me explain!
Firstly, it makes me think of one of my favorite people in the world, Noel Black! He is one of our closest family friends and he knew me before I knew me! Guinness Cake is his all time FAVORITE dessert and if I get the chance I always make it for him! His face when he eats a slice is just the greatest thing! It lights up with a devilish smile because he knows he shouldn't be indulging in such a large piece!!
Secondly, it reminds me of our trip to Dublin in 2015! A super fun trip, with of course, a visit to the Guinness Factory! I think my favorite part of the tour (other than the tasting) was the marketing room – it was filled with old posters and advertisements dating from the earliest days of print to now. It is just incredible to think that St. James' Gate has been brewing beer under Arthur Guinness' name since 1759! He started with a regular ale, however it's his Guinness that is now the most widely consumed Irish Stout Beer in the world. Its amazing to know that we have walked into the original brewery and tasted the Guinness right from the tap. I have to say it really is true what they say – it tastes better when it is enjoyed in Ireland! Not just at the factory but also at the Brazen Head, the oldest pub in Dublin (est. 1198).
My mother has always described a pint of Guinness as a full meal.
I completely agree with her on this point and when you create a dessert with it – it is a super dense, moist, completely filling dessert! One of the most intriguing things about Guinness cake, in my opinion, is that the batter is all created in one saucepan. When Guinness is reduced slowly over a little heat it prevents the stout from getting bitter in your baking and sweetens the final product naturally – which is pretty cool if you ask me! There's also a little extra Guinness after you've measure out the amount you need – I suggest you swig and bake together! Especially if you will be making this for St. Patrick's Day – it is almost necessary?! Am I right?
We hope you enjoy our little trip down memory lane and also this delicious recipe for Guinness Cake, if you try it out – let us know your thoughts! 💚
Guinness Factory Memory Lane!
Now Onto the Recipe!!
[amd-zlrecipe-recipe:14]