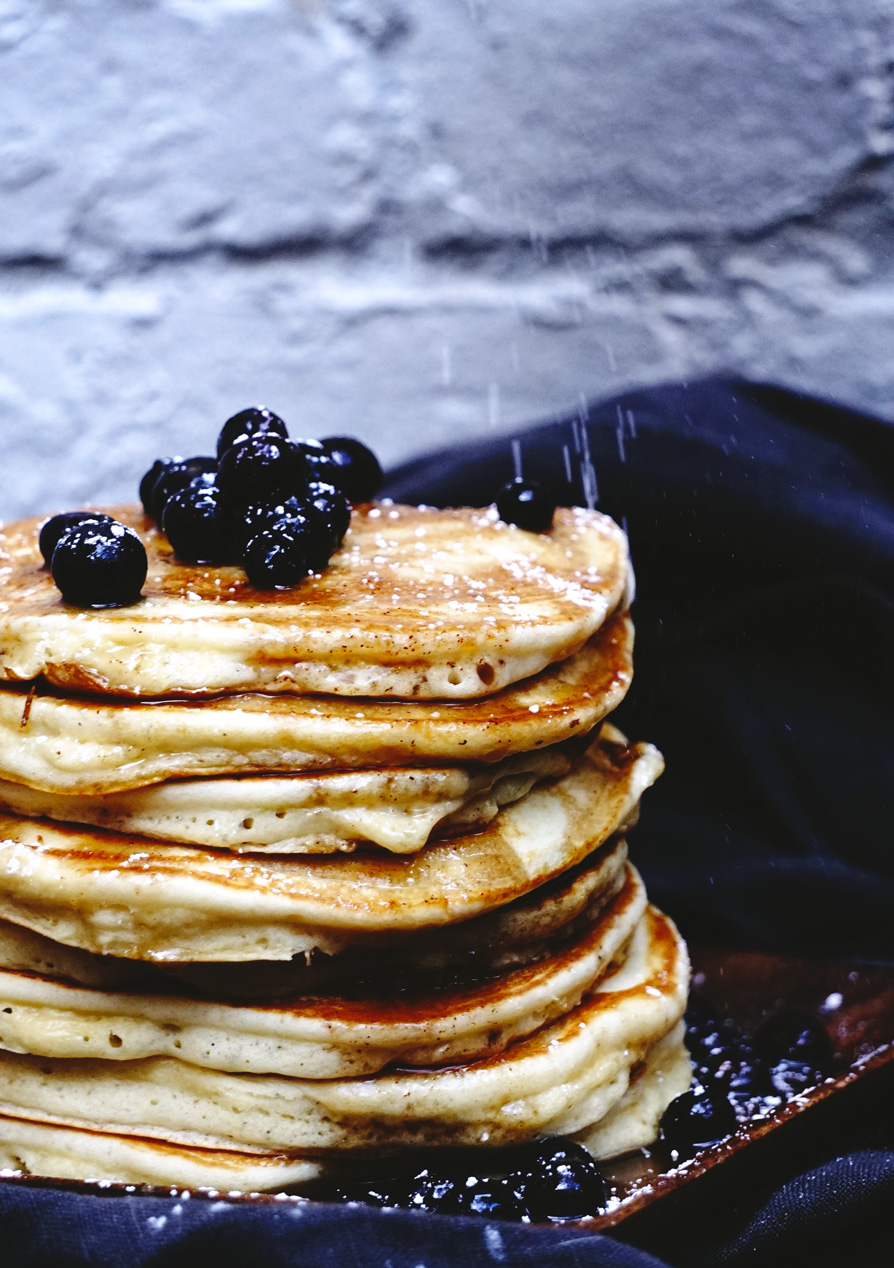 Bourbon Pancakes…yes that's right…Bourbon for breakfast. I'm sure there are so many things wrong with that sentence, however, if you like bourbon and you have no immediate Sunday plans then you should definitely get on this brunch train with us! The taste of these pancakes reminds us of our Bourbon Vanilla Ice Cream , it has a creamy vanilla taste with a really great hint of bourbon flavor. We think this recipe would just be perfect for a Sunday brunch friends get together and with the cold weather settling in, it is a delicious way to warm up your morning! We've also added the recipe for a delicious maple, blueberry, cinnamon syrup that adds oh so much to the dish! We also served ours with the addition of crispy bacon and banana bits…yummmmmm. Seriously, go and make these right now, before it is too late!!
Bourbon Pancakes with Maple blueberry syrup
2016-11-13 10:48:52
Ingredients
3 cups all-purpose flour
0.5 cup sugar
0.25 cup baking powder
0.25 tsp. salt
0.75 cup bourbon
4 eggs
2 cups buttermilk
0.5 cup milk
1tbsp. vanilla extract
For the Syrup
1 cup maple syrup
3 tbsp. butter
0.25 tsp. cinnamon
1.5 cups blueberries
Instructions
Stir the dry ingredients together in one bowl and the wet ingredients together in another bowl
Begin whisking the dry ingredients into the wet ingredients until fully combined and a smooth consistency
Let the batter rest for 15 mins
Whilst it is resting, make your syrup! Put the maple syrup, butter and cinnamon into a saucepan and bring it to a simmer for a minute or two, add the blueberries and let it simmer for a further minute - tun off the heat and let it cool a little while you prepare your pancakes!
Pour in around a third of a cup of batter onto a hot pan for each pancake, you can use spray oil or butter in the pan.
Stack your pancakes pour over your syrup and serve to your hungry bunch!
Adapted from The Kentucky Bourbon Cookbook
Adapted from The Kentucky Bourbon Cookbook
IVGreenhouse - Exploring Food http://www.ivgreenhouse.com/