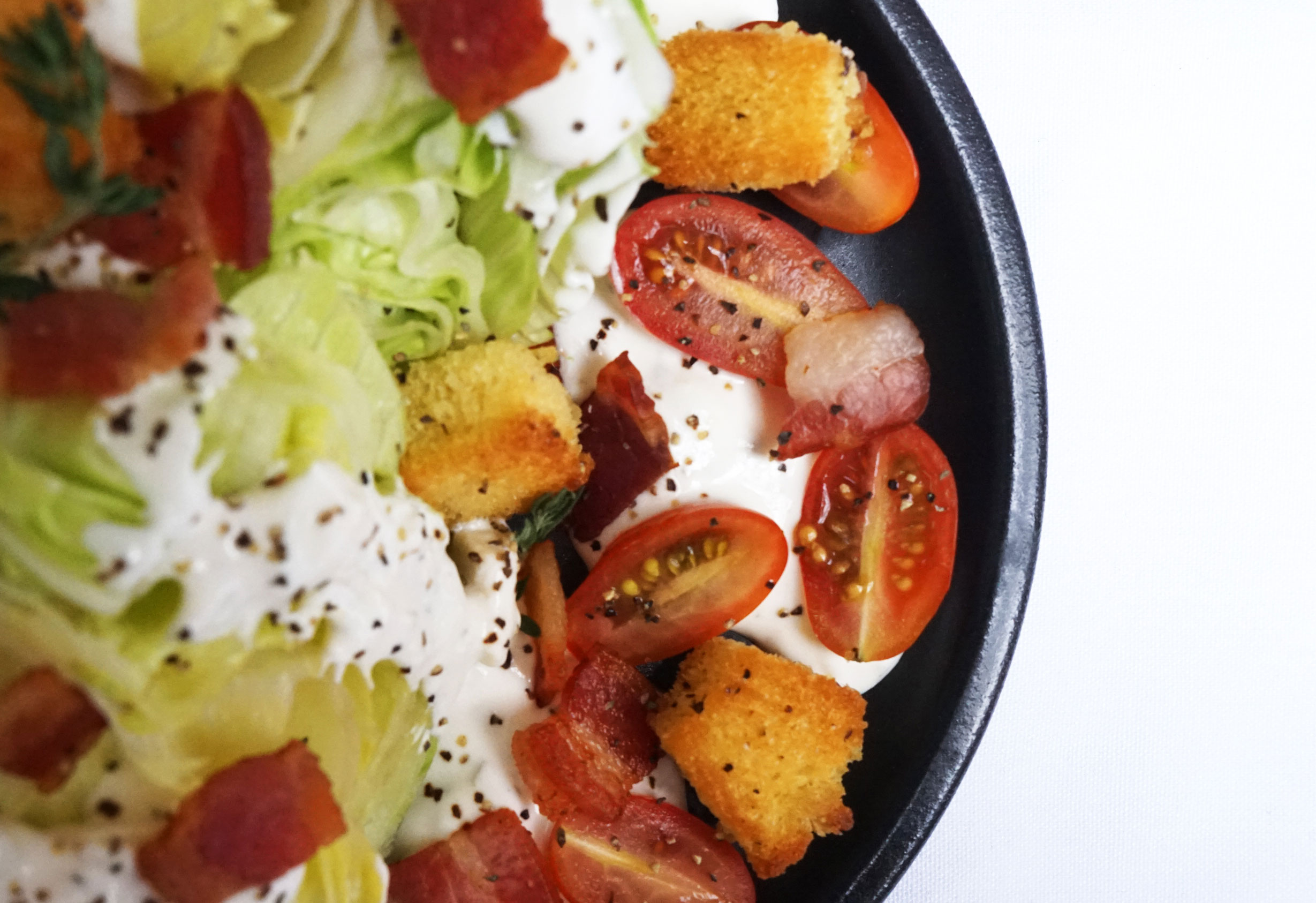 Wedge Salad's remind me of Long Island Summers. Blue Cheese dressing is such a huge thing here, served with so many different dishes, so I was excited to create my own personal favorite version.
Like I mentioned before, I was late to the blue cheese party, but I absolutely adore Cambozola – It has to be my ultimate blue cheese, a Chef friend of mine called it the 'gateway' blue cheese and I completely agree with her. We hope you enjoy our Wedge Salad – we certainly do (& did for lunch today!)
Wedge Salad with Cambozola Dressing
2016-05-17 13:37:24
Serves 4
Ingredients
1 Iceberg Lettuce
2 Cups cherry tomatoes (halved)
4 Bacon Slices (chopped into 1/2 inch squares)
4 Bread slices (we LOVE potato bread)
For the Dressing
1 cup (or 8 oz.) sour cream
0.25 onion finely diced
1 tbsp. white wine vinegar
1 tsp fresh thyme leaves
0.25 cup Milk
0.75 cup Cambozola Blue Cheese (or other soft blue cheese)
Salt & pepper
Instructions
Preheat your oven to 375 F
Cut the crusts off your bread slices & then proceed to cut each slice into 16 cubes.
Toss the bread with olive oil and salt & pepper and place on a baking sheet in the oven for 10 minutes
Fry your bacon on low/medium for 10 minutes also with a tbsp of oil.
Make your dressing! - Put all dressing ingredients (vinegar, onion, thyme, sour cream, milk & blue cheese) in a bowl and whisk until a smooth-ish (with a few blue cheese lumps) texture is created
Add salt and pepper to your dressing (I used about 1.5 tsp salt & 2 tsp. pepper) and whisk in.
Cut your iceberg lettuce into 4 wedges and place each on separate plates
Remove your bacon from the pan and place on kitchen towel to soak up extra grease.
Hopefully your croutons are out of the oven by now also and are ready to go!
Top your iceberg plates with generous amounts of blue cheese dressing, followed by bacon, cherry tomatoes & croutons & extra pepper for good luck!
IVGreenhouse - Exploring Food http://www.ivgreenhouse.com/