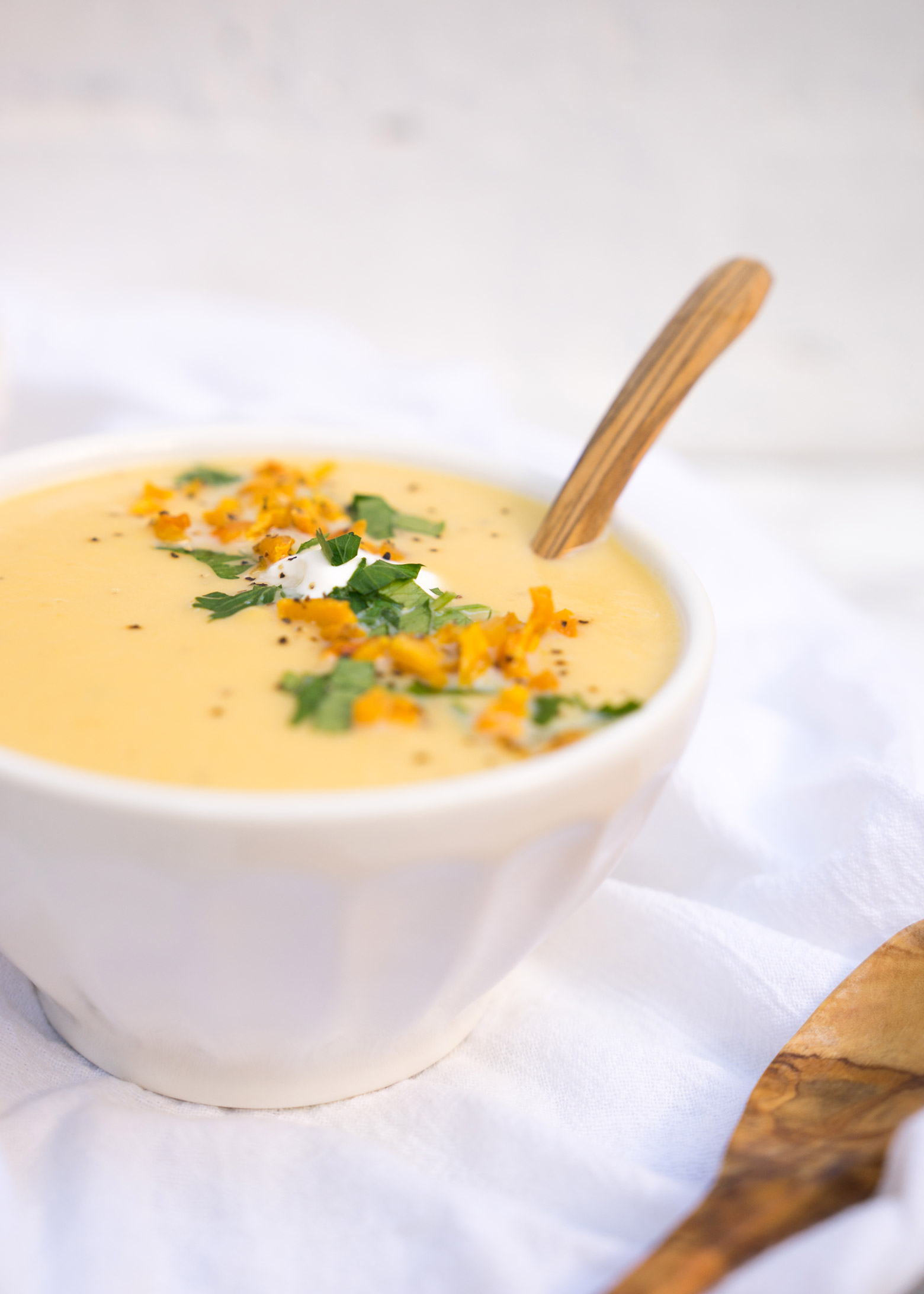 This Pumpkin Soup is the Bee's Knee's if I do say so myself! 🙌
Seriously though, this pumpkin soup can get you through even the toughest of days. Knowing there is a bowl of this warm & cozy comfort waiting for you is one of the best feelings in the world. My mother would make this for us every Autumn for as long as the pumpkins would last. We would all help scoop out the seeds and the flesh (mainly so that we could carve the pumpkin afterwards too and make a lovely lantern!). Then she would have it simmering on the stove in our kitchen and we would be SO excited for dinner time. You would probably find me and my sisters sitting at the kitchen table, breathing in all of its pumpkin goodness until it was ready!
I now realize why she always asked for our help with the scooping and de-seeding and was always so grateful when we were there to assist! Pumpkins can be a lot of work, but I still believe that they are worth it and that they always will be! However I have to say I currently do not carve the pumpkin (😱), mainly because it is so much easier to skin the pumpkin first, chop it in half and scoop out the seeds with an ice cream scoop (seriously, try the ice cream scoop, its life changing!) and then chop into chunks. Saves so much time and arm ache.
But, you know what, I think that just shows what an awesome mum I have, I'm pretty sure she suffered through the scooping process just to give us some crafty fun AS WELL as a yummy dinner! 🙏I guess one day I will have to go back to the old scoopy scoop, but for now, ease wins!
This Pumpkin soup is so amazing BECAUSE of it's simplicity. With only 5 main ingredients there is nothing fancy about it, it is just good honest comfort food. I also find that a lot of pumpkin recipes allow the pumpkin to sit on the bench rather than be the star of the show…this baffles me. I love some good pumpkin spice don't get me wrong, but the mighty pumpkin needs a stage of its own too. In this soup, the pumpkin has no where to hide, it gets to have its moment and bask in all of its own pumpkin glory. We wouldn't have it any other way!
Every (dog) pumpkin 🎃 has its day, right?
We hope you make this soup with your family and enjoy it as much as we do.
We hope one day it will mean as much to you as it does to us. 💚
The Best & Easiest Pumpkin Soup
2017-10-28 16:44:56
Serves 6
Ingredients
Half a stick of Butter (or ghee) (read: 4 tbsp)
1.4 kg Pumpkin (or just over 3 lbs.) - peeled, de-seeded and chopped into half inch chunks.
2 onions - skinned & sliced
600ml of stock (homemade chicken is the best, but can be subbed for other types.)
1 pint whole milk (can sub for plant based)
Handful of shredded/grated cheese (we use a mexican blend but can be any!)
To Garnish if desired - salt, pepper & parsley
Instructions
Heat butter until fully melted in the bottom of a dutch oven or heavy soup pan
Add onions & pumpkin and cook over medium heat for 5 mins, until the pumpkin starts to become tender and the onions translucent.
Add stock and allow to simmer for 30 minutes (your pumpkin should be falling apart/mush now. If not, let cook for another 10-15 minutes.)
Blend with a handheld blender or food processor until velvety smooth.
return to the pan, add milk and a dash of salt and pepper to your taste.
Reheat gently and add a handful of cheese and stir it in when you are ready to serve!
To serve: garnish soup with fresh parsley and black pepper and Enjoy!
IVGreenhouse - Exploring Food http://www.ivgreenhouse.com/
Save
Save
SaveSave
SaveSave
SaveSave
SaveSave
SaveSave
SaveSave
SaveSave