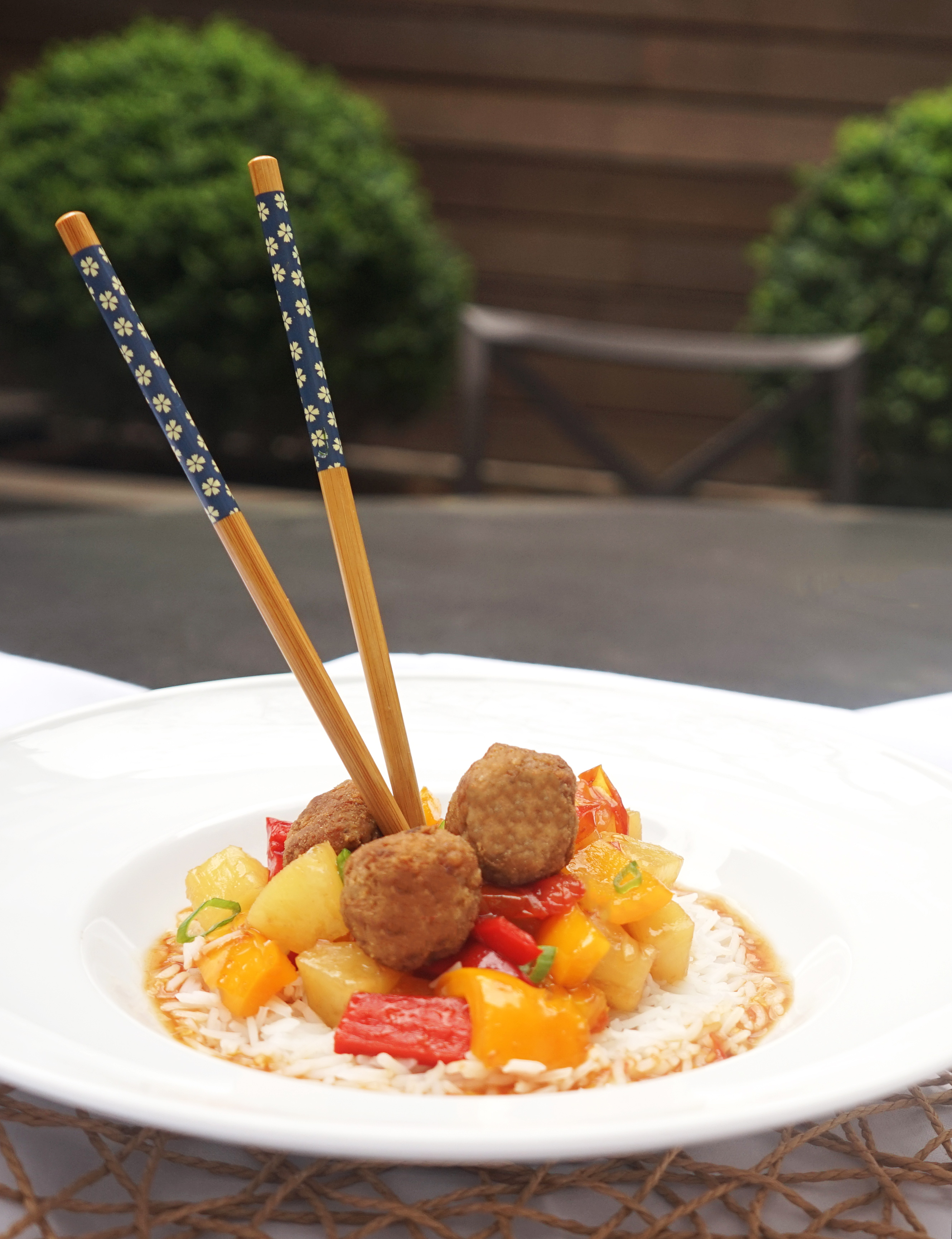 This meal was a HUGE favorite in our house – so much so that one of my older sisters would request it as her birthday meal every February – for which we were always grateful, as it is wonderful!! For me, there isn't a sweet and sour dish out there that beats it … but I could be (I am, definitely!) biased!
For me this meal is as colorful as it is tasty & I LOVE a colorful dinner!

Sweet & Sour with Pork Balls!
Serves: 4-6 people
Prep time: 15-20 mins
Cook Time – 20 mins
Ingredients: (For the pork balls)
1 lb Ground Pork
1 garlic clove – peeled & crushed
1 tbsp flour
2 oz (50g) Plain Breadcrumbs (I like Panko! Or to make my own!)
1 egg yolk
salt & pepper
1 oz (25g) butter or oil to fill a saucepan or fryer
3-4 tbsp flour (for dusting the pork balls in before frying)
Ingredients: (For the Sauce)
3oz (75g) sugar
4 tbsp Apple Cider Vinegar
3 tbsp soy sauce
2 tbsp cornflour/startch
300ml water
1 orange pepper cut into 1 inch strips
1 red pepper cut into 1 inch strips
5 lb tomatoes (I used 6 small) cut into wedges.
11-12 oz cubed pineapple (you can use tinned or fresh pineapple – whatever you have on hand)
(Rice for serving!)
Method: (To make the Pork Balls)
Mix the pork, garlic, 1 tbsp flour, breadcrumbs, salt, pepper & yolk together until combined well.
Form 24 small balls with your hands and place on a sheet of parchment paper
Boil a pot full of water ready to cook your rice whilst your pork balls are frying!
Roll them in the 3-4 tbsp flour (I use a pie dish for ease!)
Heat the butter & a little oil in a large frying pan & add the pork balls – fry them gently for about 15 minutes, turning occasionally. (You can also deep fry them if you have a tabletop fryer handy – drop them in a few at a time for about 5-6 minutes, until golden brown!)
Method (for the sauce)
Whilst the pork balls are frying & your rice is cooking mix the sugar, vinegar & soy sauce into a saucepan.
Mix the corn flour or cornstarch with the water and add it to the pan.
Bring it to the boil and simmer for 5 minutes whilst stirring
Add the peppers, tomatoes & pineapple and simmer for a further 5 minutes.
To serve – place some rice in a shallow bowl, ladle over some Sweet n Sour sauce & then add a few pork balls to each persons helping. Place the remaining balls in the center of the table so that your guests can help themselves if they would like seconds!!