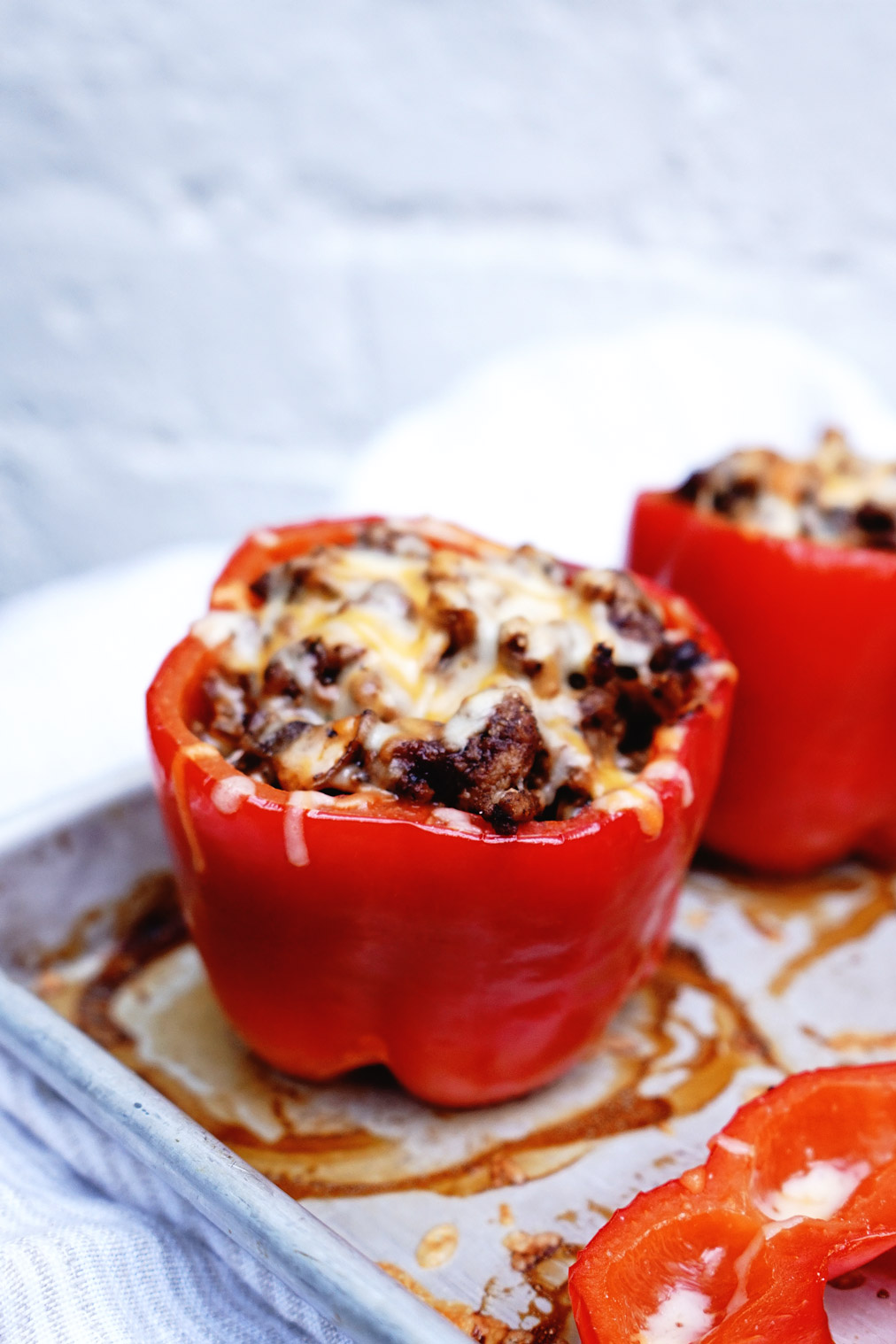 Stuffed Peppers are such an easy, quick & delicious meal – they are perfect for a weeknight whip up meal and you can even prep the ingredients in advance if needs be! The spices in this recipe make it incredibly warming and the cayenne also helps relieve your sinuses this time of year! This dish is sort of my go-to weekday meal when I haven't got much time or energy to make an elaborate concoction. It really can be adapted in any way you want – more spice, less spice, no spice! Completely versatile! We love to serve it with (extra) cheese and a dollop or two of sour cream – or add a sprig of rosemary for a festive finishing touch!
Spicy Stuffed Red Peppers
2016-12-13 12:50:13
Serves 4
Ingredients
1 lb Ground Beef
4 Red peppers (Tops sliced off and middles taken out)
1 Onion (Diced)
4 mushrooms (Diced)
2 cloves garlic (crushed)
1 tsp. paprika
1 tsp. cumin
0.25 tsp. cayenne pepper
0.5 tsp. rosemary
0.5 tsp. thyme
Salt & pepper
1 cup beef stock
1 tbsp. tomato puree
1 tbsp. tomato ketchup
1 tbsp. balsamic vinegar
1 tbsp. honey
Grated or Shredded Cheese (We use Mexican Blend)
Instructions
Pre-heat your oven to 400 F
Prep your peppers and place them face down on a baking sheet (tops too!)
Put them in the oven for 10 minutes
Whilst the peppers are in the oven, heat some olive oil or butter in a large frying pan and add your onions.
Once the onions are soft and starting to brown, add your ground beef and fry until browned and starting to stick to the pan
At this point add your mushrooms, crushed garlic & all spices
Stir to combine and coat all items.
Add your stock, puree, ketchup, balsamic and honey and stir to combine all ingredients.
Season to taste with salt and pepper and allow to sit for a minute to marry all the flavors.
Remove your peppers from the oven and flip them over, they should be semi soft but still with a lot of crunch! (No one wants a soggy pepper!)
(This part is optional - put a little shredded cheese at the bottom of each stuffed pepper)
Fill your peppers with your ground beef mixture to the top
Sprinkle with cheese
Put back in the oven for 5 minutes - once your cheese is melted, remove from the oven!
Serve with sour cream (if you like!) and ENJOY!
IVGreenhouse - Exploring Food http://www.ivgreenhouse.com/