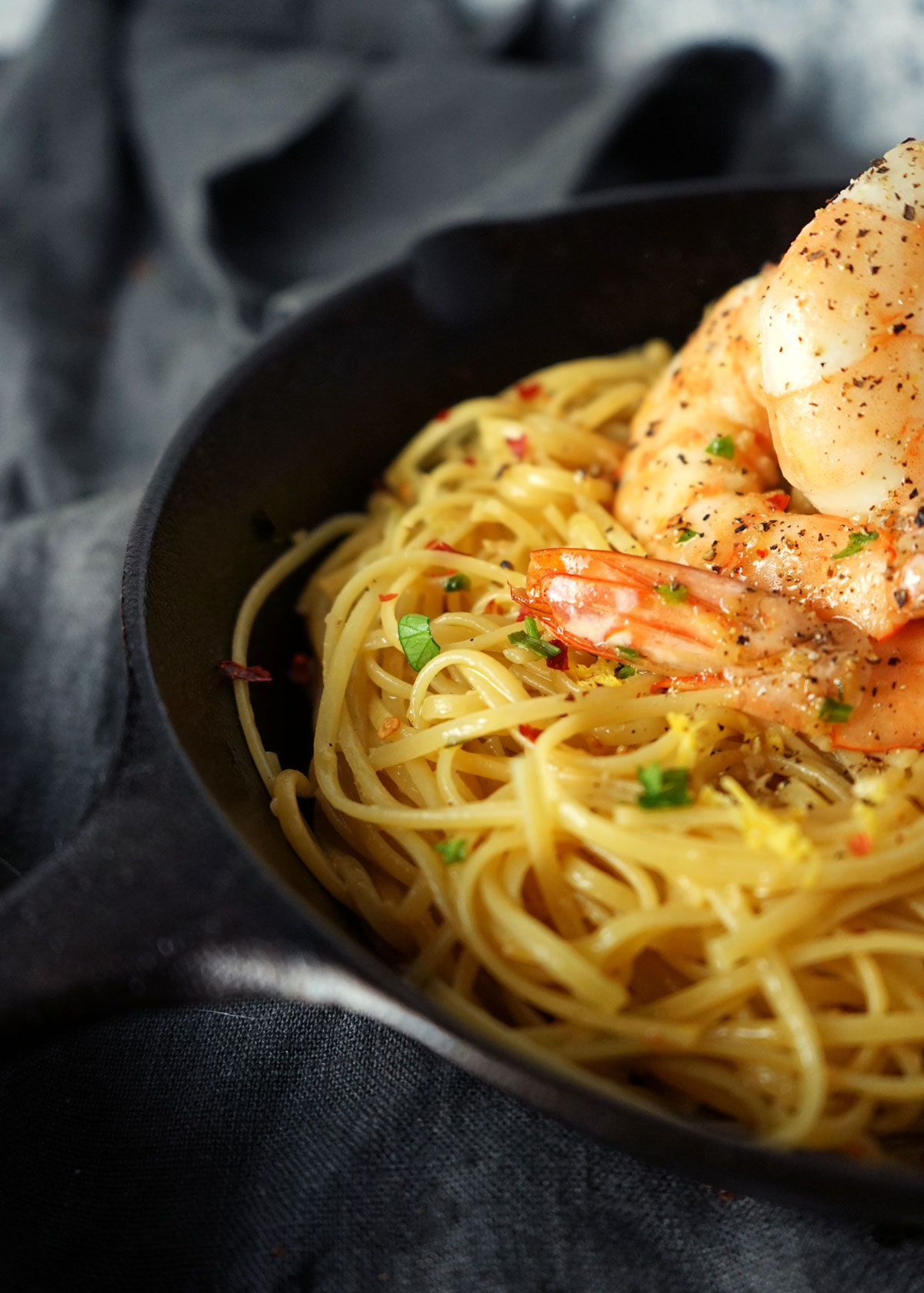 Wait, What…Shrimp Scampi isn't fried here??? 😳
Well this is a HUGE revelation for me. I'm sure I just shocked a few of you too. Some of you may be thinking – of course it isn't, what do you mean fried? And the others will be thinking, there's a Shrimp Scampi thats not served fried with chips?
If you're like me, your mind has just been BLOWN.
So, Shrimp Scampi here in the US (And I am sure many other places around the world) actually refers to a delicious buttery pasta dish. Who would have thought? This dish is PERFECT for a quick weeknight dinner – it takes less than 30 minutes and I'm almost certain that you have all the ingredients in your kitchen (except maybe the Shrimp – well, go get that now!). It is super easy to make and so so comforting.
I mean, garlic, butter, lemon & herbs. That's probably the most deliciously simple combination right there. Add in some chili flakes, some shrimp and some fettuccini and you're a go!
I used cooked shrimp for this one, purely because we had some on hand left over from an event the night before. Also – its pretty easy to find large cooked shrimp at the grocery store. If you want to cook it yourself – just let it sauté in the pan with a little oil for about 2 minutes on each side until pink! Then follow all the directions below!
As always, Let us know your thoughts & if you're as shocked as I am! 💚
Shrimp Scampi
2017-04-18 14:41:25
Serves 4
Ingredients
12 cooked Medium/Large Shrimp (Really you're personal preference on size!) - 3 per person
4 tbsp. olive oil
4 tbsp. butter
4 cloves garlic - minced
1 tsp. chili flakes
0.75 cup dry vermouth
2 tbsp. lemon juice
Zest of a Lemon
1 tsp. finely chopped of the following: Parsley, tarragon & chives
200g Fettuccini pasta
Instructions
Get your water boiling and add your pasta and cook to the package directions - most commonly 50g per person for approx. 12 minutes for al dente
Put oil & garlic into your cast iron skillet or frying pan over medium/low heat and sauté until garlic starts to turn golden - don't let it burn!
Add vermouth and turn your skillet up a little. Stir until vermouth has reduced by half.
Add butter and whisk or stir until you've got a silky sauce-like texture.
Remove from the heat and add, lemon juice zest & herbs, stir to incorporate all ingredients
Scoop a couple tbsp. of sauce out and onto your warmed and cooked shrimp and toss to cover
Mix your pasta into the sauce until all covered in buttery goodness
To Serve: Spoon out into 4 bowls, top with 3 shrimp each and an extra sprinkling of herbs if you have them.
IVGreenhouse - Exploring Food http://www.ivgreenhouse.com/