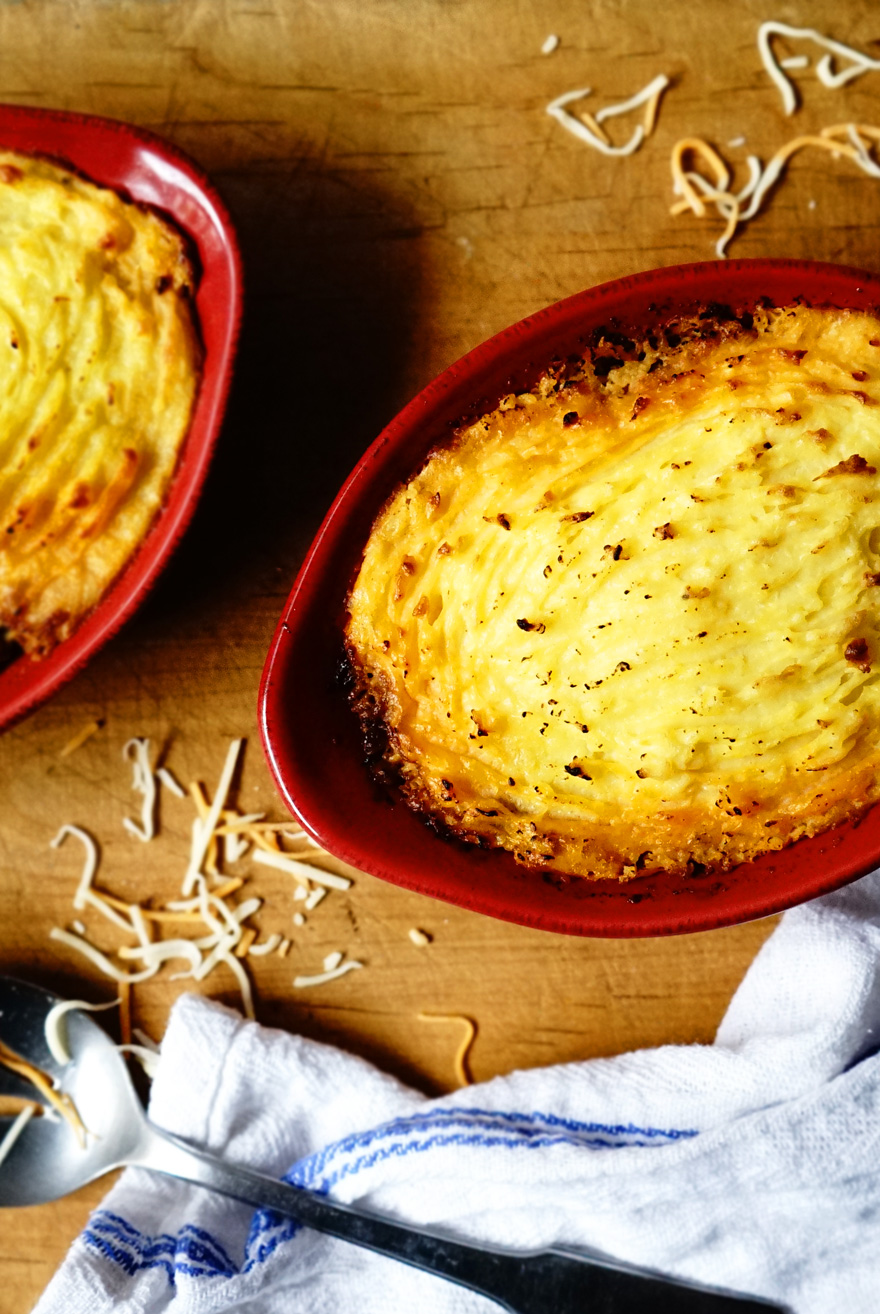 Today for some reason, our house AND workplace are freezing cold, it may be to do with the single glazed windows everywhere that are extremely drafty – or just an old heating system, but I am currently sat here in my work clothes, wrapped in a blanket and extremely excited about a warm comforting dinner! There is nothing more comforting than shepherds pie (or anything that involves beautiful fluffy mashed potatoes!)
However, this isn't a traditional (as such) shepherds pie, it has been adapted many many times and one of the things we love about it is that it is so versatile. It can be spicy, sweet, traditional, exotic or our personal favorite – kitchen sink style! It is a perfect clean out the fridge or pantry meal and, of course, I don't know what is in your fridge but ours always has the minimum ingredients required to make anything that involves meat and potatoes! (I guess we may be a bit traditional after all!) This shepherds pie is a warming combination of spices and gorgeous vegetables in a rich dark sauce.
As always, let us know what you think and when you make it!
Shepherds Pie
2016-11-10 14:50:04
Serves 4
Not the traditional Shepherds Pie!
Ingredients
1.5 lbs potatoes (peeled and chopped)
1 lb ground beef
1 pepper - diced (I always use orange or red)
1 onion - diced
2 garlic cloves (crushed)
4oz. mushrooms quartered and roughly chopped
1 medium zucchini - roughly diced
1 cup beef stock
1 tbsp. tomato ketchup
1 tsp. balsamic vinegar
Dry Spice Mix
1 tsp. paprika
1 tsp. salt
1 tsp. pepper
1 tsp. thyme
0.5 tsp. rosemary
0.5 tsp basil
OPTIONAL - 0.5 tsp. cayenne (if you like some spice!)
Instructions
Firstly - preheat your oven to 400 F (or 180-200 C)
Then put your peeled and chopped potatoes in a pot of water on the stove to boil for approx. 20 minutes or until tender
whilst your potatoes are boiling - start to fry your onions in a large frying pan with olive oil.
once your onions are starting to brown very slightly add in the ground beef, use a wooden spoon or other utensil to break up the ground beef and allow it to brown, add half of your spice mix and stir to coat
When there are no pink bits left add the remaining vegetables to the pot and stir
Allow the meat to start sticking a little and becoming more caramelized and a little burnt looking (this brings out so much flavor!)
Now add the rest of your dry spice mix and stir again to coat the pan and its contents with the spices.
Now add your cup of beef stock, tomato ketchup & balsamic vinegar and allow to simmer until most of the liquid has been absorbed into the mixture.
Drain and mash your potatoes with butter, salt, milk (& a little cheese!!!) until smooth and fluffy!
Now to assemble your pie - either use 4 individual ramekins or one larger pot
Spoon the meat mixture into the bottom to create an even(ish) layer and then top with the mash potato, smooth with a spoon and then create texture with a fork so that you'll get the great crispy top to your pie!
Now put in your hot oven for 10-15 minutes (or until the top starts to brown)
Notes
The cayenne really adds another layer of warmth to this (almost like chilli with mash ... but we like it spicy and if you do too, don't be afraid to throw that in!)
IVGreenhouse - Exploring Food http://www.ivgreenhouse.com/