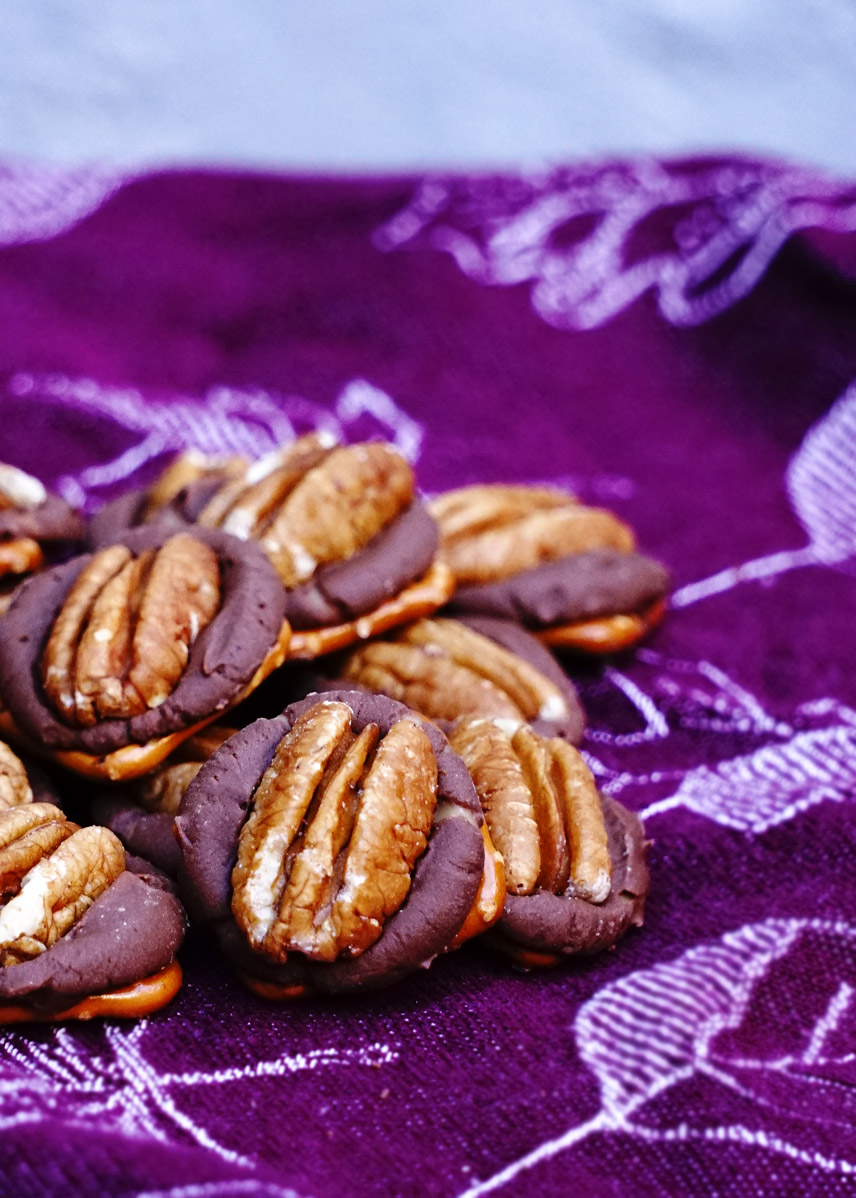 So, these 'cookies' are the best.thing.ever. I'm not sure if they have always been a thing here in the states, but I only found out about them last Christmas (2015) when Allen's mum made them for the holidays and I sat and very easily ate the ENTIRE tin, by myself, in one sitting. This past Christmas was no different, plus, I feel like the tin was much bigger…hmmmm, well, I can honestly say it was worth whatever consequence that came of it. This year, I asked Tricia how she made them and we made some together (because I ate the whole tin, before we could take them to grammy's on boxing day…whoops!) Well, I was amazed by the ease of them, and the new unwrapped mini Rolo bags are the bomb! It was fun getting all of our pretzels in order on the baking sheet and making sure the rolls were in the centre before popping them in the oven for a few minutes, removing them and squishing pecans on the top!
All in all, they probably took about 10 minutes max, and that includes chatting, laughing & sipping champagne in between! A perfect end to Christmas Day if you ask me! They are the most amazing combination of salty, chocolate'y, caramel'y gooey pecan'y goodness!
We returned home a couple of days before the New Year and I was having serious pretzel, pecan, rolo cookie withdrawal and had to make some! And Voila! Here we are!
Pretzel Pecan Rolo Cookies
2017-01-01 15:56:17
Serves 32
Ingredients
32 Pretzels (preferably salted butter pretzels in a waffle shape)
32 rolos (preferably mini - but full size will work too!)
32 Pecans (we really, really love schermer pecans!)
Instructions
Preheat your oven to 350 F
Put parchment paper on a baking sheet and place 32 pretzels onto it with a little space between them
Place a rolo onto the centre of each pretzel
place in the oven for 3 minutes (no longer!)
Remove them from the oven and squish the rolos down with the pecans
Wait for them to cool a little and serve!
Notes
You can also wait for them to cool completely and then place into an airtight container, they will keep for at least a week if sealed correctly.
You can also make as many of these as you want, just up the quantities and make sure they are even!
Adapted from Tricia's Recipes!
Adapted from Tricia's Recipes!
IVGreenhouse - Exploring Food http://www.ivgreenhouse.com/