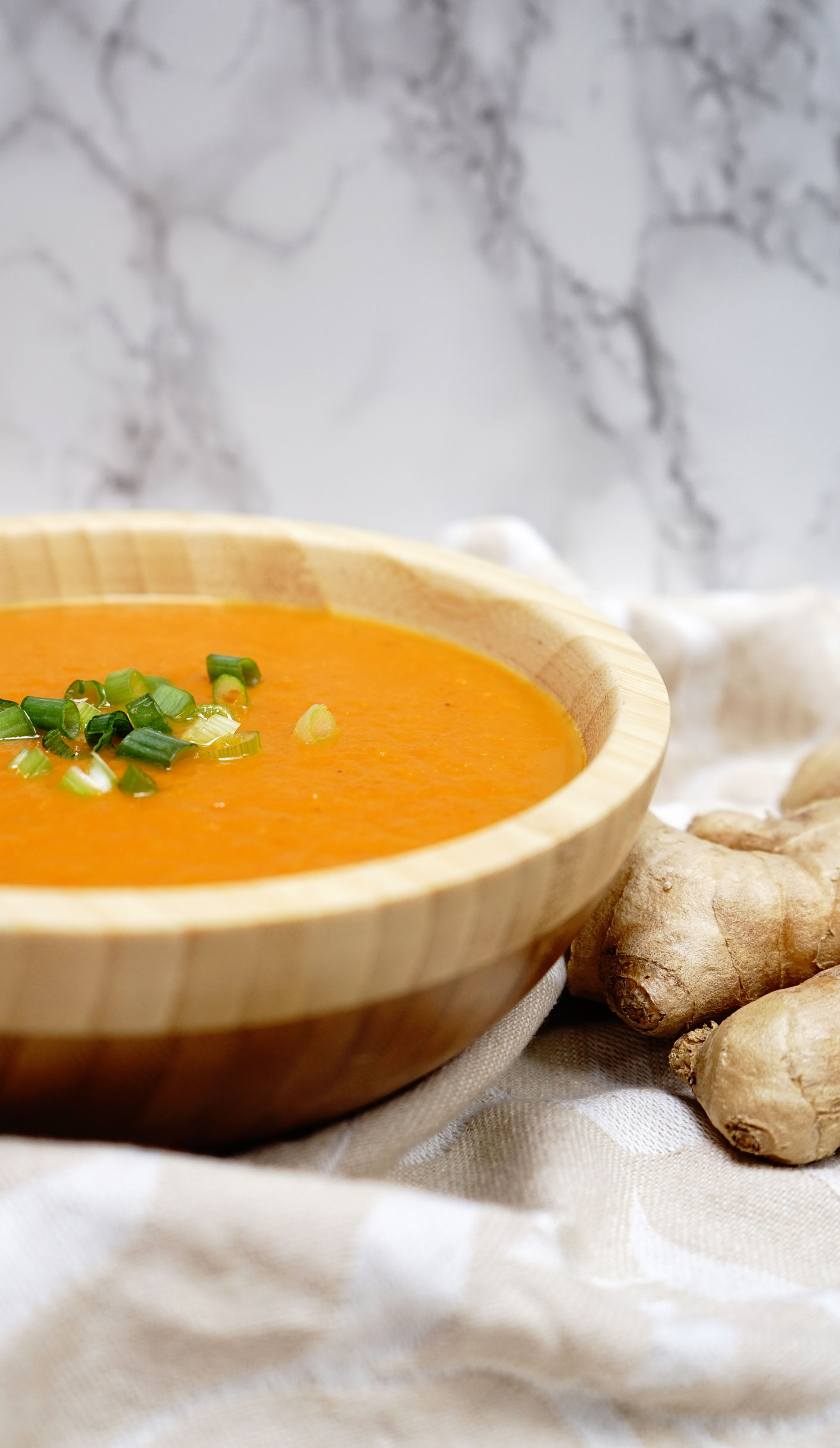 So this week, I seemed to click twice on all the items in my online grocery shopping, therefore had an abundance of certain vegetables – mainly carrots! So, I thought what better way to use them than in this warming, spicy and deliciously fresh carrot soup! It reminds me of a soup we used to make growing up which was affectionately known as 'Sunshine Soup', it was the best! This soup makes you feel like you are warding off the seasonal colds without even trying. Everything in this soup has many health benefits and we couldn't love its zingy taste more. It is perfect for this fall weather which has just hit us here in New York, making us all pull out our jeans, boots & sweaters (I cannot wait for the colors to start to change – it is without a doubt my favorite season of all! – Especially in NYC)
Orange, Carrot & Ginger Soup
2016-09-27 12:53:28
Serves 4
Ingredients
1 onion - diced
3 celery sticks - sliced
2 garlic cloves - sliced
1.5 lbs carrots - roughly sliced
4 cups chicken stock (can use vegetable)
2 cups water
1 orange - juiced (& zest of half)
0.25 cup (heaped) of sliced fresh ginger
To finish
4 tbsp honey (warmed)
1 spring onion, sliced
Instructions
Put onion, celery & garlic into a pan with about 2 tbsp. coconut oil (or butter)
sauté these vegetables for about 5 mins until onions are translucent but not brown
Add in your carrots and stir to coat - put a lid on your pan and let them sweat for about 10 minutes
Add stock, water and half of your ginger
bring the pot to a simmer and let it simmer for 15 minutes, your carrots should now be tender.
Add your orange juice, zest & rest of the ginger.
Blend with an immersion or tabletop blender until smooth.
Taste and add seasoning now
Reheat if necessary before serving.
Garnish with a sprinkle of spring onion and a drizzle of warmed honey to add a little sweetness.
IVGreenhouse - Exploring Food http://www.ivgreenhouse.com/