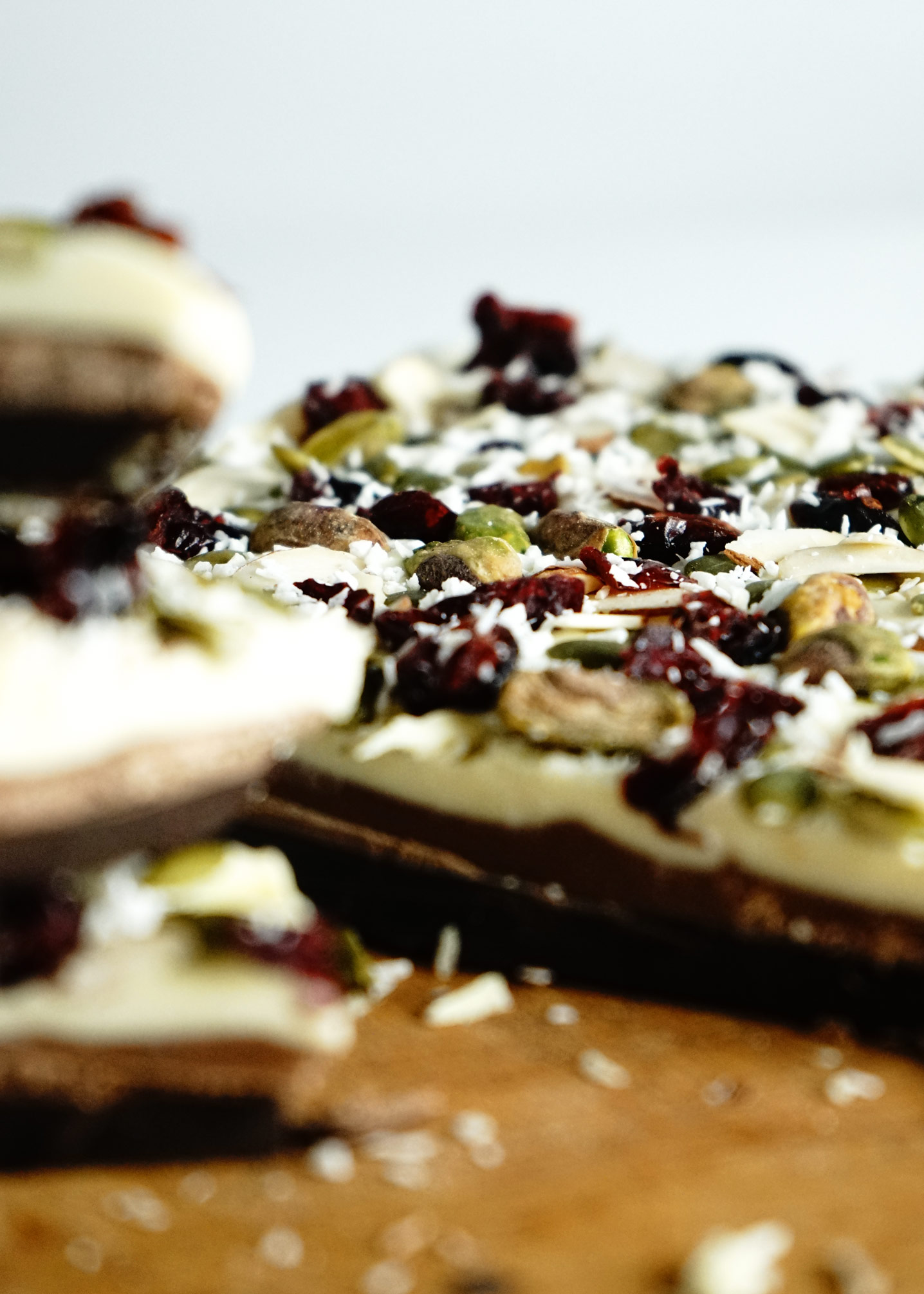 I used to love when my parents would get the Cadburys Fruit & Nut chocolate out – not because I was a fan of the nuts at the time, but because I was a HUGE fan of the chewy raisins in the milk chocolate! There is something about the texture mix that is just perfect to me! This bark is the best as really you can make it into whatever you choose, mix and match your favorite nuts, seeds and dried fruits to create your own one of a kind snack/dessert, I used all of my favorite ingredients and all three types of chocolate, you can even place nuts and seeds in between layers for a more thorough crunch too! I can't wait to experiment with other flavor combinations, but my goodness, for now, this one is wonderful. We can pretend it is a healthy January recipe right?
Nut & Seed Chocolate Bark
2017-01-07 09:21:54
Ingredients
2 x 3.5 oz. bars of each - dark, milk & white chocolate so approx. 21 oz. of chocolate in total.
handful of pumpkin seeds, craisins, pistachios, sliced almonds & coconut flakes (Or really handfuls of your favorite seeds, nuts and raisins!)
Instructions
Melt dark chocolate either in the microwave or in a dual saucepan and spread into the bottom of a glass or metal dish approx. 8x10 using a spatular.
Place this in the fridge for 5-10 minutes until solid
Melt the milk chocolate as you wait for the first layer to harden. Spread evenly over the layer of dark chocolate - place in the fridge to solidify
Melt the white chocolate and do the same, however before you let this harden, get your seeds, nuts & craisins ready and sprinkle over the top layer, really squish them all in there, the more the better, sprinkle with coconut if you want to and put in the fridge to harden for another 10 minutes!
before serving, chop it up into 12 pieces or more!
IVGreenhouse - Exploring Food http://www.ivgreenhouse.com/