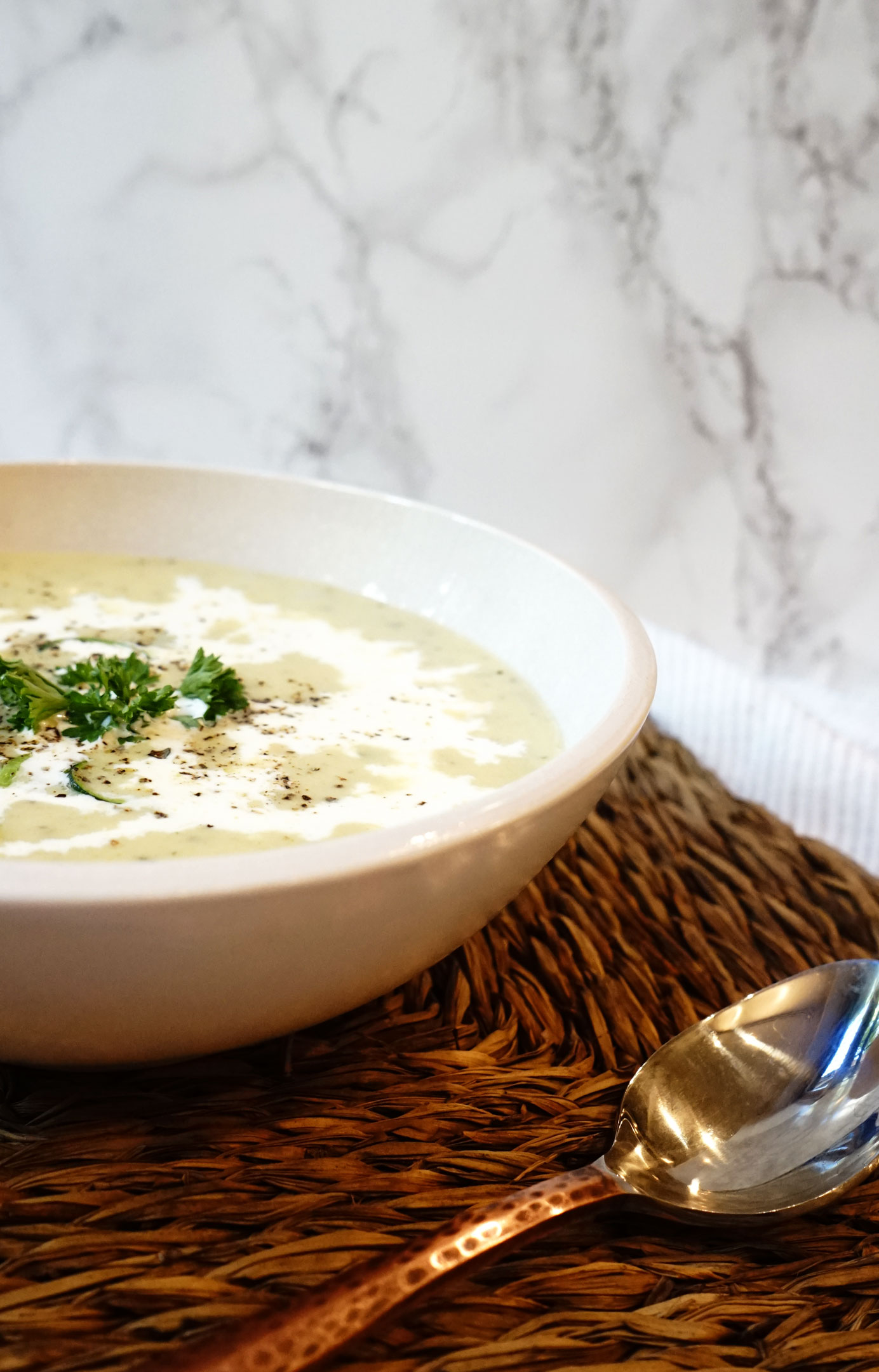 The perfect transition from Summer to Fall (or Autumn!) is this Leek, Potato & Zucchini Soup. It helps to use up all your summer zucchini (courgette) and transport you into fall with a warming soup! Plus, Leeks just make everything better, right? If I could put them in all my dishes, I probably would! Leek & Potato soup to me is…going to friends houses when I was younger as it started to get cooler out and having hot soup served with lots of hot crusty, buttery bread and the memory is such a warm & fuzzy one! Well we had this today (minus the bread, unfortunately, as August vacation has made us feel rather sluggish in fast paced New York..so we must get back on track!) …but it still makes me feel the same inside! As a bonus, this is so much easier than any regular potato soup – as it does not involve any peeling or fussing! Woohoo! Plus – the addition of the zucchini gives it a lighter feel and a healthier taste! So please, make this for your family this week & know that they will be happy, warm & satisfied!
Oh & ps. I will be bombarding you with soups in Fall/Winter because really…is there a better warming winter dish? We don't think so!
Leek, Potato & Zucchini Soup
2016-09-12 12:34:48
Serves 6
Ingredients
Half a stick of butter
450g baby/micro potatoes - diced but not peeled!
1 onion - roughly diced
1 Leek - sliced (mainly just the white parts)
1 zucchini - diced
1 carton (litre) of Chicken Stock
75ml cream
75ml half and half
125ml full fat milk
Instructions
Melt butter in a large heavy saucepan and when it starts to bubble add all of the chopped veg
Stir to coat all the veg with butter and then season heavily with salt and pepper
Cover the vegetables with a sheet (circle) of parchment paper, turn the heat down and cover your pot with its lid (this is to keep the steam in and allow the veg to sweat rather than brown)
Let this sweat for 10 minutes
lift lid, discard parchment paper and add your chicken stock
Bring the mixture to a boil & allow it to do so for 5 minutes.
Take your pot off the heat and puree to a smooth texture (either with a stick blender or in batches in the food processor)
Add all milk and half and half & just half of your cream (save the rest to garnish)
Reheat slowly & season to taste.
Serve soup in bowls with a drizzle of cream and either some parsley leaves or some zucchini noodles!
ENJOY!
Notes
Also can serve chilled as a delicious vichysoisse!
IVGreenhouse - Exploring Food http://www.ivgreenhouse.com/