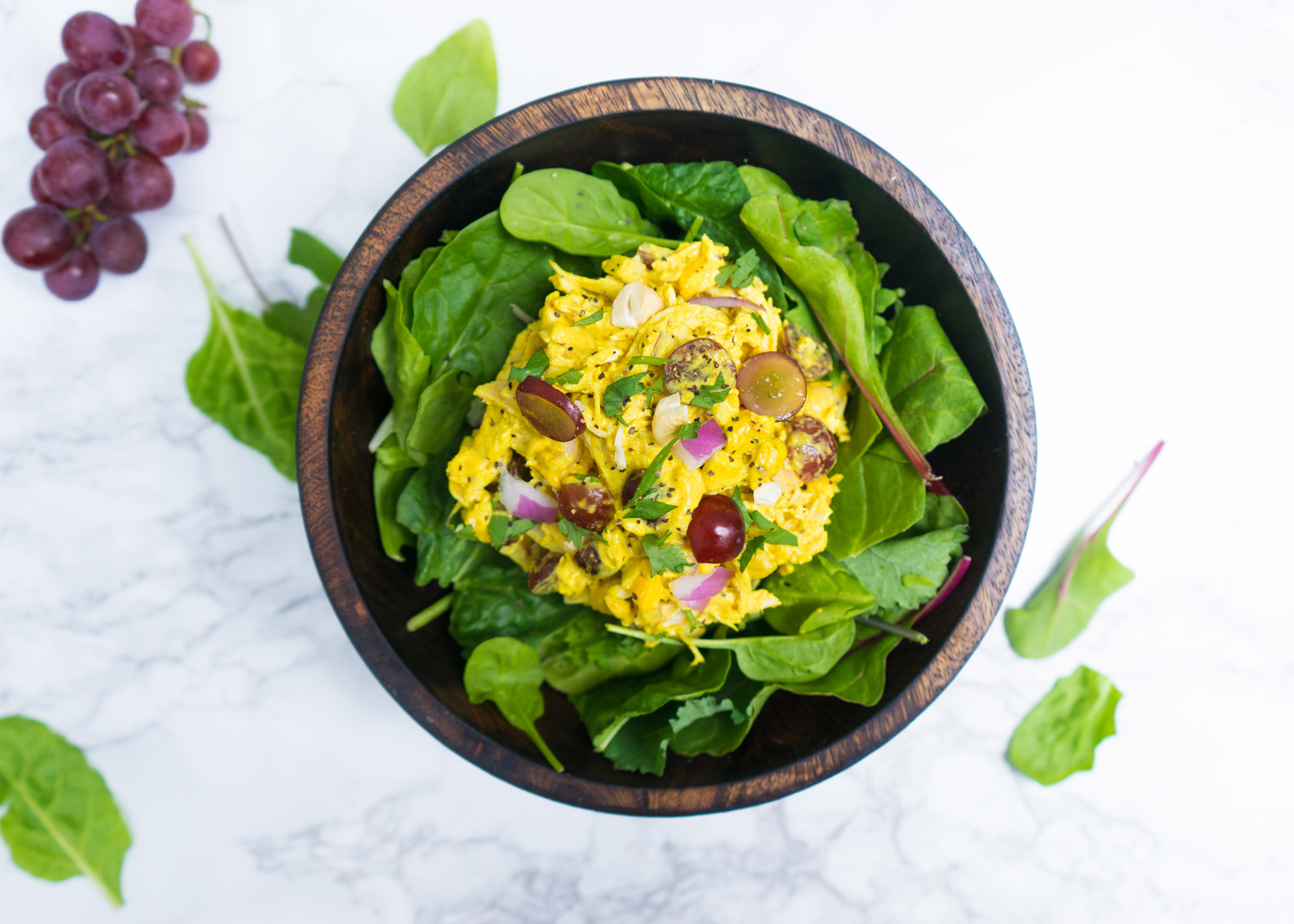 This curried mango chicken salad has three of my favorite things in it! Mangos, grapes & Cashews!
Fun Fact: My American friends laugh when I say cashew nuts, they say it sounds like I'm sneezing…! 🤦‍♀️
The pronunciation is so different and they put the emphasis on the long A and I guess Brits put it on the C! See if you notice it next time you say it, and let us know!
I have always loved curried chicken salad – Something to do with the flavor combination of the curry and the grapes mainly. It just gets me every time! The addition of the crunchy cashew nuts & the sweet mango just takes it up a notch and makes sure all flavor profiles & textures are experienced in each bite!
This curried mango chicken salad is also elevated with the use of our homemade avocado oil mayo! This makes sure there are no ingredients that are not 100% healthy approved in this recipe! We also love to bake/roast our chicken as opposed to poaching it as we think it gives a juicier outcome!
This salad is perfect served simply over a bed of greens or dressed up on some grain bread or on a croissant for a Brunch-y Lunch. Also works wonderfully as a picnic item on a hot summers day!
Let us know your thoughts on our recipe & tag us if you make it! 💚
Curried Mango Chicken Salad
2017-06-19 09:15:37
Serves 4
Ingredients
4 small-medium chicken breasts
4 tbsp butter or ghee
1 medium red onion - finely chopped
1 large or 2 small mangos, diced
1 cup red grapes chopped in half
1/2 cup raw cashews, roughly chopped
For the Sauce
1/2 cup mayo (preferably the homemade one linked in the post)
1/3 cup plain greek yogurt
5 tsp. curry powder
1 tbsp. lime juice
1 tsp. honey or agave nectar
1/2 tsp. ground ginger
1 tsp. salt & 1/2 tsp. pepper
Instructions
Preheat your oven to 400 F
Rinse and Dry your chicken breasts
Brush all over with ghee or butter
sprinkle with salt and pepper
Bake at 400 F for 25 minutes ( they should read at 165 F with a thermometer)
While these are baking, whisk together all sauce ingredients and add in the chopped onion, mango, grapes & cashews.
Remove chicken breasts and let rest for 5 minutes and then pull apart with forks.
Add the pulled chicken to the rest of the mixture and mix to combine thoroughly.
Serve over chopped salad or on some sandwich bread for a delicious and quick summer lunch!
Notes
You can also poach the chicken if preferred - bring 4 cups of water and 1 cup chicken stock to a boil and add chicken breasts - let simmer for 6 minutes, remove from heat and let stand for a further 15 mins. Pull apart and add just the same!
IVGreenhouse - Exploring Food http://www.ivgreenhouse.com/