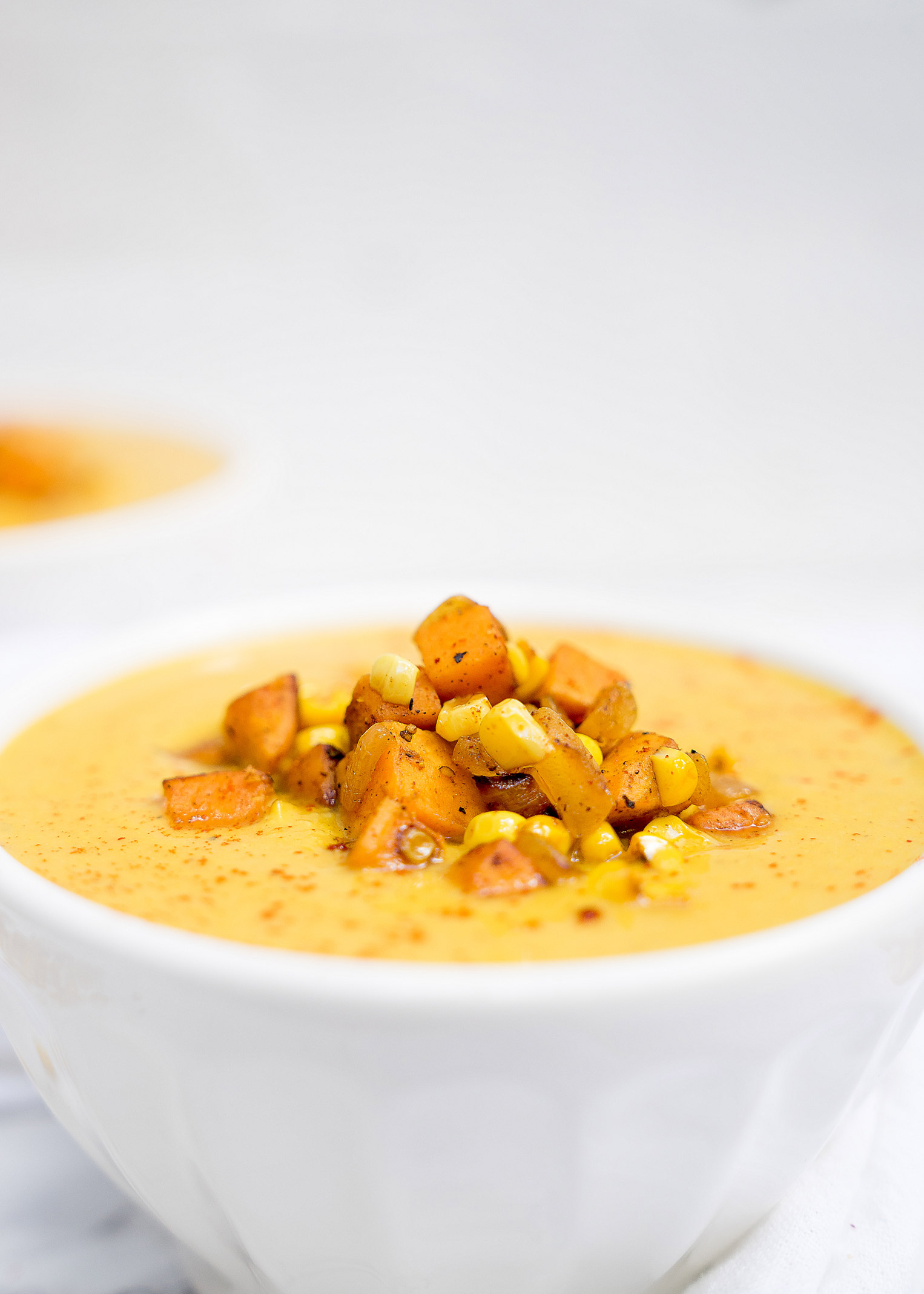 Fall (Autumn) is my all time favorite Season 🍁
One of the main reasons for this is, SOUP! There is nothing better than cozying up next to the fire, watching the leaves fall outside with a bowl of warm, comforting soup. Especially this curried corn & sweet potato soup!
But seriously, can we take a minute to appreciate fall for a second (or a minute, or an hour, or a few months!?). 🍃🍂
The colors are an obvious LOVE of mine, we've talked about my love of all things sunset and fall leaves are basically mini sunsets falling from the trees ready to be admired. Allen laughs at the amount of leaves I bring home every single morning from our dog walks. He wonders what I will do with them all, but the joy I get out of just looking at them in all their vibrant fall beauty is enough for me!
Sweaters (Jumpers) and scarves are another MAJOR major love of mine. Who agrees with me that fall clothes are by far the best!? Boots, jeans, sweaters and scarves – pretty much a cozy uniform to last three months. It may still be super hot in New York and I am loving the extended summer weather, but I am ready for Fall to descend pretty sharpish if possible!
Another reason for my fall obsession started a few years ago when we visited Vermont in October. This should be on EVERYONE's bucket list. Vermont in the fall is like the most beautiful autumnal postcard that you've ever seen. (I added a photo to the end of this post, so if you want to know what i'm talking about – scroll to the bottom now!)
Back to this curried corn & sweet potato SOUP though! 🍜
This curried soup is so comforting, so creamy, so healthy & best of all, the little kick of cayenne will clear those sinuses and get you feeling fresh again if you've picked up any changing of the season bugs! It would be the perfect starter for a fall menu or a dazzling main course on its own with the family! Also travels really well and is delicious cold if you want to take it for a desk lunch!
Let us know your thoughts on this start of fall staple, we can't wait to hear! 💚
Curried Corn & Sweet Potato Soup
2017-09-26 11:21:42
Serves 4
Ingredients
3 Tbsp. Ghee or coconut oil
2 medium onions (roughly diced)
1 large sweet potato (peeled & roughly diced)
4 ears of corn with kernels chopped off.
1 tsp. salt - 1 tsp. pepper
0.5 tsp. or each - Turmeric & cinnamon
0.25 tsp. cayenne pepper
1 liter of stock (we used chicken, but if vegan/vegetarian - use vegetable broth!)
0.5 cup coconut milk
Instructions
Heat Ghee or oil in a pan until hot
Add onion & sweet potato and sweat for 5-10 minutes until potatoes are slightly tender
Add all spices and stir to coat.
Add the corn kernels and stir again, let sweat for a further 2-3 minutes.
Add stock and bring to the boil
Simmer for 20 minutes
Remove from the heat and blend with an immersion or stand alone blender until velvety smooth
Pour back into the pan and mix in the coconut milk.
No need to reheat, but if you're not having it straight away or making it ahead, its best to add the coconut milk right before serving!
To serve
Heat up some crusty rolls and enjoy!
Notes
Optional - cut a little extra onion and potato and fry up with some of your spices for a crunchy topping.
IVGreenhouse - Exploring Food http://www.ivgreenhouse.com/
SaveSave
SaveSave
SaveSave
SaveSave
SaveSave
SaveSave
SaveSave
SaveSave
SaveSave