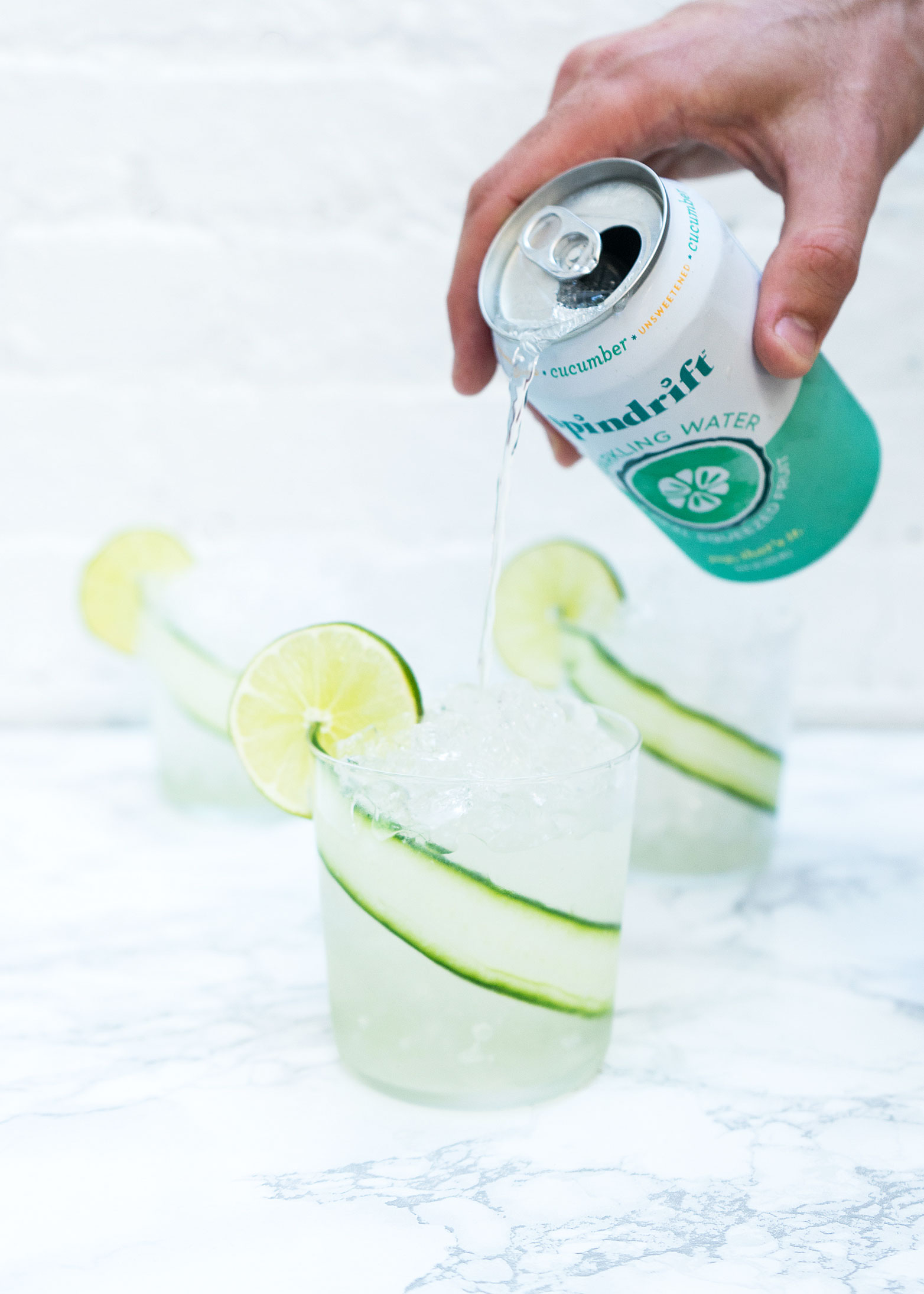 So, this is a match made in HEAVEN 🙌
The two main ingredients in this cocktail, Botanist Gin & Spindrift Soda are both natural, sustainable & delicious products on their own. However, put them together in this low-alcohol super refreshing Cucumber Drift and you have a completely different level of wonderful! This is our new Summer sipper for sure.
Another awesome and funny thing about this recipe is that, Spindrift is US made and Botanist Gin is Scottish through and through. Here's the ironic part … we live in the US and we are heading over to Scotland in about a month. We literally bought our tickets to visit family and a few minutes later we created this cocktail. Funny how life works!
Botanist Gin 💚
Botanist Gin is an amazing gin and the only gin handcrafted in Islay, Scotland. It contains local hand foraged herbs & botanicals. It's super slow distillation process allows the 9 traditional botanicals to infuse perfectly with the other 22 herbs that are included in this gin's amazing flavor range! You can find out exactly what these are here. We love natural, sustainable & caring companies and that's why this gin pairs so perfectly with Spindrift.
Spindrift 💚
Spindrift is an American Soda company made with triple distilled sparkling water & real fresh squeezed fruit juices. (Yup, that's it!) Their beverages are unsweetened and therefore only have the natural fruit sugars making their sodas range between 1g-3g sugar total 🎉. They are also actively involved with sustainability, the happiness of their farmers & also participate in the 1% for the planet program which helps to support our natural environment. We love their transparency and how they tell you where each fruit comes from and their whole process. Find out more about them here!
Cucumber Drift 🌊🥒
So, it was HOT this weekend…and it was also a nice long holiday weekend! This usually means one thing, lots of picnics, outdoor eating & drinking and a huge need to stay well hydrated! This cocktail was a pretty perfect solution in our opinion! It has a low alcohol volume and a high hydration point, plus the addition of cucumbers that are 96% water. This really is the perfect Afternoon Sunshine Sipper! ☀️. 4 ingredients make up this crazy refreshing beverage, Botanist gin, Spindrift cucumber soda, fresh lime & cucumber. Voila, your new favorite!!
Let us know how you're enjoying your cocktails during this hot summer below! 🔥
Cucumber Drift
2017-07-07 07:59:45
Serves 2
Ingredients
1.5 oz. Botanist Gin (or any if you do not have!)
1 x Lime Wheel
2 x cucumber wheels
Cucumber Spindrift Soda (If using regular soda, add some more cucumbers in the first part!)
For garnish
1 x Lime Wheel
1 x Cucumber ribbon (Take your peeler and run it along the length of the cucumber)
Instructions
In the bottom of your cocktail shaker, muddle the cucumber & lime together with the gin.
Fill shaker with ice and shake vigorously until well chilled and combined.
Garnish your glasses - wind the cucumber ribbon around the glass and finish with a lime wheel.
Fill your 2 x rocks glasses with crushed ice to the top
Strain muddled gin from the shaker over the crushed ice
Serve, sip & feel the refreshment!
IVGreenhouse - Exploring Food http://www.ivgreenhouse.com/