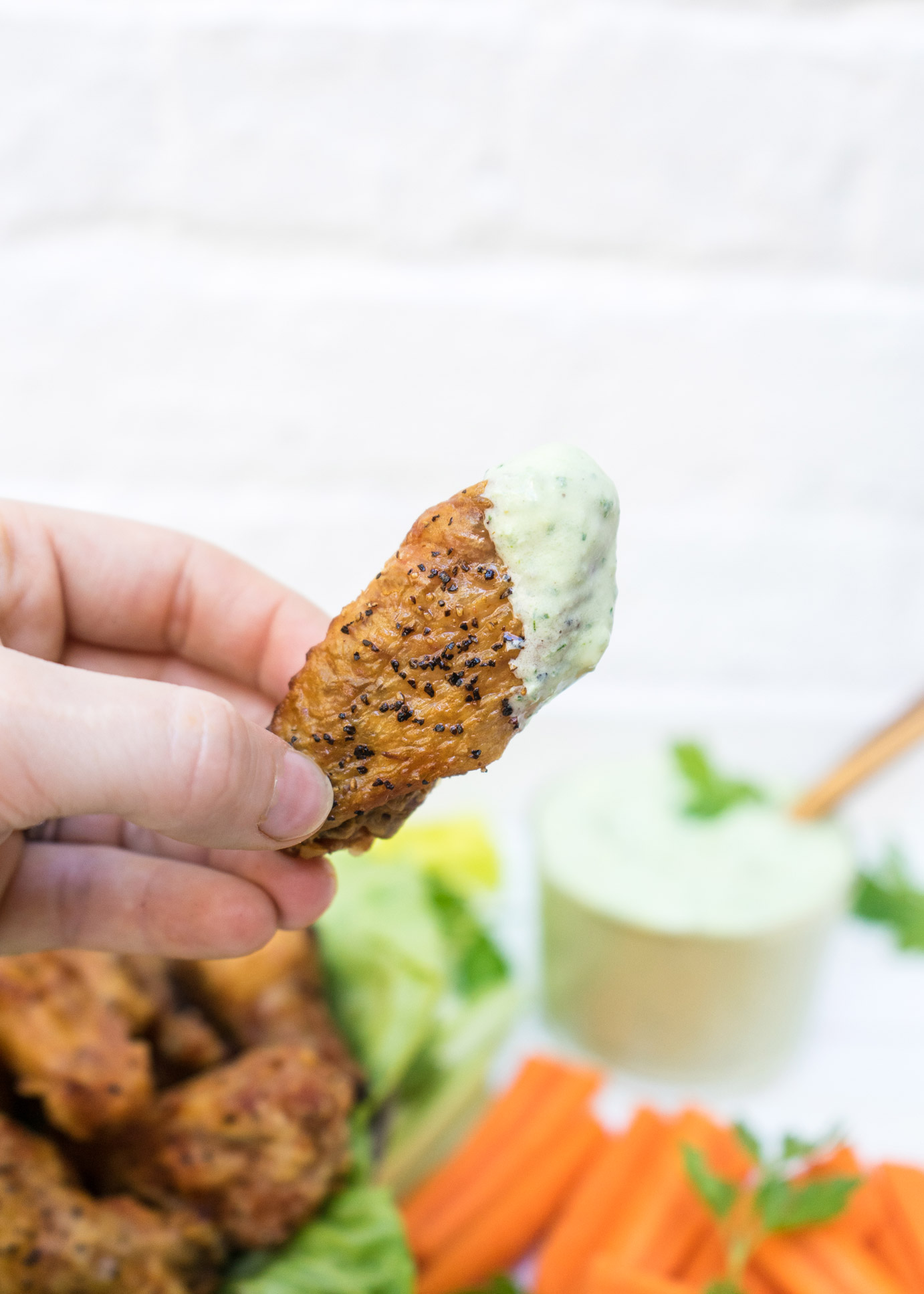 Let me just start by saying, I could put this Sauce on EVERYTHING.
This recipe is so simple, so delicious & so, so satisfying! Crispy Shenandoah Valley Organic chicken wings, seasoned to perfection and then dipped in an incredibly tangy, green goddess of a sauce! 💚
We LOVE wings in our house, like a serious love affair that started back when we lived on Long Island. When we worked out there, Mondays and Tuesdays were our weekends. We are grateful to have 'traditional' weekends now but there was something so great about having Monday & Tuesday off. Everywhere was quieter, there were always great deals at restaurants and bars and the beaches were empty in the Summer! So really a win-win for our non-traditional time off! (Obviously everywhere we went was frequented by allll the hospitality workers as Long Island is 90% country club I swear!)
Anyway, one of our favorite Tuesday activities was, firstly, $9 movie night. Nine dollars for a movie is UNHEARD OF. So we went pretty much every week and I have never felt more up to date with new movies than I did then! But before or after we would go to the movies, we would go to buffalo Wild Wings (yes, I said it, judgement free zone here okay!). This place was great (probably stills, we just don't go anymore!) and on Tuesdays they had 50 Cent wing night, which meant 12 wings for $6 😬. I kinda miss that Tuesday tradition now that I am writing it down.
Anyway, the point is, wings were an integral part of the first couple years of our relationship so this is an ode to them! 💑
This is a basic wing recipe – one that will produce extra crispy wings and the seasonings can be left to your wild imaginations! We kept them simple here with Salt & pepper because the sauce is juts that good but we also like a nice spicy dry rub and also tossing them in either buffalo/siracha sauce or an asian like teriyaki!
Let us know your favorite wing memory or flavor combo! 👌
Crispy Chicken Wings with Super Herb Sauce
2017-06-25 16:39:59
Ingredients
12 chicken wings
0.25 cup baking powder
Salt & pepper
For the Sauce
1 cup greek yogurt
1 fresh handful of each: dill, parsley & cilantro
Salt & Pepper
Half a lemon juiced
optional: 1 tsp. dijon mustard
Instructions
Preheat your oven to 425 F
Rinse and dry your chicken wings
When they are dry toss them in the baking powder until lightly covered
Sprinkle liberally with salt and pepper
Place on a baking sheet with a rack on top (spray rack unless it is non-stick)
Bake for 40 minutes (check done-ness after 30 if you have smaller wings)
While these are baking - prepare your sauce.
Blend all ingredients together in a food processor until smooth
When chicken wings ready put in a bowl and serve with sauce on the side for dipping!
IVGreenhouse - Exploring Food http://www.ivgreenhouse.com/