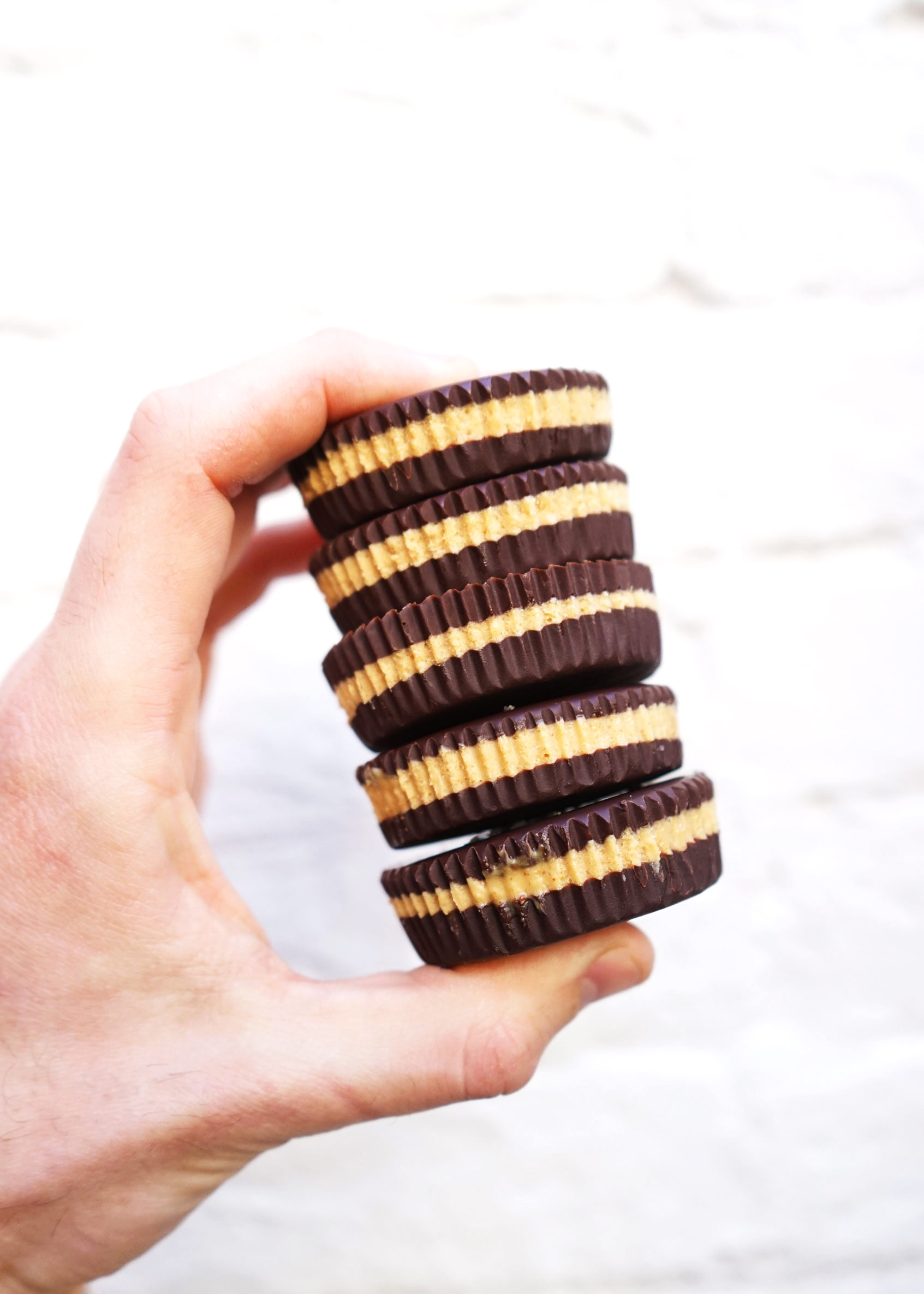 OH. MY. GOODNESS 😍
These coconut oil peanut butter cups are just toooooo good! I may be slightly addicted. They are the perfect size for an after dinner treat to satisfy any sweet cravings you may have. The cups are salty and chocolatey and filled with good protein and fat in the form of natural peanut butter and coconut oil. 🙋
So, I was never a huge peanut butter lover and I definitely was not a fan of the PB cups you find in the stores. I am now officially a changed woman on the PB front! We love the nut butters, allll of them! Peanut butter has something special about it, I don't know whether it is the way it sticks to every single bit of your mouth? Or it's salty sweetness? But something makes it just wonderful.
I mean, I am not denying that whoever thought up the idea of putting peanut butter with chocolate in a cup form was a genius. I thank them, very much for this glorious snack/dessert option. As you know, I am also obsessed with coconut, in every and any form so adding it to the peanut butter was a no brainer! Seriously, go make these asap!
Basically, these are a win win, especially in areas of the heart. They are high in protein and potassium from the peanut butter, high in natural fats from the coconut oil & the dark chocolate helps to lower blood pressure and keep your heart healthy. So what are you waiting for? If you make these, let us know your thoughts as always 💚
Coconut Oil peanut Butter Cups
2017-04-19 10:50:19
Ingredients
14oz. dark chocolate (we used 90% cocoa)
0.5 cup natural no stir peanut butter
2 tbsp. coconut oil
Pinch of Maldons Sea Salt or Pink Himalayan Salt
Instructions
Line a cupcake or muffin 12 tray with paper cases
Melt 7 oz. dark chocolate in a dual saucepan over a low heat.
Spoon equal(-ish) amounts of melted chocolate into each paper case - bang or tap tray on the surface to get rid of any bubbles.
Freeze for 15 mins
While this is freezing, process your peanut butter and coconut oil together in the food processor or blender until smooth.
Place equal amounts of peanut butter mix onto each solid layer of chocolate (tap on surface again).
Freeze for 15 minutes
While this is freezing, melt the remaining 7 oz. chocolate the same way as the first 7 oz.
Spoon or pour equal amounts of melted chocolate onto the frozen peanut butter layer (tap on surface) and sprinkle with sea salt.
Freeze for a further 15 minutes until set.
Remove and enjoy - or store in an airtight container for 2 weeks or so.
Notes
You can half this recipe if you want thinner layers!
IVGreenhouse - Exploring Food http://www.ivgreenhouse.com/