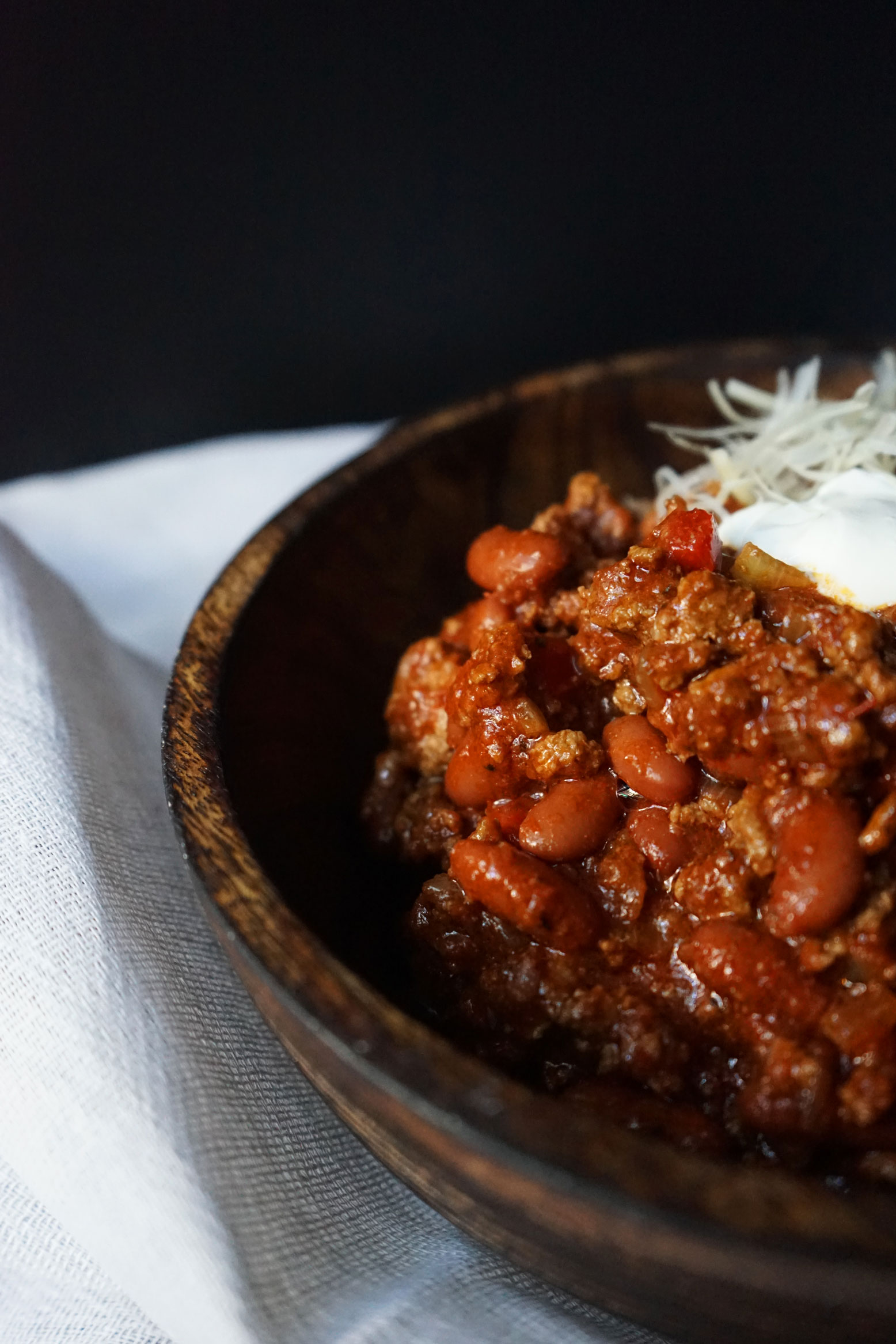 What is better than a cosy bowl of chilli con carne on a cold fall evening? A cosy bowl of chilli topped with sour cream & cheese, that's what! This recipe is a very traditional one for me! Any party we have ever had in the colder months at my childhood home, there was always a vat of Mummy's chilli on the stove and what looked like hundreds of baked potatoes in the oven…and it was HEAVEN. I feel it was almost famous in our very small town! There is something so comforting about chilli, maybe it is its warmth or its heartiness or its ability to transport you to the last time you had it? I am unsure but what I do know is that there is no better cosy family meal than Chilli Con Carne for me, that's for sure.
Chilli Con Carne
2016-10-18 16:52:47
Serves 4
Ingredients
olive oil or butter
1 large onion (diced)
500g Minced Beef (Usually 2 standard size packs)
1 red pepper (diced)
4 garlic cloves (crushed)
1.5 tsp cayenne pepper
1 tsp paprika
1 tsp cumin
1 pint beef stock
400g chopped tomatoes (one can)
1 tsp sugar
2 tbsp tomato puree
1 can (400g) of red kidney beans
For Garnish: Sour Cream & Grated Cheese
Instructions
Heat your oil or butter in a large fry pan (or le cruset pot)
Add onions and cook until they are translucent and soft
Add crushed garlic, cayenne, paprika & cumin and stir
Let it cook for 5 minutes approx. before adding your ground beef (it should sizzle when added!)
Brown your mince and let it just start to stick to the pan and burn a little (trust me the flavor is so much better if you let it do this)
Add in your pint of stock, can of tomatoes, puree and sugar and stir to combine
Season with salt, pepper (& some dried herbs if you want!)
Bring your pan to the boil and then leave it to simmer for 20 minutes making sure to check it every 5 minutes (if it gets too dry add a little water).
Drain and rinse a can of red kidney beans and add them to your pan and give it a good stir.
Bring your pan to the boil again and let it simmer for 10 minutes.
Season to taste & serve with the optional garnish of sour cream & cheese!
Notes
If serving this with baked potatoes it can serve 6-8 people
This is a traditional recipe, so if you like more spice - up the cayenne, if you don't - reduce it!
IVGreenhouse - Exploring Food http://www.ivgreenhouse.com/