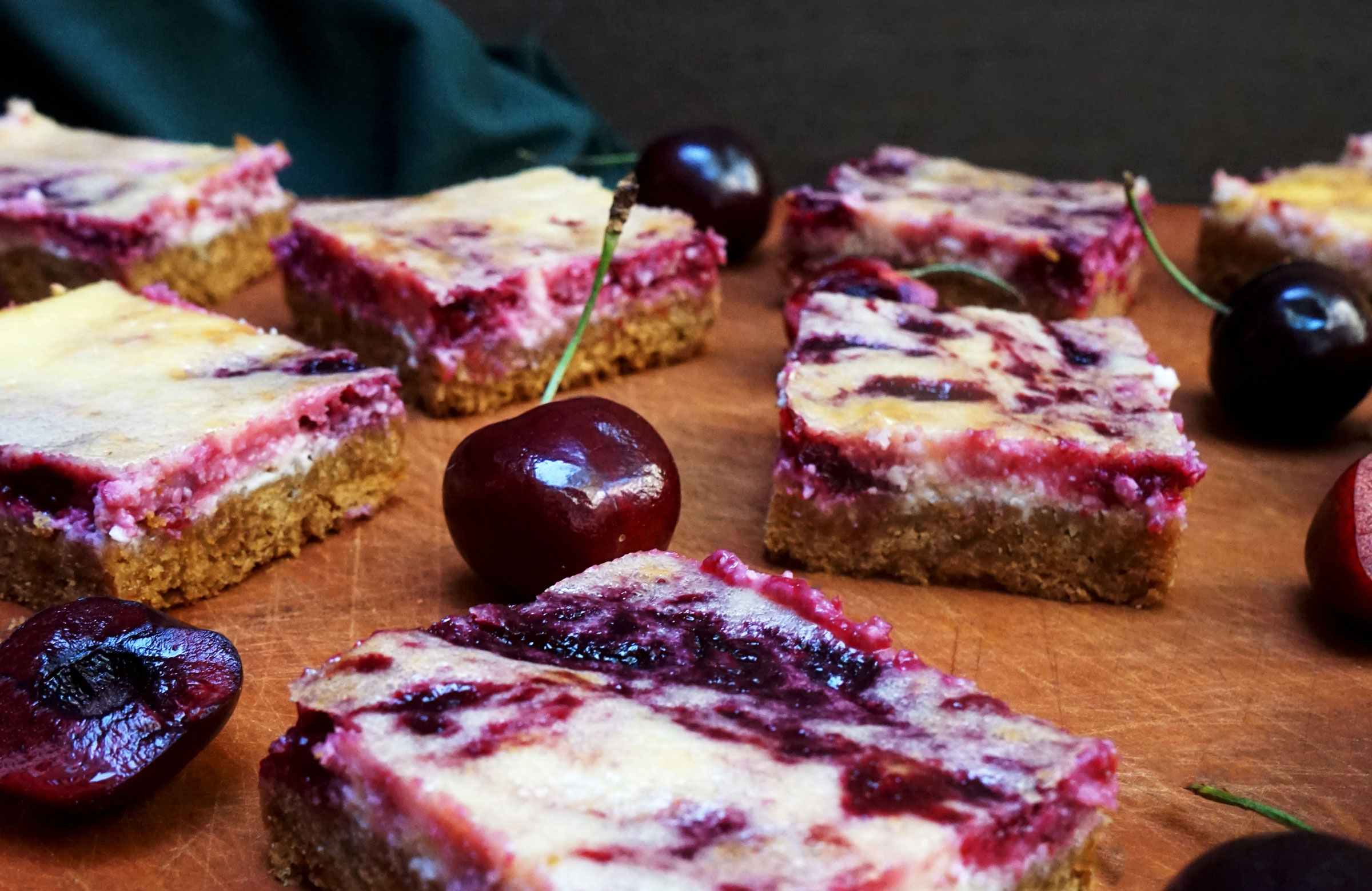 The cherries this week were so beautiful, they were dark, glossy & perfectly ripe! I just had to make something delicious with them – whats better than fresh cherries this time of year? Not much!
Swirling them into the top of these cheesecake bars was so satisfying and the final taste was so good, even better than I imagined. Waiting for them to bake and then cool was probably the most difficult bit! This worked as a great dessert for a recent dinner party, especially with the last minute addition of some bourbon! They are easy, they can be made in advance and when served with a scoop of vanilla ice cream on the side, couldn't be simpler!! I can't wait to share them with you below…
Bourbon Cherry Cheesecake Bars
2016-07-12 11:33:10
Makes 24 delicious cheesecake squares!
For the Crust
2 sealed packets of graham crackers out of one box – bashed into crumbs
10 tbsp. melted butter
2 tbsp. firmly packed dark brown sugar
For the Bourbon Cherry Swirl
2 cups cherries, pitted
2 tbsp. granulated sugar
2 tsp. cornstarch
juice of ½ lemon
¼ cup Bourbon
For the Cheesecake
2 8oz. Philadelphia tubs
3/4 cup sugar
3 eggs
juice of ½ lemon
For the Bourbon Cherry Swirl
Combine the cherries and sugar in a medium saucepan. Bring to a boil, while stirring. – they more bubble than boil.
Decrease heat and let it simmer for 3 minutes.
Stir in the cornstarch and lemon juice.
Cook for 3 minutes, until slightly thickened.
Add the bourbon and stir until mostly absorbed
Set aside to cool.
Once cooled (whilst the crust is baking) – put your mixture into a blender and puree)
For the Crust
Preheat oven to 350°F. Grease a half sheet tray (approx.. 9 x 13 x 1 in.).
Combine the cookie crumbs, butter, and brown sugar until thoroughly mixed.
Press the mixture firmly and evenly into the bottom of the prepared pan. Use a wooden spatula to really flatten it
Bake for 10 minutes. Set aside to cool slightly while you make your filling.
For the Cheesecake
Put the cream cheese, sugar, eggs, and lemon juice into your kitchen aid or electric mixer and beat until thoroughly combined and smooth.
Pour onto the partially baked crust, and spread evenly.
Pour the cherry mixture over the top of the filling. Your aim is to cover most of the cheesecake filling with the cherry mixture
Use a toothpick or skewer to swirl the cherry mixture into the filling.
Bake for 35 minutes.
Make sure to let it cool to room temperature before refrigerating for 3-4 hours – it will keep in the fridge for 3-4 days, so make ahead for your next dinner!
IVGreenhouse - Exploring Food http://www.ivgreenhouse.com/