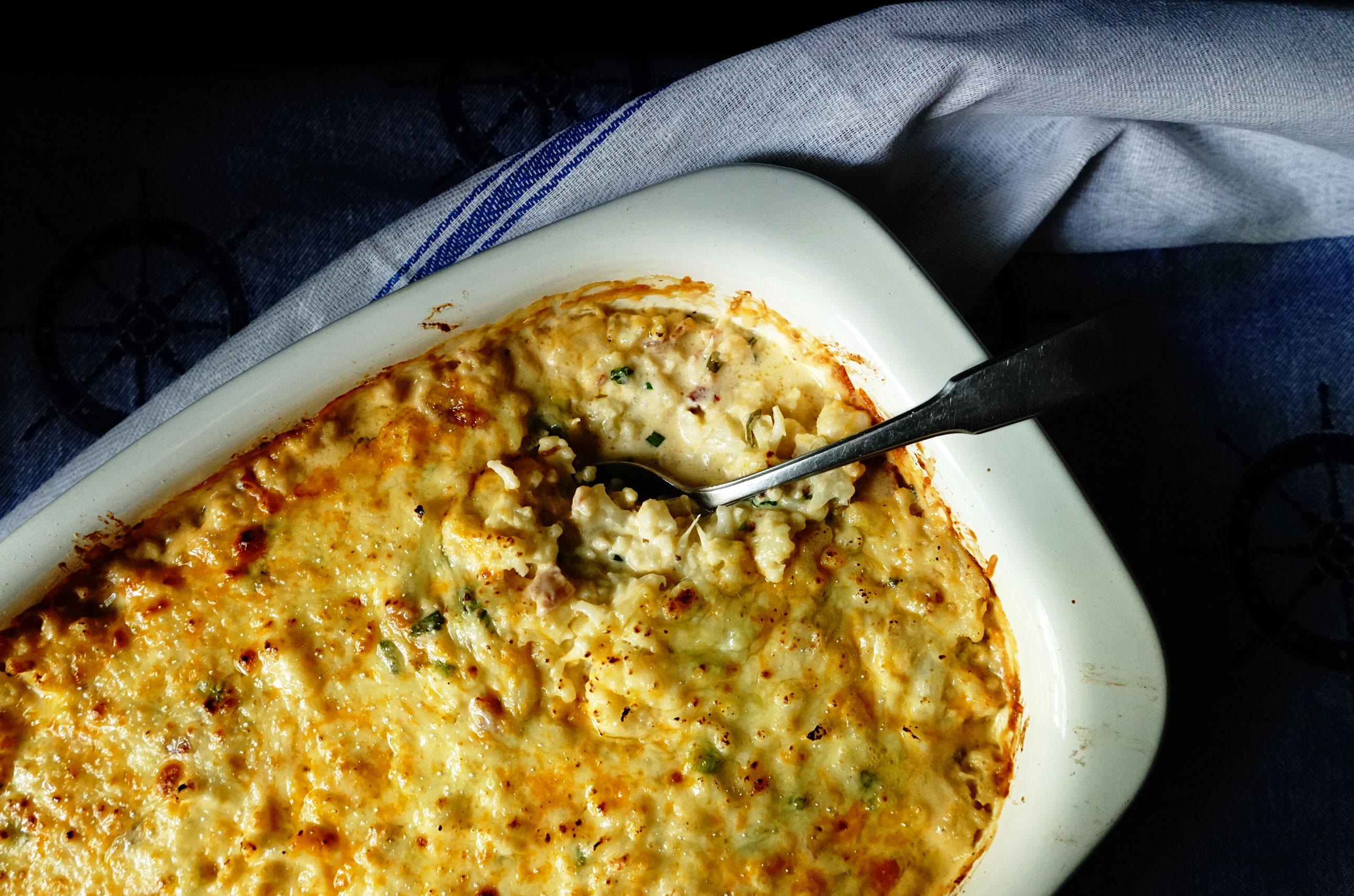 Oh. my. goodness.
This cheesy cauliflower casserole is the best. thing. ever. It is all the bits you love about mac 'n' cheese and loaded baked potatoes but with waaaaaay less carbs! What sounds better than that? Not much to these cheese lovers that's for sure! Now, we're not saying that this is a healthy dish – because that would be a lie, but it is a slightly healthier version of our favorite comfort foods mixed together – and sometimes, it's okay to indulge, especially in this gooey, loaded deliciousness!
It's easy, its relatively quick & it's cheesy, what more could you want?
Cheesy Cauliflower Casserole
2016-09-27 12:39:41
Serves 8
Ingredients
2.5 lbs Cauliflower Florets (Approx. 1 large head of cauliflower)
12 oz. shredded cheese (we used a mix of Mexican blend & white cheddar)
4 oz. shredded cheese (for the top)
8 oz. cream cheese (We used one pot of Philadelphia)
4 tbsp Heavy Cream
9 spring onions sliced (green onions)
7 slices of bacon (cooked & roughly chopped/crumbled)
2 cloves of garlic (crushed)
salt & pepper
Instructions
Preheat your oven to 350 F (180 C)
Steam cauliflower florets until tender (about 10 mins)
Mix together your cream cheese, cream & 12 oz. shredded cheese until fully combined
Add in your cooked bacon bits, spring (green) onions & crushed garlic and mix until fully combined again.
Now add any cauliflower liquid to the cheese mixture, then add your cauliflower florets (let it sit for 2 mins) then combine together (I used a strong wooden spoon and my arm did ache a little - so if you have a helper around, get them to do a little mixing!)
At this point, season to taste, we probably used around a tbsp. salt & 0.5 tbsp pepper.
Once fully combined, pour mixture out into your casserole dish (about 3 quarts).
Top with the 4 oz. cheese, cover with foil and bake for 25 mins
Uncover the dish, bump your temperature to 400 F (200C) and cook for a further 15 minsuntil cheese is bubbling and browning on the top!
SERVE AND ENJOY!
IVGreenhouse - Exploring Food http://www.ivgreenhouse.com/