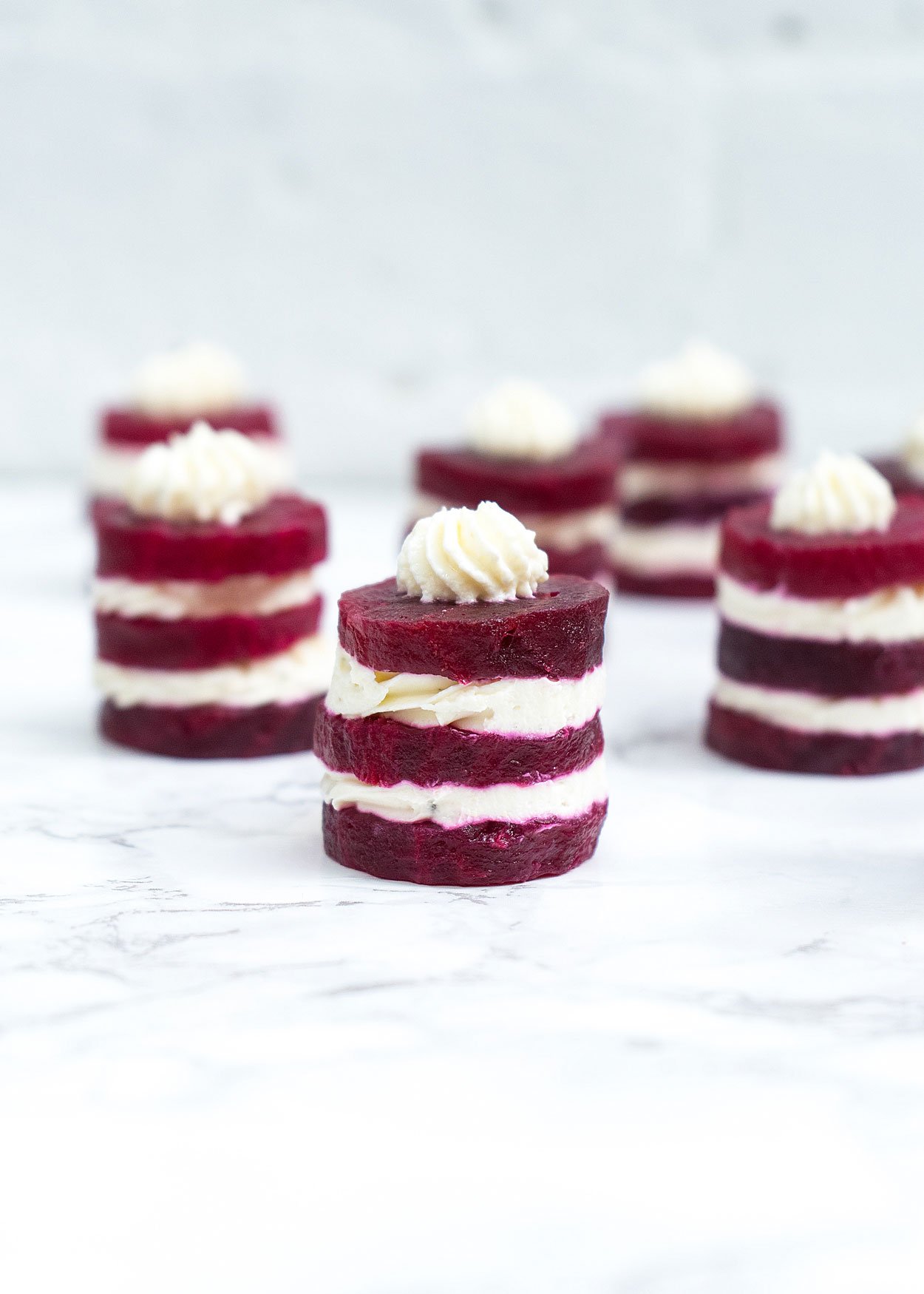 These Beet Napoleons are just the cutest and most delicious canapé ! They also look rather patriotic with their red and white stripes! They are the perfect canapés for a summer BBQ or party. They have a sweet and tangy finish and the ratio is just perfection.
We LOVE beets – wait, I think you may already know that 🙄!!
As a child I was always told off for eating too many beets in one sitting at family parties, people would get very worried about my obsession at such a young age! I could have them raw, pickled, roasted etc, etc. Any way you could make them, I would eat them! I don't know whether it is the Polish in me from my father's side of the family? Maybe so, I mean Borscht is arguably the best soup in the world.
I think there is something so great about these flavors together – the beet provides an earthy sweetness and the goats cheese contrasts that with its tangy freshness. It is a refreshing bite of heavenly goodness!
We hope you're all having a wonderful day, let us know if you make these! 💚
Beet Napoleon
2017-07-01 09:03:12
Ingredients
3 Medium sized Beets (scrubbed clean)
1 8oz. packet of Goats Cheese
4 tbsp. cream (or any thinner of your choice - nut milk etc...)
Salt & pepper
Instructions
Preheat your oven to 350 F
Once your beets have been scrubbed clean and then patted dry, place each one in the center of a large foil square (large enough to wrap tightly around the beet).
Drizzle a little olive oil over each beet and wrap with foil
Place on a baking sheet and put in the oven for about an hour.
Test done-ness by piercing with a fork.
Once beets are roasted and cooled, slice them into equal thickness rounds
Use a cookie cutter or top of a glass to cut rounds out of your beet slices of equal size and thickness.
Mix your goats cheese, cream & a pinch of salt & pepper together until smooth paste is formed.
To assemble
Use a piping bag (or ziplock bag with the corner cut off) and pipe the goats cheese mix onto the rounds of beetroot - we like to make ours 3 layers of beetroot to 2 layers of goats cheese mix.
Optional - add a sprig of dill to the top of each round!
IVGreenhouse - Exploring Food http://www.ivgreenhouse.com/