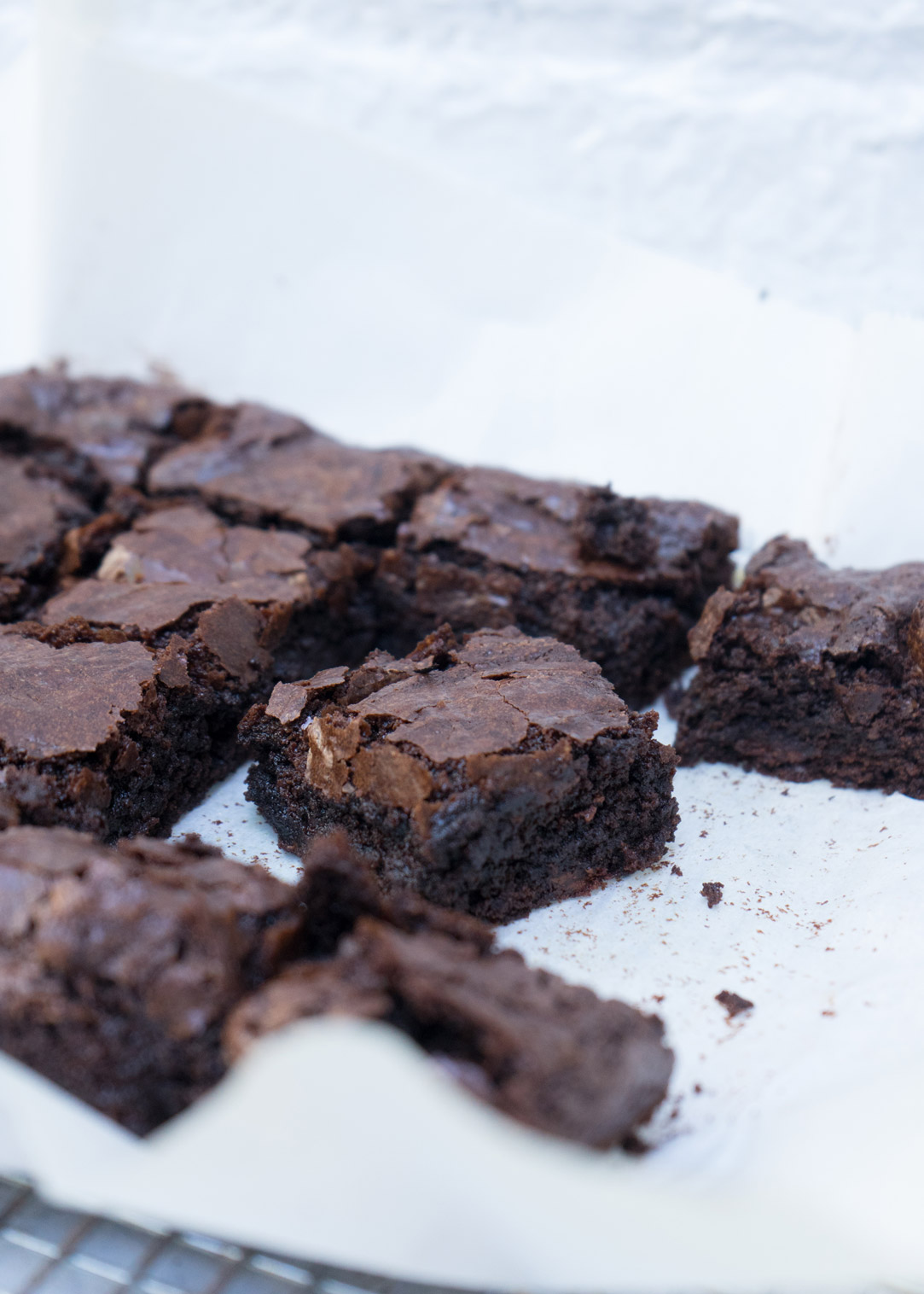 Ooey, Gooey and oh so good.
This Avocado Oil brownie recipe is the only one you will ever need & I don't say that lightly. 👆
I feel that everyone always talks about how difficult it is to get a moist brownie. Well, this recipe for ooey gooey brownies will change your liiiiife – bit dramatic but true! So gooey and chewy and perfect! We recently took a batch of these brownies to a family event and I didn't take any home with me 😆.
Avocado Oil 🙌
If you don't have a bottle of this next to your stove or in your pantry, I really hope the next few sentences will make you go out and buy some! This is our favorite brand. I only cook with a handful of oils and Avocado Oil is slowly creeping higher and higher up my list. (My top 4 are Coconut Oil, Avocado Oil, Olive Oil & Butter 👌) Avocado Oil has SO many benefits and uses, it's pretty incredible! It is high in healthy fats, it is proven to lower blood pressure, cholesterol & fight arthritis. In France they have even given it prescription status purely for that last point!
It has one of the highest smoke points of any oil due to the fact it is made from the fleshy part of the avocado and not from the seed like most oils. It is perfect for cooking with and it also adds a delicious smooth, creamy and nutty flavor to salad dressings! However, one of my favorite uses for it, is this recipe for avocado oil brownies! If there is ever a chance to replace an unhealthy ingredient with one that has way more benefits for your body – I am there.
This brownie recipe utilizes a bunch of healthy ingredients in place of standard brownie ingredients.
One of the others is Cacao powder – this 100% cocoa powder is bursting with antioxidants, calcium, iron & magnesium! Why wouldn't you replace baking cocoa (which almost always has artificial sweeteners or added sugar) with a natural product if you can? We think this stuff is awesome.
The final healthier addition is this Raw Turbinado Sugar which is made from the original pressings of the sugar cane and therefore has not been through the rigorous processing that white sugar has. This means that this 'raw' sugar keeps most of its nutrient values compared to processed sugar which looses most, if not all, of its nutritional value.
So, we hope you LOVE these brownies as much as we do and we hope you make them ASAP! If you do, let us know 💚


Avocado Oil Brownies
2017-04-19 12:33:14
Ingredients
1.25 cups raw turbinado sugar (or any)
1/4 cup water
1 oz. 90% (or higher) dark chocolate
0.75 cups all purpose flour
1/3 cup 100% cacao powder
2 large eggs - beaten
0.5 cup avocado oil
1 tsp. vanilla extract
0.5 tsp. baking powder
pinch of salt
1/3 cup semi-sweet chocolate chips
Instructions
preheat oven to 350 F.
Line a 8"x8" baking pan with parchment paper
In a saucepan combine sugar, water & dark chocolate together and stir over a low heat until sugar dissolves and chocolate melts. Take off the heat.
In a large bowl put the flour, cacao powder, eggs, oil, vanilla, baking powder, salt & chocolate chips together.
Pour over the melted chocolate mixture slowly and mix all ingredients together lightly until combined - try and make sure all ingredients are thoroughly mixed.
Pour into prepared pan and even out with a spatula making sure they get into the corners.
Bake in the oven for 22 minutes.
Test with a toothpick - a few moist crumbs is what you want!
Let them cool completely, then cut into 16 squares and enjoy!!
Notes
They taste even better the second day so perfect to make ahead!
Adapted from Countryside Cravings
Adapted from Countryside Cravings
IVGreenhouse - Exploring Food http://www.ivgreenhouse.com/