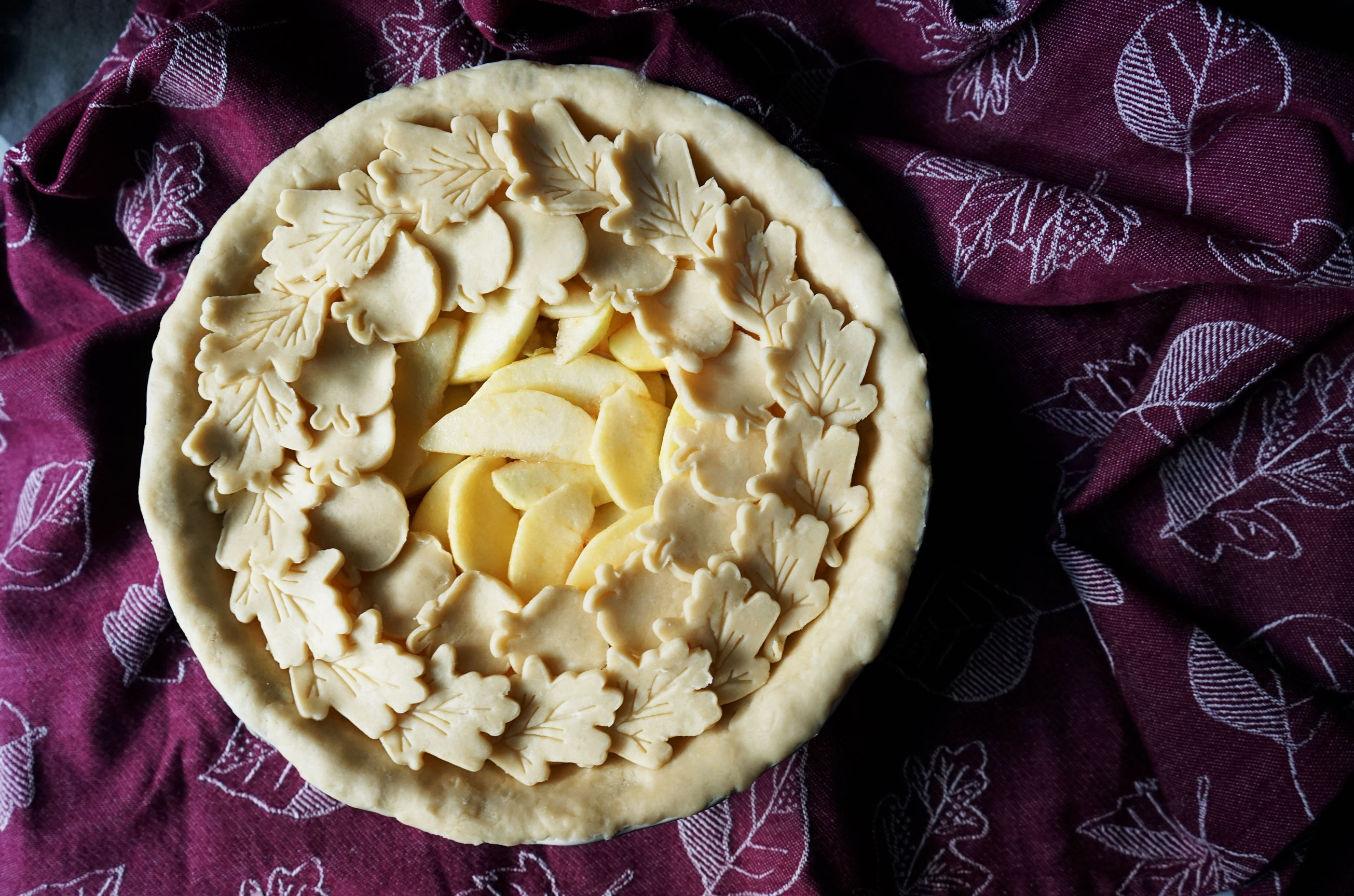 Our trip to the apple orchard this year was SO. MUCH. FUN! We had such a great time at Harvest Moon Farm and Orchard, we started with a delicious hardscrabble cider (which will be featured later this week!) & then onto apple picking! We bought ourselves a half bushel bag and got on our way – we were directed to a secret corner of the orchard that was still full of apples and for this, we were very grateful! One of the main attractions for us to visit Harvest Moon year after year is that we can take the puppies too and that everyone there loves dogs of all sizes and shapes. It makes for an incredibly happy experience for all!
But now, onto the recipe for a delicious apple and ginger pie – two of my favorite flavors are apple & ginger, so what's better than to put them both together in a buttery pie crust and call it a day! We will be posting many more Orchard inspired recipes this month too, so stay tuned!
Apple & Ginger Pie
2016-10-17 13:02:19
Serves 6
For the Crust
2.5 cups plain flour
1 cup (2 sticks) butter cut into cubes (place in fridge or freezer to chill before using)
1 tsp. salt
1 tsp. sugar
8 tbsp ice cold water
For the Filling
5 fresh apples (peeled, cored & sliced)
0.25 cup crystalized ginger pieces (small/chips)
For the Crust
Place the flour, sugar & salt into your blender and pulse to combine
Add the butter half at a time and pulse until the butter is the size of large peas
Then add a quarter cup of ice cold water and pulse until combined - then add water a tbsp. at a time until the pastry starts to stick together - don't be scared to take the top off and feel the texture with your hands - once it stays together when pinched you are at the desired texture!
Empty the pastry dough out onto a clean dry surface (it will be very crumbly at this point
split the pile into two even mounds and form them into disks about 2 inches thick
Wrap your disks with cling film and place in the fridge for about an hour.
For the Filling
Peel, core & slice five apples.
Measure out your ginger pieces (chop to small chips if necessary)
To Assemble the Pie
Preheat your oven to 400 F
Get your pastry dough out of the fridge and carefully roll out each disk.
The first one you will be using for your base and sides - lay the crust over your pie dish and let it fall into place - then use your hands to squish it into all the corners it may miss on its own.
Put your apple slices into your dish on top of the layer of crust - sprinkle over your ginger chips into an even layer
Your second disk of dough will be used for your pies top - you can either lay this over as it is and puncture it a few times near the centre or you can get fancy with pastry cutters, which is so fun this time of year!
Brush your pie with an egg wash (I like to use an egg & a tbsp. of heavy cream) sprinkle with a pinch of sugar and you're ready for the oven!
Bake in the oven for 45 minutes - check to see the pastry color and crispness - if it is getting too brown on top you can cover with foil and continue to back for another 10 minutes!
IVGreenhouse - Exploring Food http://www.ivgreenhouse.com/