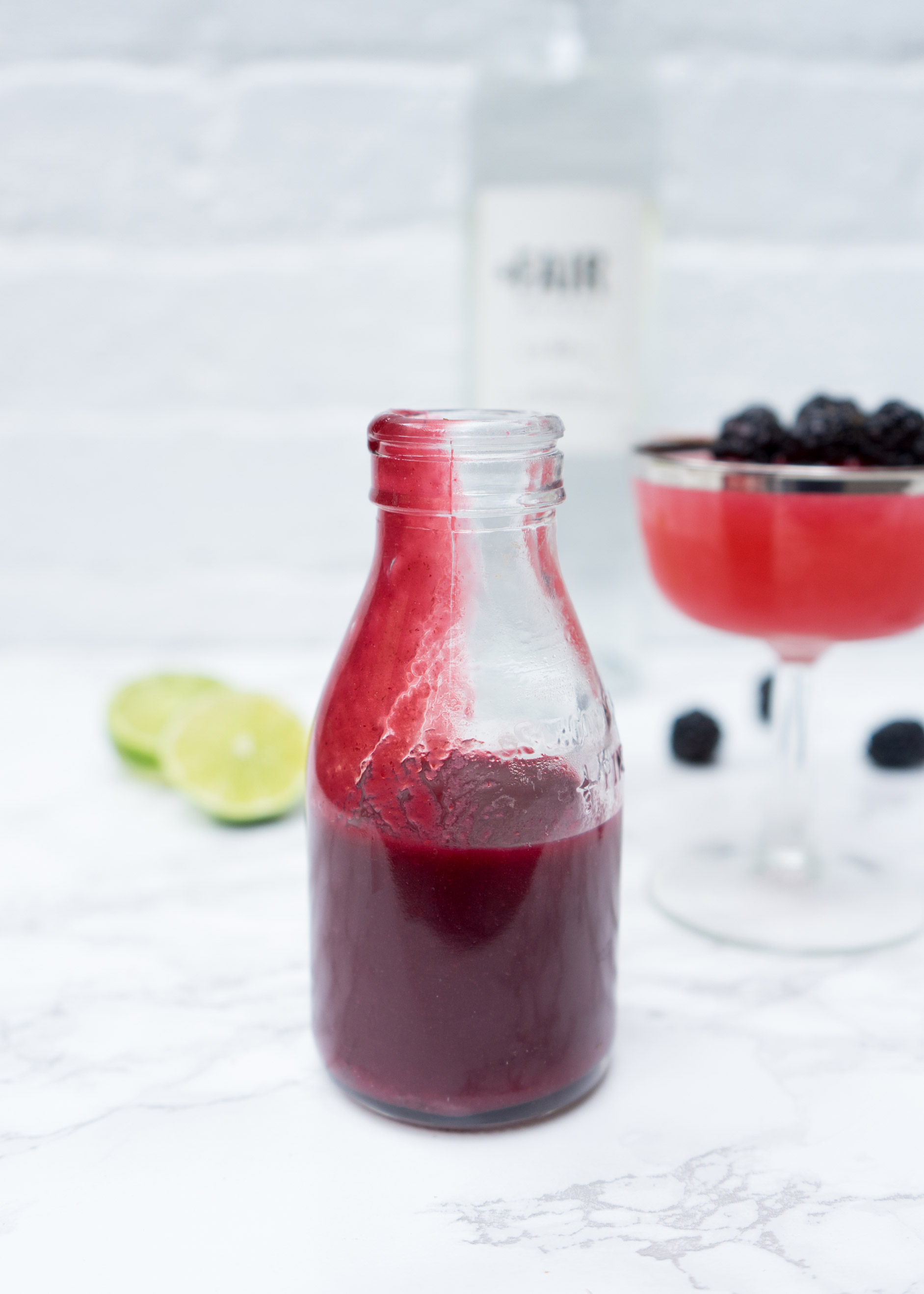 This Blackberry Syrup is just 👌!
It has just three ingredients (and one of them is water!), a super short cooking time and will be ready to use in ten minutes flat! We LOVE it when blackberry season rolls around (a little earlier on the East coast!), the difference is crazy in the quality and juiciness of the berries at this time of year! Obviously, living in NYC, we can get blackberries all year round which is why it is great that you can actually taste the difference in their natural season, proving, yet again that it is always best to eat seasonally when you can!!
Blackberries conjure up all sorts of images for me. They make me think of the bramble bushes back home that as a child, you would always manage to walk into, get tangled in or come out looking like you'd been 'dragged through a hedge' as our mothers would quote!
The blackberries were so ripe and delicious we had to make a few recipes with them as soon as possible! First up was this Blackberry Syrup. Mainly due to the fact that we needed a syrup to go into a few of our other recipes!! This blackberry syrup can be whipped up in ten minutes and can pretty much be used for anything and everything once made. You may want to double that recipe! (Ours is already gone for this week 😬).
We are going to be sharing our blackberry themed recipes very soon, so check back to find the links! We have an Old Fashioned Blackberry Swirl Ice Cream and a Blackberry-Lime Spritz for starters! We are so excited to share them with you!
HINT – Make this syrup now so that you're prepared for the next two recipes coming your way!!
As always, let us know what you think! 💚
10-Minute Blackberry Syrup
2017-06-08 13:00:25
Ingredients
8oz. blackberries
0.25 cup raw sugar
0.25 cup water
Instructions
Place blackberries, sugar & water in a saucepan over a low/medium heat
Stir until the sugar has dissolved and it starts to simmer
Allow it to simmer until the blackberries start to breakdown - about 6-7 minutes.
Pour the contents of the pan into a blender and blend for about 30 seconds.
Now it is up to you if you strain it at this point! - if you like a smooth & silky syrup, strain using a cheese cloth or sieve! If you don't mind the seeds, just let it cool as it is!
Notes
Use it hot from the blender on pancakes or cold on ice cream or in cocktails!
If you don't have a blender, just use a potato masher instead!
IVGreenhouse - Exploring Food http://www.ivgreenhouse.com/