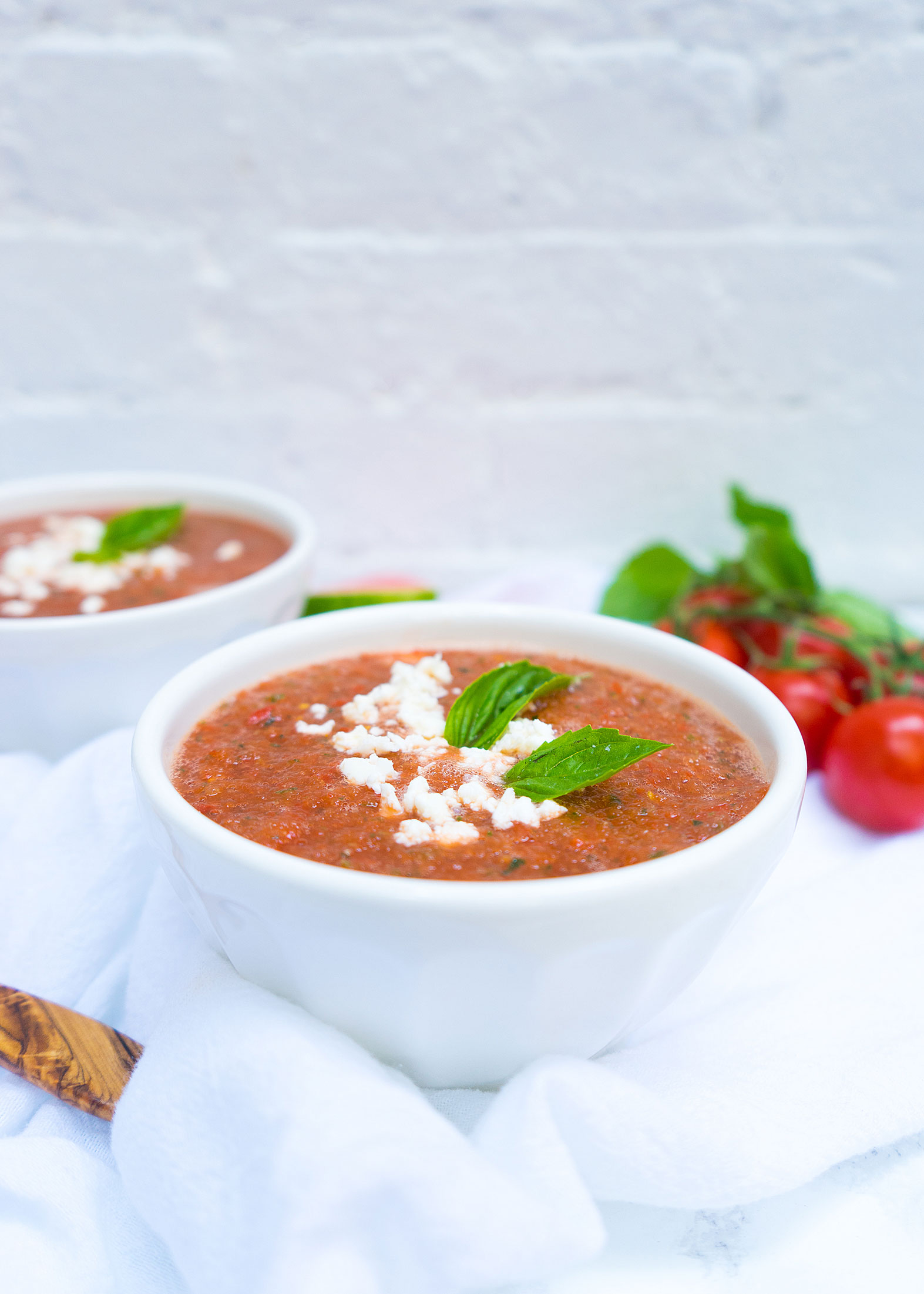 Gazpacho, Gazpacho, Gazpacho. 🍅
When I was younger, I thought "gazpacho, that's a fancy word, must be difficult to make" 🤦‍♀️.
I now look back at that person and wonder why she didn't look up any of the basics of gazpacho and how easy & wonderful it is to make. All you need is veggies, a knife and a blender…literally, that's it. No pots, no pans, no mixing bowls.
AMAZINGG. Seriously. 🙌
I have a Summer watermelon addiction. I've had it for as long as I've lived in the States and it takes hold in early June and just doesn't let go until some time in September.
Unfortunately I have also passed on this addiction to my dogs. 🐕🐕
Funny story! I always cut up my watermelon as soon as I buy it, otherwise, let's be honest, its this huge thing sitting on your side or in your fridge staring at you and you have no intention of cutting it up. So, for me cutting it up as soon as I buy it, means I have an endless supply of awesome hydration in the form of beautiful little cubes, ready to go when I am. However, firstly, when I am cutting it there are puddles of drool on the floor that I have to be careful not to slip in. Secondly, I put the watermelon in specific containers. The dogs know exactly what these specific containers sound like. When they come out of the fridge and when they are opened. So no matter where they are in the house, in 2 milliseconds they will be in front of me sitting like angels hoping for a tiny piece of hydrating sweetness! (Unfortunately lots of other things, such as leftovers, are also stored in those containers and their disappointed little faces are just too much when they realize its not watermelon! 😂)
Wow, sidetracked a little there!
Back to the recipe, this is a Zingy Watermelon Gazpacho and the watermelon adds such a lightness to this already super summery dish. The reason this Watermelon Gazpacho has the addition of the word zingy is that unlike conventional gazpacho it includes quite a bit of ginger and a little apple cider vinegar too, so its sort of a powerhouse version of Gazpacho that is as beneficial for you as a smoothie or juice would be!
So really, its an amazing way to get all your fruits, veggies & extra benefits into one dish! Plus its SO refreshing for the Summer!
Let us know if you try this Zingy Watermelon Gazpacho recipe and how you like it!! 💚
Zingy Watermelon Gazpacho
2017-07-17 14:10:50
Serves 4
Ingredients
6 tomatoes (unless you are using unusually large ones, then you can cut it down to 3!)
3.5 cups cubed watermelon
2 celery stalks roughly chopped
half a cucumber - roughly chopped
2 red peppers - roughly chopped
1 tbsp. red chilli flakes
2 limes - juiced
1 tbsp. Apple Cider Vinegar.
1 inch of ginger - peeled & finely diced
Handful of fresh basil (probably around 6 large leaves)
1 tsp. salt
1 tsp. black pepper
To Serve
Feta & Fresh Basil if desired
Unless you have a HUGE blender - you're gonna need to split this into a couple parts, here is how we did it
Put all Red veggies (Tomatoes, peppers & watermelon) into the blender and blend until finely chopped.
Add Green veggies (Celery, cucumber, Lime juice & Basil) into the blender and blend again.
Now add in all the rest of the ingredients (Ginger, ACV, red chili flakes, salt & pepper) and blend until smooth.
We have a 'puree' setting on our blender and that worked so nicely.
Chill for an hour or so before serving.
When ready to serve: Garnish with a little crumbled feta (for a salty kick) and a few pieces of fresh basil.
IVGreenhouse - Exploring Food http://www.ivgreenhouse.com/