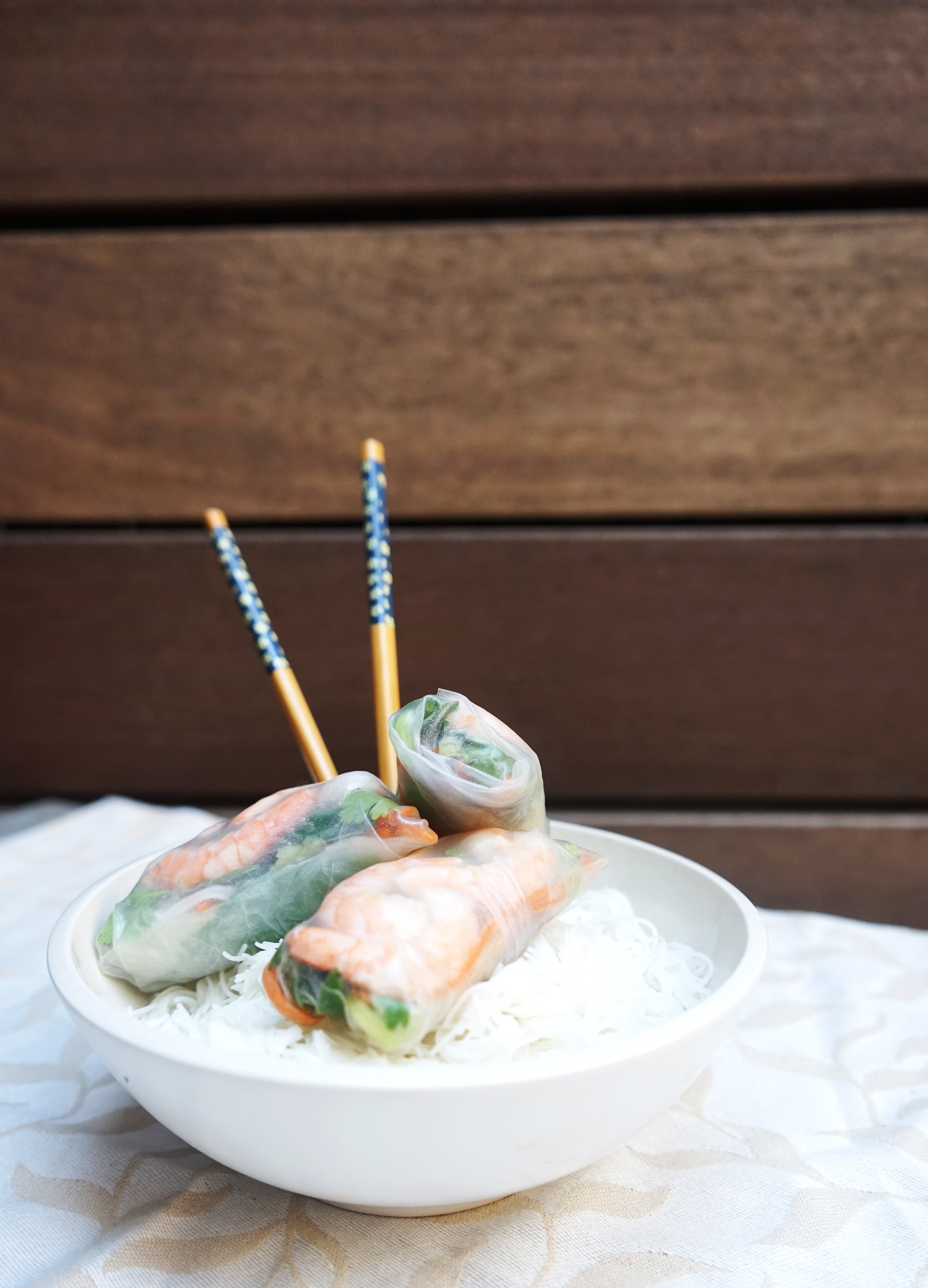 These Vietnamese Summer Rolls are so good & so refreshing … and surprisingly easy to make (but no-one at your party needs to know that!!) They are the perfect accompaniment to a hot summers day and they are healthy too! To me they have an air of exotic vacation about them that I love!
As always, let me know what you think!
Vietnamese Summer Rolls
Makes 12 summer rolls
Ingredients:
36 cooked small/medium shrimp
6 carrots, cut into matchstick sized peices
1 whole english cucumber cut like the carrots
a large handful of parsley leaves
a large handful of mint leaves
a handful of basil leaves
spring mix lettuce bag
Rice noodles (vermicelli)
Rice Paper wraps
Method:
Place the noodles into boiling water for 2 minutes and then drain and run under cold water – you can refrigerate these whilst you prep the other vegetables
Cut all vegetables, & strip herb leaves.
Get a pie dish and fill it with warm water.
Working with one Rice paper wrap at a time, soak in the warm water for 10 seconds on each side and move to a clean surface – place 3 shrimp on the bottom, top with mint, parsley & basil followed by the carrots and cucumbers, a handful of the rice noodles & finish with a piece of lettuce, wrap up tightly – the papers can handle a little force.
proceed to do this for the next 11 rolls – not forgetting an ingredient if possible!!
You can keep them in the fridge for 12 or so hours before serving if necessary
Serve with your favorite choice of dipping sauce – our favorites are sweet chili or the sauce pictured (the recipe for which I will add to the bottom of this post!)
Chilli Dipping Sauce: (Make Ahead)
Ingredients:
1 lime – juiced
1.5 tbsp sugar
one dried chilli – sliced (keep a few seeds)
1.5 tbsp Rice Vinegar
Method:
Whisk all ingredients together in a small bowl & chill in the fridge for an hour or so prior to serving.