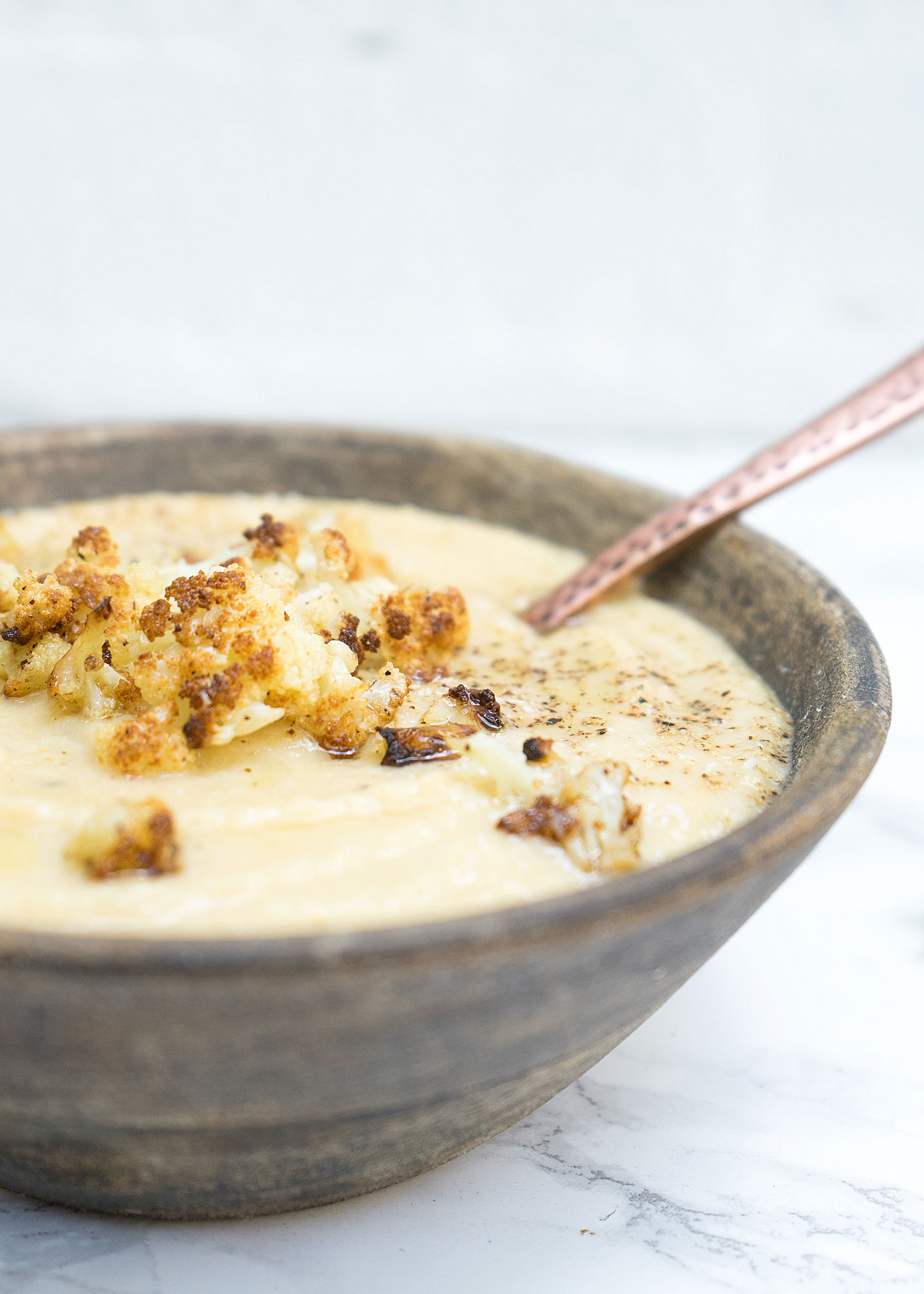 I Know it's hot and your thinking…Soup? Soup in THIS weather? Are you crazy?
Well maybe I am, a little. BUT you know some days you just crave soup and it doesn't matter if it's 20 or 120 degrees outside? Sometimes soup is the only thing that will satisfy those cravings. Well, this soup is IT. This soup is the most comforting soup I think I have ever made, at this present moment in time anyway! It's perfect for summer days, winter days and anything in between 👌.
We LOVE Truffle in our house, truffle oil, truffle butter, truffle salt…you name it we'll eat it, try it, make it!
What we love about this soup is its creaminess, it is heavenly, like dipping your spoon into some (all be it, pretty dense) fluffy clouds! It is a pretty luxurious taste and so, so comforting. I don't think I can stress that enough. This is a soup for the days you just need a full body hug.
Also, Cauliflower is one of the most anti-inflammatory vegetables on the planet and can improve digestion which you know we are all about here at IVgreenhouse! Any foods that aid digestion get a HUGE thumbs up, because, why wouldn't they?? We've got to help our amazing bodies do their jobs the best possible way we can!
Let us know how you feel about this (glorious!) combination and let us know! 💚
Truffle Cauliflower Soup
2017-07-10 11:47:00
Serves 4
Ingredients
1 head of Cauliflower (roughly cut up into florets)
2 onions (peeled and roughly diced)
1 leek (roughly chopped & washed)
2 cloves garlic (crushed)
4 cups chicken stock (approx.)
1 tbsp. truffle oil
large handful of shredded cheese (we used a blend of cheddars)
Olive oil
salt & pepper
Instructions
Heat up a tbsp. olive oil in a soup pot and sauté your onions and leeks for about 5 mins until soft.
Add your cauliflower ( keep a few florets out if you want to create a garnish! & garlic and sauté for another 2 minutes.
Pour in your chicken stock - just enough to cover the veggies.
Allow this to come to a boil and then simmer for 20 minutes.
At this point your vegetables should be tender enough to blend up either with an emersion blender or in a food processor until smooth.
Return your soup to the pot
Add truffle oil & cheese and stir to combine, season to taste with salt & pepper.
Serve and garnish with some fried up cauliflower bits!
Notes
If lactose intolerant, you can leave cheese out!
IVGreenhouse - Exploring Food http://www.ivgreenhouse.com/
Save
Save