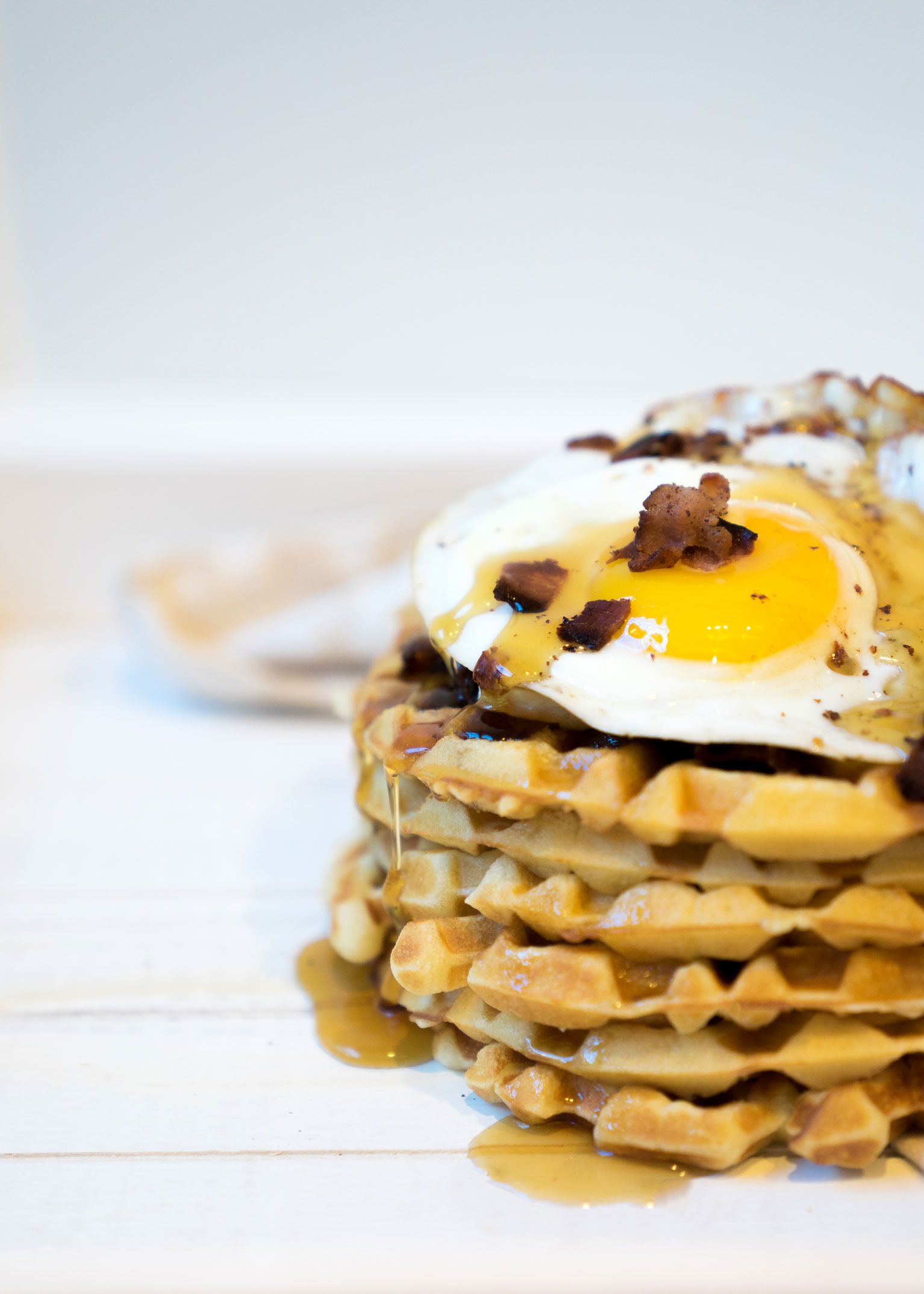 Hello February! 👋
Wow this year is already speeding by! Well it certainly feels that way to us. It's been an unusually busy January over here and our weekends have become even more sacred than they were before! Therefore we try to have a special Brunch every Sunday to treat ourselves and ease us into the day.
These Belgian Waffles though 😍
These traditional Belgian waffles truly are what dreams are made of! If you've been participating in #sugarfreejanuary like many others, this is the perfect way to break the sugar fast! Pair these babies with a drizzle of maple syrup, bacon & banana bits topped off with a runny egg and we don't think you can beat it!
Sundays are always bittersweet aren't they? The feeling you get when you wake up and realize you have a whole 24 more hours to enjoy your loved ones before heading back to work is probably one of the best feelings in the world. However, then it is suddenly 5 PM and you're not sure how it crept up on you and then you realize you've only got a precious few hours left to make the most of! Thankfully that's how we view all of our weekend hours – precious! We try and live up every single one of them.
Live those Hours Up! 🙌
Living the hours up can look very different each weekend. Some weekends, 'living it up' looks like eating these Belgian waffles in our pj's after walking the dogs and getting back into bed for the rest of the day. Sometimes that's what your mind & body needs to replenish and be ready for a productive week ahead. Other weekends 'living it up' is in more of a traditional sense – trying new restaurants & bars in the city, wandering around the Met, taking our dogs on numerous walks around central park and just being busy bees in general!
This weekend it's the Super Bowl (& the start of the Six Nations Rugby!! 🎉)! We're headed to the GridIron 4 Miler first thing Sunday Morning, then we'll be enjoying these Belgian waffles during the England Rugby and before the Super Bowl fun begins! We'd love to know your plans! Plus, if you need any recipe inspo, check out these crowd pleasers: For the Main Event, Crispy Breaded Chicken Tenders, Super Simple Guac, Crispy Chicken Wings with Herb Sauce, Barabcoa Tacos. For Dessert, http://www.ivgreenhouse.com/pretzel-pecan-salted-caramel-brownies/ Lastly, to drink, we recommend, Ojen in the Morning, Cucumber Drift for the health conscious & Ginny White for the Beer lover.
We hope you have a magical Weekend, The Greens 💚
Traditional Belgian Waffles
2018-01-30 12:25:47
Serves 4
The fluffiest, buttery belgian waffles - perfect for any sunday brunch!
Ingredients
0.75 cup of Sugar
2 Cups of Flour
3.5 tsp. baking powder
1.5 cups of milk (any of your choice!)
1 cup butter (super soft)
2 eggs (yolks & whites separated)
For toppings (optional)
Bananas
Maple Syrup
Bacon
Fried Eggs
Peanut butter
Instructions
Combine the dry ingredients in one bowl (sugar, flour & baking powder) and set aside.
Beat the egg whites in your kitchen aid or stand mixer (or with handheld whisk) until stiff peaks start to form - set aside
In another bowl - Beat egg yolks lightly until they change color, add milk & melted butter and stir together, then add this wet mixture into your dry ingredient bowl and mix until fully combined.
Finally, add your egg whites and fold in until just mixed together.
Optional - chill in the fridge for an hour (or overnight if you have time).
Heat your waffle iron and cook to its instructions! (Ours takes about one minute per waffle!)
Serve with an array of toppings for an amazing family brunch!
Notes
We like to make this ahead of time ie. the night before - as chilling it in the fridge makes for easier use with the waffle iron AND it means all the fuss/most of the washing up etc. is out of the way before Brunch!!
IVGreenhouse - Exploring Food http://www.ivgreenhouse.com/
SaveSave
SaveSave
SaveSave
SaveSave
SaveSave
SaveSave
SaveSave
SaveSave