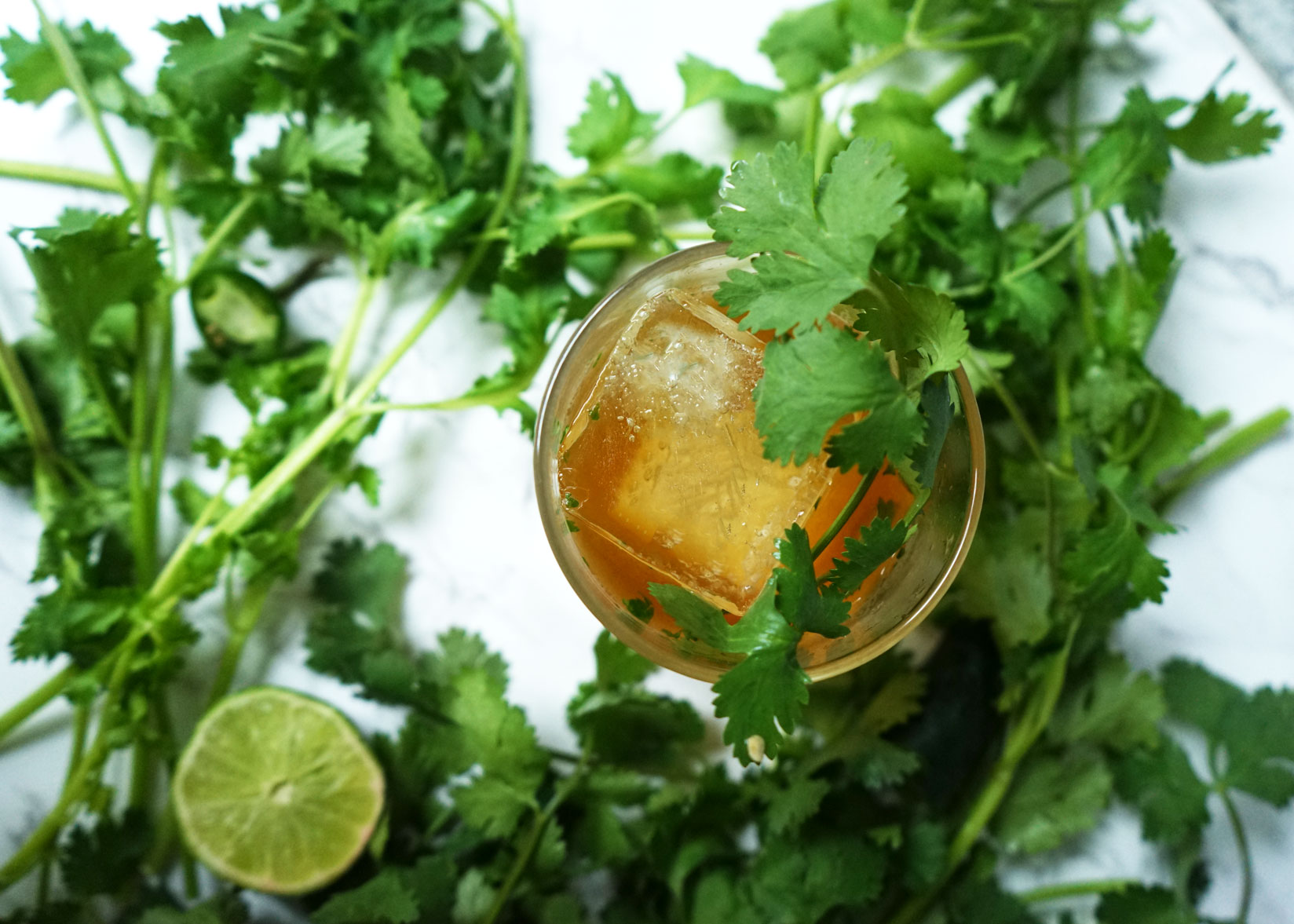 The Spicy Brit 🔥🇬🇧
This will definitely be a MAJOR player on our Spring/Summer cocktail menu!
And, if we may be so bold, it should be on yours too! This cocktail is spicy, sweet AND refreshing – what more could you want? It combines some of our favorite ingredients and gains its inspiration from many aspects of our food & beverage life!
It all starts with GIN. Naomi's favorite beverage for all year round consumption (& Allen's summer staple too). We use Farmers Gin in this recipe. We also used Farmer's in our very FIRST cocktail recipes on the blog – the Salty Dog! Along with plenty of others. We find Farmer's has a great balance that works so well in refreshing cocktails. If you haven't tried it, we suggest you do!
Secondly we add PIMMS NO.1. Naomi's favorite Summertime beverage! As soon as that Sun comes out, no matter how chilly it is, the pitcher of Pimms also comes out! A British Summertime Classic. Pimms is a gin based beverage and therefore it seems natural to put the two together in a cocktail.
Third, we added some NATIVE HEAT, this is a pure sugar cane spirit infused very carefully with chilli peppers. Native Edge Spirits currently creates two spirits, the Native Heat & The Mandarin Heat. They are both delicious on their own or added to cocktails. They are handcrafted just outside NYC so they are super local (to us) too. They have a great cocktail list on their site – you can find it here! If you live in the area and want to try this spirit out (and we love it, so we suggest you do!) it is carried in quite a few specialty liquor stores now!!
Finally we add Jalepeno slices, cilantro & lime juice. This adds a refreshing heat to the cocktail.
We adore this cocktail, it is a great weekend sipper and we hope you try it and love it to! Let us know if you do and how you like that Spicy Brit 😉💚
The Spicy Brit
2017-03-30 13:34:39
Serves 1
Ingredients
1.5oz. Pimms No.1
1 oz. Gin
0.5 oz. Native Heat (Optional - can be replaced by any warm chili flavor)
Half a lime juiced
2 x Cilantro (Coriander) Sprigs
3 slices Jalepeno (de-seeded)
Instructions
Put all ingredients into a shaker (leave one sprig of cilantro out for garnish)
Add Ice to just above the liquid
Shake vigorously until chilled
Strain over a large ice cube in a rocks glass
Garnish with a Cilantro Sprig and Enjoy!
Notes
We use Native Heat - but we understand it is not easy to find in every state/country yet, so if you do not have access to it - replace it with Ancho Reyes Ancho Chile Liqueur or something similar! Basically a spicy but sweet chile liquor.
IVGreenhouse - Exploring Food http://www.ivgreenhouse.com/