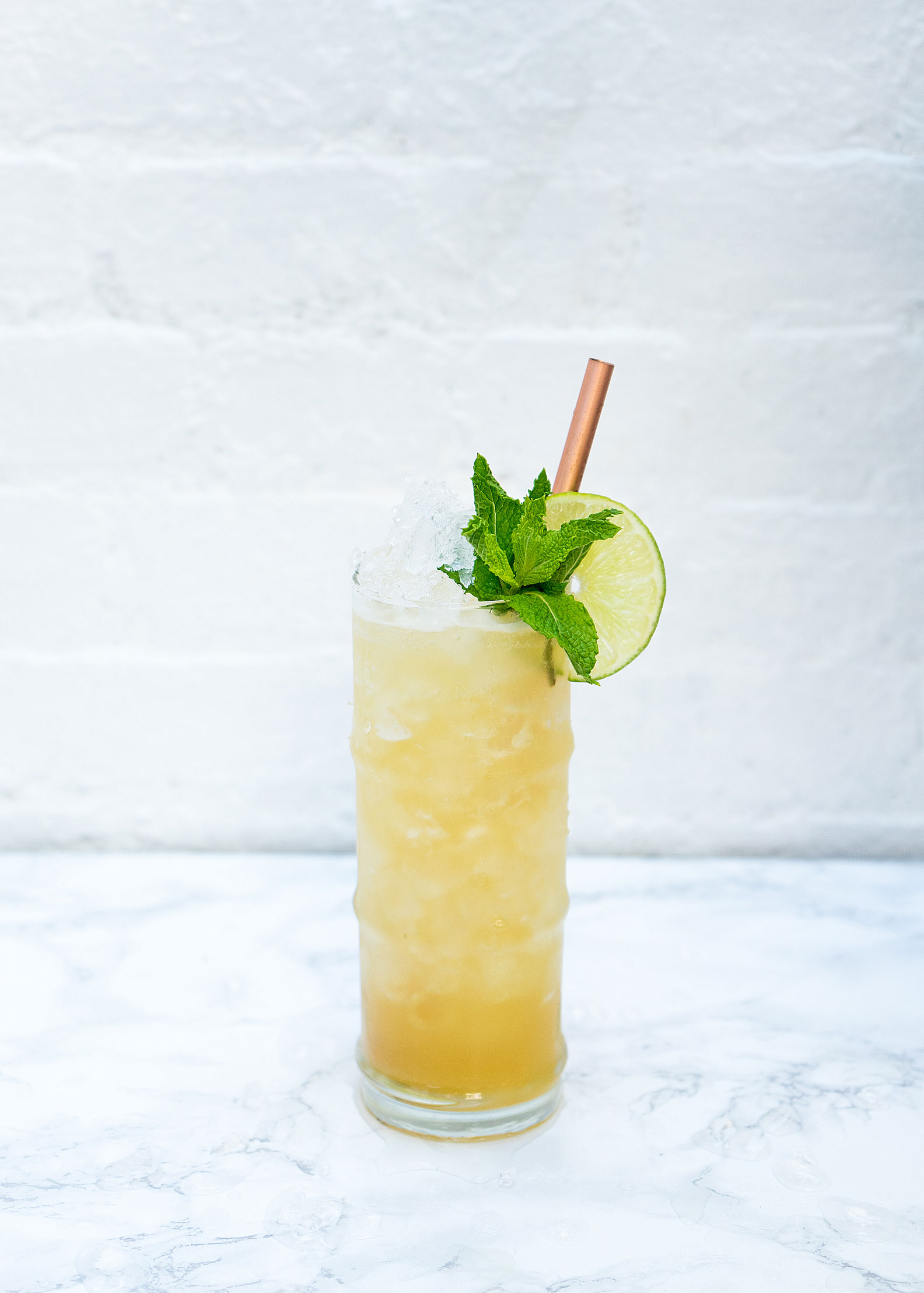 So, you know how a Mai-Tai conjures up all kinds of tropical lands in your mind…well fun fact, the Mai Tai actually originated in Oakland, California!! Wha? I hear you say! Well yep, that's it, that's the truth!
The Mai Tai was created by the owner of Trader Vic's in California in 1944 according to Victor himself! Legend has it that he made it for some visitors and they exclaimed it was 'Out of this world" & "very good" – both phrases included Maita"'i, which is Tahitian and the Mai Tai was born!
We hosted a Trader Vic's inspired party a year ago and it was without a doubt the most tropical party we've had. We had tiki masks, hula skirts, lai's etc. etc. It was amazing and SO MUCH FUN to prepare and put together! The welcome drink was a Mai-Tai (of course) and boy did it go down well! Ours is the classic recipe with a little added twist – Pineapple juice. Literally the smallest amount, but we think it enhances the tropical flavors and balances the almond of the orgeat.
I mean, crushed ice, transports you to hot tropical climates immediately for sure! Anything involving crushed ice, slushies, these crushed ice dark & stormy's, the list goes on! It is also just pretty sweet to look at. Your guests will think you're the fanciest bartender on the block. Especially if you whip out the Lewis Ice Bag and Mallet (instead of using your noisy blender!).
We could happily drink these every weekend in the Summer months and we can't wait to make them for friends at the next party! Let the Rum flow and the Ice be crushed! 🔥
Let us know how you like the pineapple twist in the comments below! 💚
The Mai Tai
2017-07-06 13:45:07
Serves 1
Ingredients
2 oz. aged rum (we used Rhum J M VSOP)
0.75 oz. fresh lime juice
0.25 oz. Orgeat Syrup (if you can't find, a dash of almond syrup (like the one in the coffee shop) can be substituted!)
0.5 oz. orange curcao
0.25 oz. pineapple juice
For Garnish: Lime Wheel & Mint Sprig
Instructions
Add all cocktail ingredients to a cocktail shaker.
Add crushed ice and shake vigorously
Pour (don't strain) into your chosen glass.
top with crushed ice to the top
Garnish with a lime wheel & mint sprig!
IVGreenhouse - Exploring Food http://www.ivgreenhouse.com/