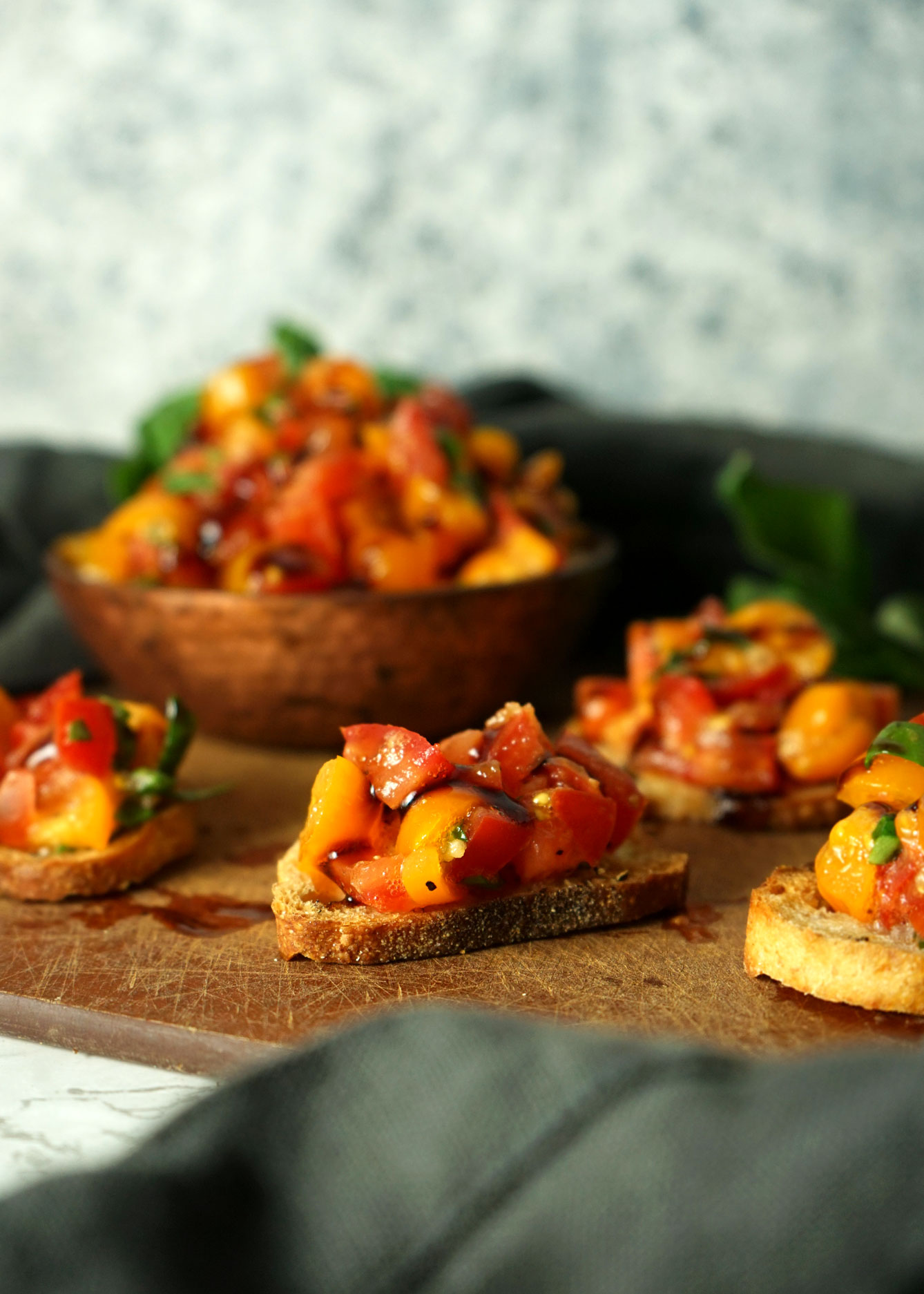 Sunset Tomato Bruschetta 🌆🍅
This stuff is just so pretty. Tomato Bruschetta is always delicious, but add in a few sweet varieties or heirloom's and you've got yourself a beautiful appetizer or snack. Super easy to make in bulk in advance of a party or gathering or just for a family Italian night to keep everyone going until the Main Course! The longer it sits, the better it tastes – so go ahead and make this the morning of our proposed party, you'll be glad you did! Also, please feel free to add as many varieties of tomato as your local store or farmers market allows! We are quite partial to these amazing tomatoes from Backyard Farms, grown in Maine and available all year round! We also love all the funky heirloom tomatoes we find at the Green Market too!
I love sunsets, I always have, I always will.
Throughout my life, any art project, photography project, graphics project..well, actually history, english, woodworking, science…you name it, I somehow managed to get sunsets into my work. Whether that be through constantly choosing yellow, orange & red to color with, or using sunsets as a metaphor or a scientific fact of life. I love them, it's as simple as that. They are magical and enchanting and usually when you have time to enjoy them, they signal the end of a very fulfilling day.
I can't wait to see what Sunsets this Spring & Summer will bring. We can't wait to get back to long late evening weekend walks in the park. Where we get to slowly meander around whilst it's still light with the pups and really enjoy it. As the Sun goes down, we get to reflect on what an awesome day, hour, week, weekend we've had and how we can't wait for the sun to rise again tomorrow so that we can do it all over again, as a family.
Sunsets really are special and we hope you think this Sunset Tomato Bruschetta is too 💚
Sunset Tomato Bruschetta
2017-03-22 15:20:47
Ingredients
1.5 lbs. heirloom tomatoes - best are the cocktail or cherry varieties
2 cloves garlic - crushed
2 stems of basil - chopped semi-fine
2 tbsp. balsamic vinegar
2 tbsp. olive oil
salt & pepper (to taste)
To Serve
Balsamic Glaze
French Baguette or similar
Instructions
Slice your baguette thinly and drizzle with olive oil and sprinkle with salt and pepper and grill or bake for approx. 5 minutes - make sure to check it - it burns easily!
Prepare your tomatoes - dice into small cubes and place in a bowl
Add garlic, basil, olive oil & balsamic and stir to combine
taste and add salt & pepper as necessary.
Leave to marinate until you are ready to serve.
When ready to assemble - place a spoonful of tomato mixture onto your toasted bread, drizzle with balsamic glaze and more basil if you like!
IVGreenhouse - Exploring Food http://www.ivgreenhouse.com/