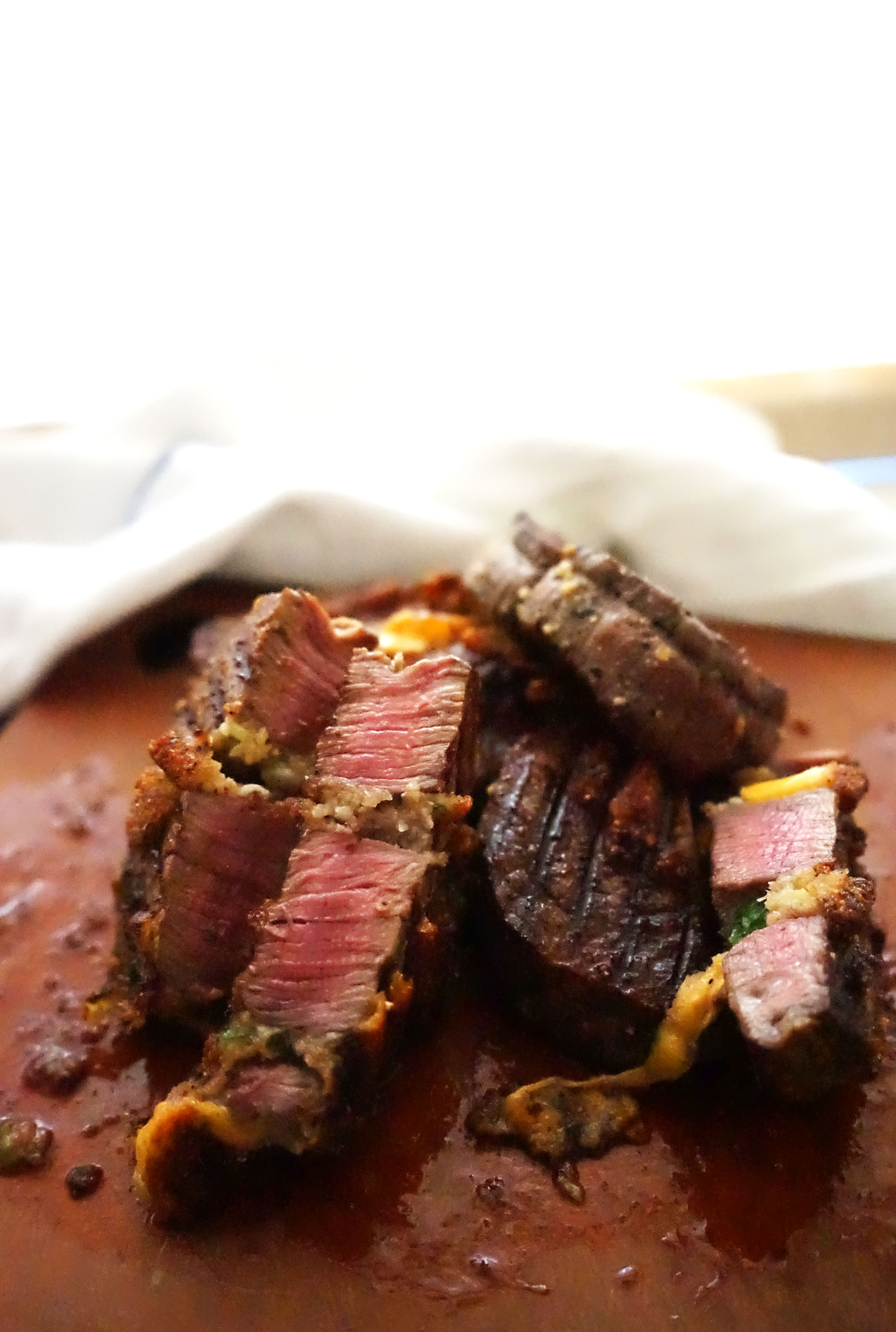 This stuffed steak is pretty much the ULTIMATE grilled cheese. Think of a grilled cheese, minus the bread and add a delicious steak instead…amazing. We love steak – we cook it every Wednesday … (at least) and this recipe is an awesome way to revamp it if you're feeling something a little different for dinner, or you're having guests over – cause this one is a huge crowd pleaser! The gooey cheesey mixture oozes out of your steak and compliments the other flavors so well, It is also a super easy recipe (all it really requires is time) that no-one will believe took minimal effort from you, we promise!
Stuffed Steak - Pinwheel
2016-09-12 14:00:31
Serves 5
Ingredients
One 3/4 beef Tenderloin (Butterflied)
Salt & pepper
3 cloves garlic
2 scallions (spring onions)
0.25 cup parsley (fresh & chopped)
8oz. cheddar cheese (or any cheese!) cubed
0.5 cup grated parmesan
0.5 cup panko breadcrumbs
0.25 cup olive oil
Instructions
To start with, you will need to butterfly your tenderloin, to do this place the tenderloin horizontally in front of you, starting from one end make an incision almost all the way through but not quite, and keep going until you reach the other end and you can open the tenderloin like a book.
Mix all other ingredients together to form a chunky paste
Open out your beef and season with salt and pepper
Then rub your mixture onto the beef leaving a slight gap at one end, making sure you press firmly to compact
Begin rolling it like a jelly roll! Keep it tight and don't worry if some bits fall out as long as you keep the majority in!
Get 6 pieces of string/twine and tie up your steak in 5-6 places making sure it is secure.
Tightly wrap your tenderloin in cling film and place in the refrigerator for up to 3 hours
When you remove your steak from the fridge, heat up your griddle pan on high
Cut your tenderloin into 5-6 steaks with a sharp knife
Brush each side with a little olive oil and place on your hot griddle for 5 mins without moving the steak.
Flip your steaks and cook for a further 4 minutes.
Remove from your grill (they should be at medium rare) let them rest and then serve with salad or your favorite side!
IVGreenhouse - Exploring Food http://www.ivgreenhouse.com/