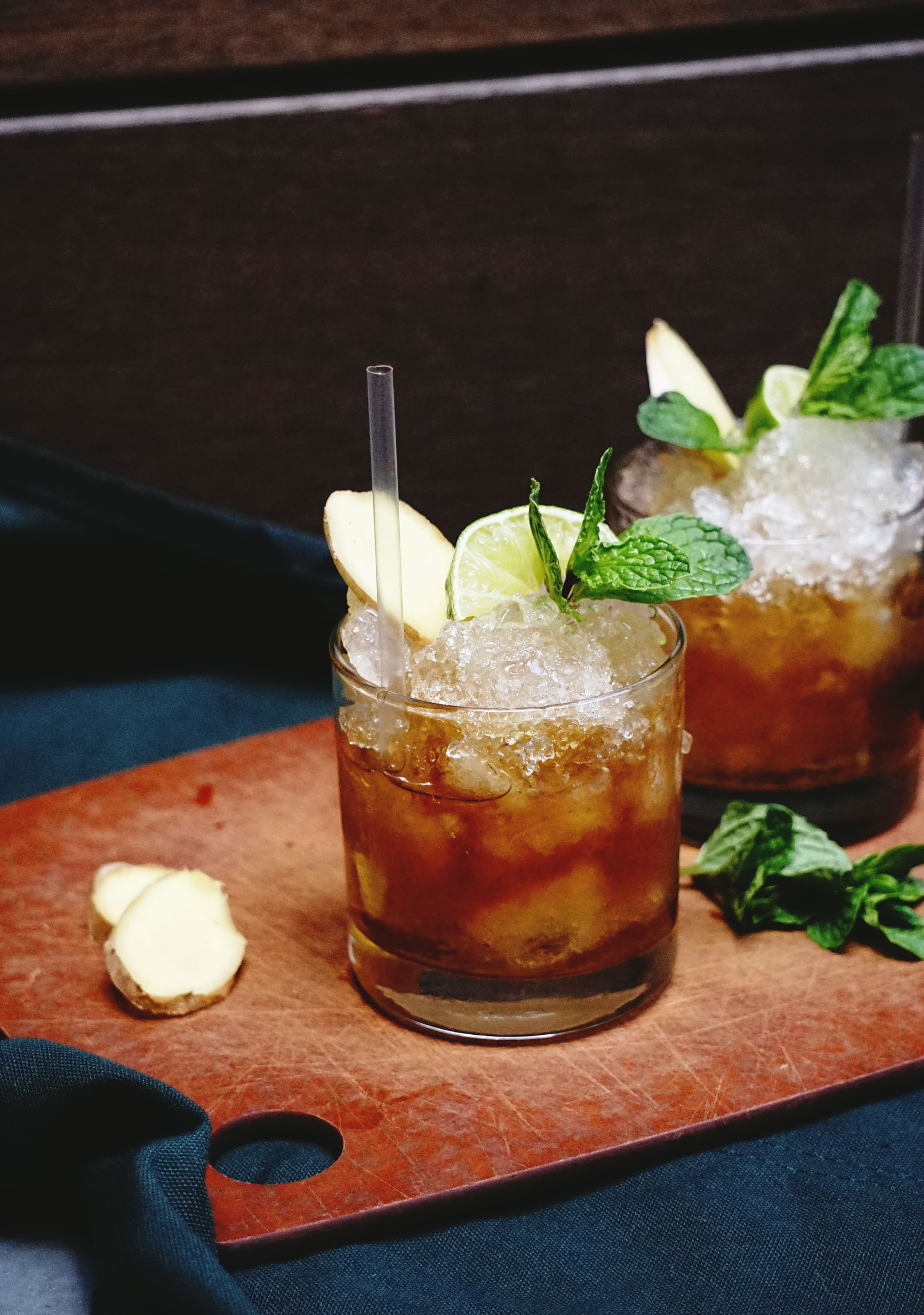 Okay, so technically not a snow cone – more of a delicious drink over crushed ice! However, we find that sometimes in these chillier months all we crave is an ice cold beverage, anyone else agree?! Maybe it's just us! Well this weekend we decided to pamper ourselves, we had a wonderfully relaxing weekend and really enjoyed this slightly adapted Dark n Stormy based cocktail on Sunday. There is something so refreshing about combining mint, lime & ginger together – it almost feels like your doing something good for yourself at the same time! Add those refreshing ingredients to a glass of freshly crushed ice, some dark rum & some crabbies ginger beer and Bob's your uncle! (If you are not familiar with this phrase – ask Allen, he loves to explain it now that he knows it in full!)
We hope you enjoy this cocktail, whether it is on a weekday or a weekend, we hope it refreshes you and wakes up your senses on these cold days that are headed our way!
Stormy Snow Cone
2016-11-07 11:48:37
Serves 2
Ingredients
3 oz. dark rum
1 bottle of crabbies alcoholic ginger beer
3 pieces of ginger (use two to garnish)
6 mint leaves (plus two sprigs for garnish)
3 lime wedges (use two to garnish)
Crushed Ice (just put cubes in your blender!)
Instructions
Mold your crushed ice into your glasses
Gently muddle one piece of fresh ginger, 5-6 mint leaves & a lime segment in the bottom of a shaker until juices start to ooze
Fill shaker with 3 oz. dark rum (we love goslings for this)
Put a couple cubes of ice and shake until chilled and combined
Strain your infused rum over your crushed ice filled glass
Top with ginger beer and garnish!
IVGreenhouse - Exploring Food http://www.ivgreenhouse.com/