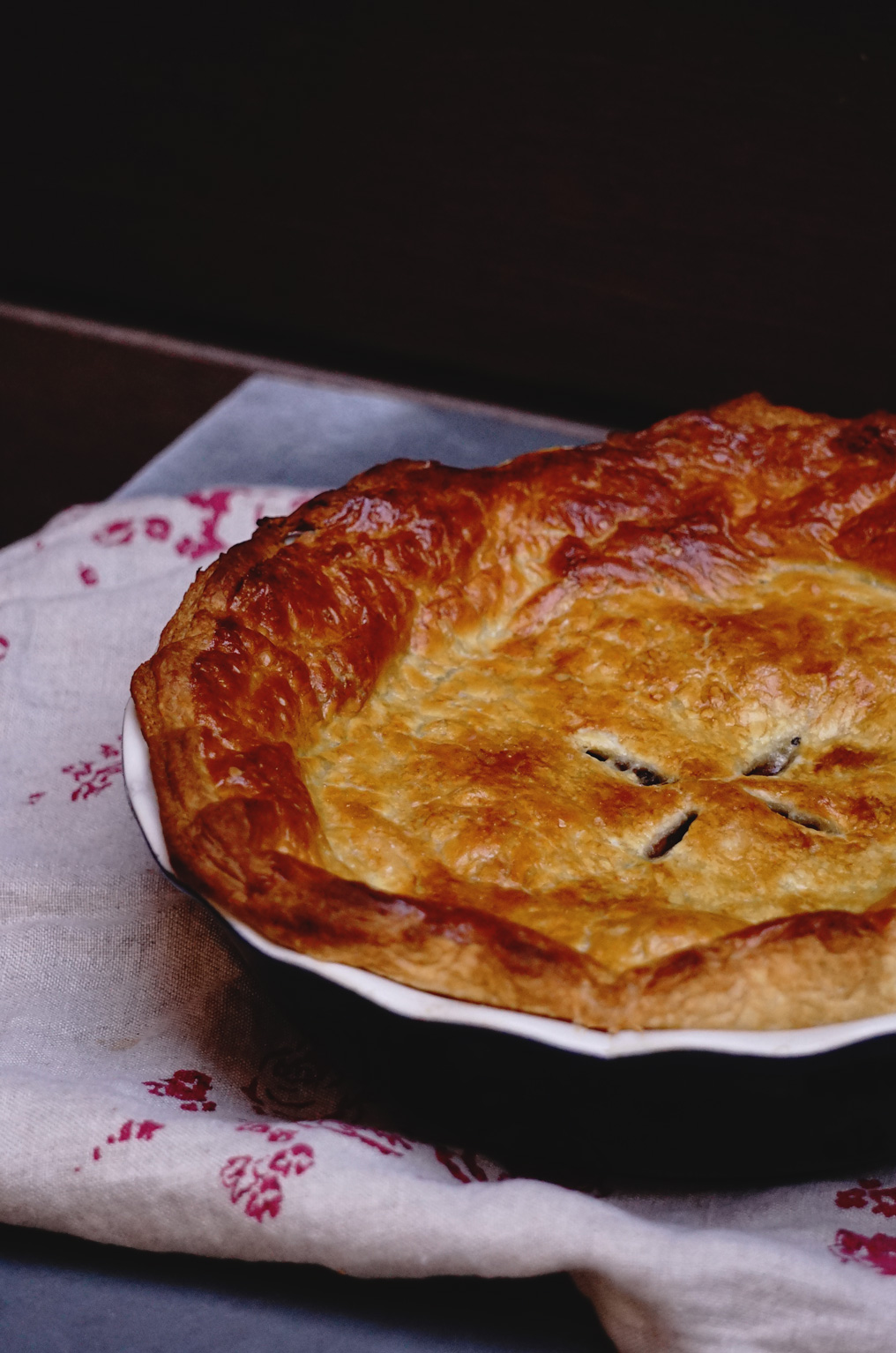 PIE is the PERFECT way to warm up in the wintertime! December is here and it is bringing chilly, chilly winds with it! There is nothing better than sitting down to a cozy comforting dinner in the evenings when the temperature drops and this is definitely one of our favorites! This pie is a bit different to traditional pies in the way that it doesn't require 3 hours of simmering in the oven and further cooking, which makes it much easier to whip up on a 'school night' as it were! We challenge the usual pie making by searing our steak in advance – I sometimes call this our leftover pie, as you can honestly substitute steak for anything you have left over. Due to the nature of our work, we had elk left over the other night (as you do) so we had an Elk & Guinness Pie and it was beyond delicious! Also, to increase speed, we used store bought puff pastry which was just so easy to do and created such a beautiful crispy crust that was perfect for scooping and mopping up all the goodness! (However, I am working on my pastry game and each time is better than the last so please expect many 'from scratch' pastry items soon – probably just in time to ruin any January resolutions, sorry!!) Anyway…moving on to the recipe for this beautiful, comforting dinner.
Steak & Guinness Pie
2016-12-03 14:30:25
Serves 4
Ingredients
2 Strip Steaks
3 slices of bacon - diced
1 onion - diced
4 oz. box mushrooms chopped
1 12 oz. bottle of Guinness
1 cup beef stock
1 tsp. thyme
0.5 tsp. rosemary
1 piece of chocolate (or tsp. honey/syrup)
salt and pepper to taste
1 sheet puff pastry (thawed)
1 egg and a tbsp. heavy cream (for the egg wash)
Instructions
Preheat your oven to 400 F
Sear your steaks over a high heat for 3 minutes on each side. Then put in the oven for 6 minutes at 400 F (will be a perfect rare steak) then leave to rest on a wooden board while you prep the rest.
Dice onions and add to a hot pan with melted butter - add diced bacon, cook until browned and then add the mushrooms and cook until golden. Add the seasonings and make sure to coat the ingredients with them (also add a little salt at this point)
Now dice your steak into inch to half inch cubes and throw into pan
Pour over the cup of stock and then the bottle of guinness.
bring it to the boil and let it simmer for 25 minutes.
Once this has simmered and reduced down - fill your pie dish.
Roll out your chilled but thawed pastry into a thin layer large enough to fit your pie dish and pinch the edges onto the dish to prevent it shrinking when it puffs! cut a few holes or prick with a fork and then brush with your egg wash & sprinkle with salt!
Place in the oven for 12-15 minutes until the puff pastry is golden and shining beautifully!
IVGreenhouse - Exploring Food http://www.ivgreenhouse.com/