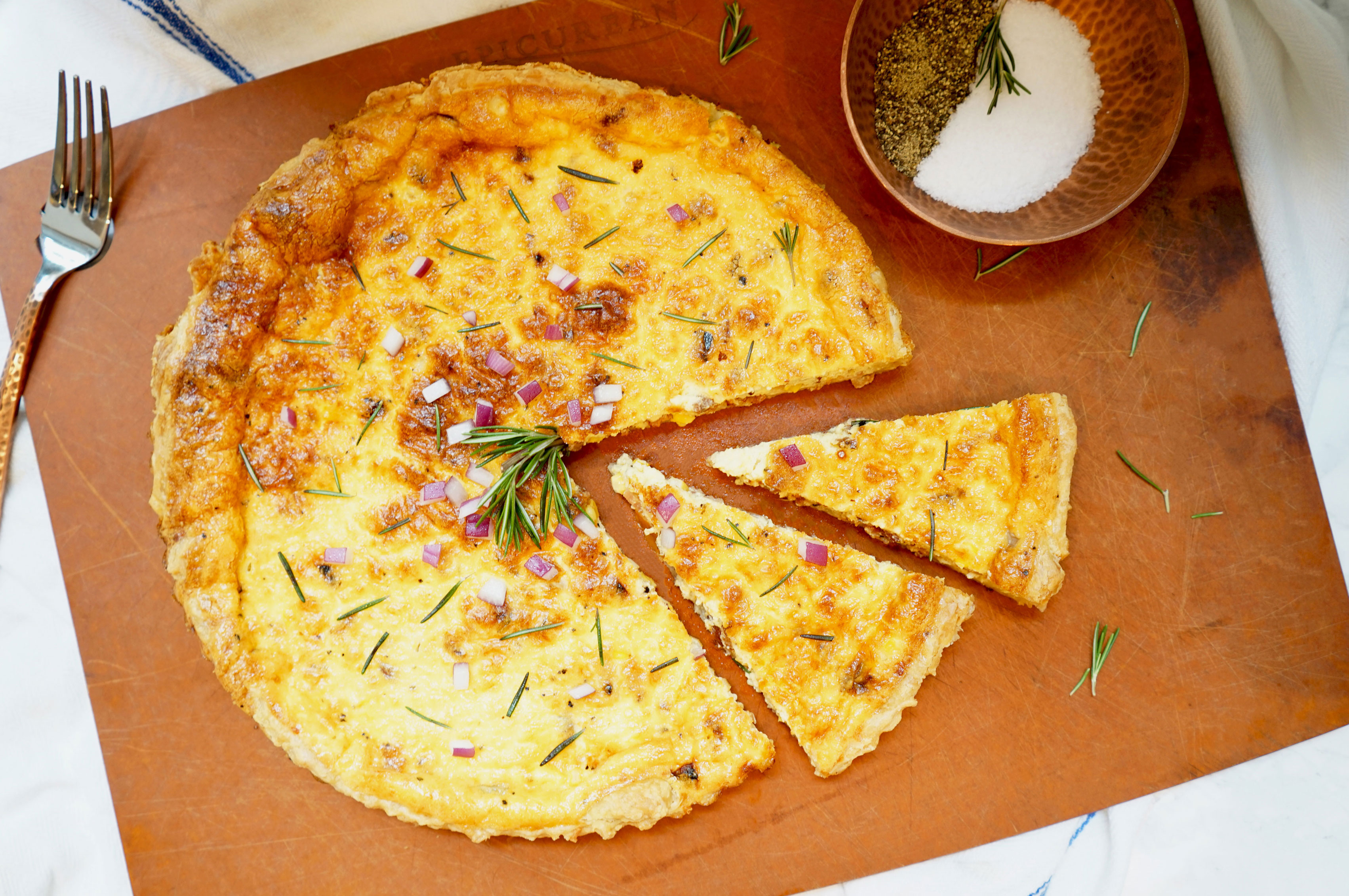 Oh. My. Goodness….this quiche…seriously, just go make it now, you won't be disappointed! It is the fluffiest, tastiest & most delicious dish. I love quiche anyway, but this one is my go to, because the hardest part about it is waiting for it to cool enough to take it out of the tart shell before you can safely eat it!
Theres a few tricks in this recipe that I believe you'll be pleased you read, they all come from trial and error and testing many different recipes, but this is by far the best.
I remember at home, no matter who's family party you went to there was always at least 4 different types of quiches brought by different people and they were always my first choice at the buffet! I'm glad I can now be the person that brings the quiche of all quiches to the party!
Rosemary, Bacon, Red Onion & Corn Quiche
2016-07-15 15:00:23
Serves 6
Ingredients
0.5 pack of puff pastry (1 sheet)
6 Eggs
1 cup cream
1 cup milk
1 tsp salt
1 tsp pepper
1 tbsp fresh chopped rosemary (plus sprigs for garnish)
3 slices bacon (diced)
1 ear of corn
1 small red onion (roughly diced)
1.5 cup shredded cheddar or shredded cheese of choice
Instructions
Preheat your oven to 375 F with a baking sheet in the centre of your oven
Lightly grease an 11 inch tart pan and set aside
Boil your corn (I put corn into a pan of cold water, wait for it to begin boiling and turn off, drain and cool before cutting kernels off)
Chop your bacon and 3/4 of your onions and lightly fry them until slightly browned (approx. 5-6 minutes)
Whisk together the eggs, milk, cream, salt, pepper and chopped fresh rosemary until fully combined
Roll out your puff pastry into a large square - large enough to cover your tart shell including the sides - place over your tart shell and press onto the sides - make sure all areas are covered and roll off any excess with a rolling pin or your hand
Sprinkle half of your cheese onto the tart shell
Strain your egg mixture through a mesh sieve into your prepared tart shell (this is one of the tricks! - i urge you not to forget this part!) don't worry about your rosemary going through - its flavors are already infused into the mixture and will not overpower the dish now! also if you have a little egg white left in the sieve no worries either!
Sprinkle your onion, bacon and corn into the mixture, top with the remainder of the cheese and place onto the baking sheet in the centre of your heated oven.
Put a timer on for 30 minutes. when the 30 minutes are up, cover your quiche with foil (lightly spray with cooking spray if you have it) and cook for a further 15 minutes (45 minutes in total)
Remove your quiche from the oven and place on a cooling rack for at least 15 minutes before attempting to touch it!
Garnish with the remaining red onion and sprigs of rosemary and serve!
IVGreenhouse - Exploring Food http://www.ivgreenhouse.com/