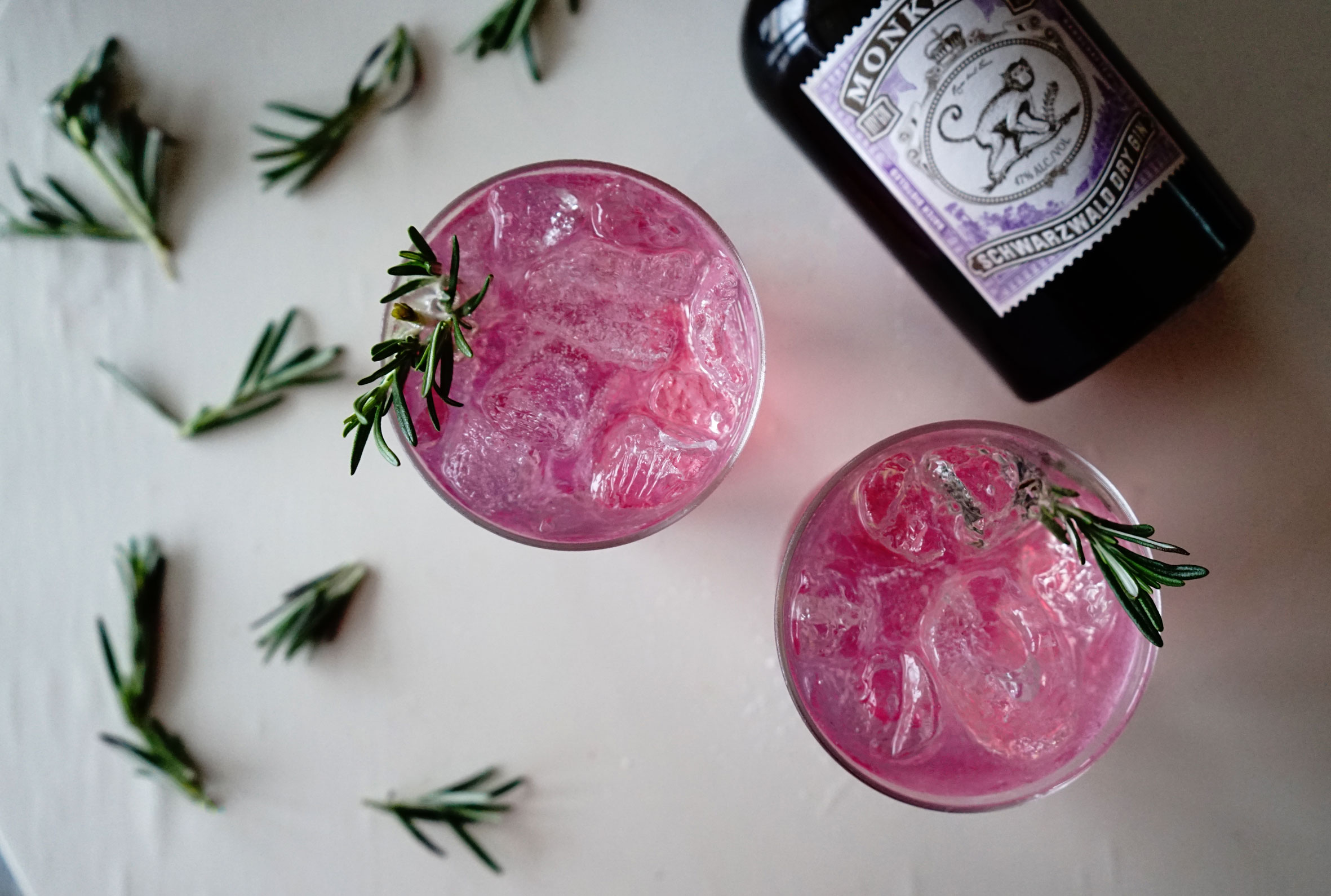 So, first things first…apologies for being absent for a week or so! We have had the most incredible time recently – full of so many wonderful people and crazy surprises that I will get into later! This cocktail actually holds special memories now for more than one reason! Firstly, Ailsa and I were enjoying a very quiet morning at the Beach house. I began making this cocktail for us to try as I had made the Berry Syrup earlier in the week and was dying to use it! Allen was running the Staten Island Half Marathon that morning and we were looking forward to his return, whilst sipping our beautiful pink cocktails in our pjs! The dogs went crazy as usual as he walked through the door. We went to great him and say well done for his super fast race…when suddenly there was a tiny knock on the back door (bear in mind the rain was crazy & the wind was blowing a gale .. not an ideal weekend for the Beach but we made it work!) We turned around to see two of my most favorite people ever…my sister Chloe & Andy! This may not sound too crazy to any of you lucky people that live close to your families & siblings…but for me, this was insaaaaane as they live about 5,000 miles away in Lincolnshire, England!
Back to the cocktail though – It will forever remind me of this amazing Sunday at the Beach surrounded by amazing people and therefore is one of my new favorite drinks! Another reason I love it, is that the Berry syrup adds a delicious sweetness that doesn't overpower the gin and also merges beautifully with the fresh rosemary – let me know what you think!
Rose-berry Gin & Tonic
2016-10-17 11:55:30
Serves 1
Ingredients
2 oz. gin
1 oz. berry syrup* (recipe below)
1 sprig rosemary (+ one more for garnish)
Tonic Water
Instructions
For the Berry Syrup: (Makes an 8 oz. squeeze bottle full)
1 cup berries (I used raspberries & blueberries)
2 cups sugar
1 cup water
For the Cocktail
Put the gin, syrup & rosemary in a shaker with ice & shake vigorously until fragrant
Strain the liquid over ice into your glass of choice, top with tonic water & garnish with a fresh sprig of rosemary!
IVGreenhouse - Exploring Food http://www.ivgreenhouse.com/