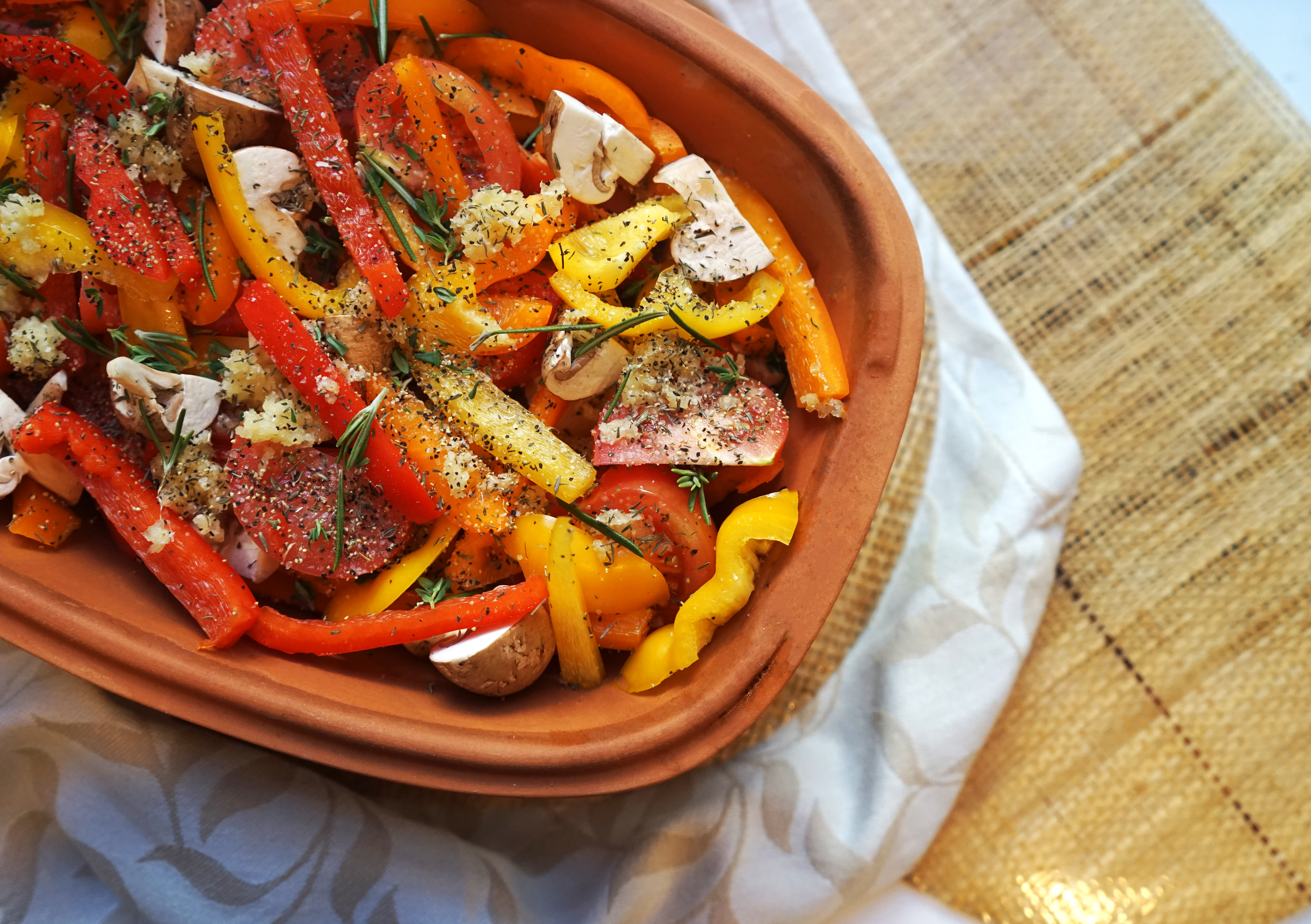 So, Understandably, not everyone knows about Romertopf (so We've added a handy link lower down where you can read about the benefits of clay oven cooking!). However, in our (Naomi's) house growing up it was a staple dish! My mother was the only one who knew how to make it for many years & we LOVED it and always asked for it. It's a super healthy dish that's also nice and light. To me, it seems that it can transform between a Winter & summer dish, its equally warming for a Winter dish but light for a summer dish to be eaten outside on the patio! So it's up to you where it falls for you seasonally but We urge you to invest in a Clay oven & try it out now!
Romertopf
Prep time – 15 mins
Cook time – 1h-30 mins
Equipment needed:
Ingredients:
4 x chicken thighs
8 x Baby Bella Mushrooms
3 x Tomatoes
0.5 Red Pepper 0.5 yellow pepper 0.5 orange pepper
Juice of 1 lemon
5 x garlic cloves crushed
1 Pint (2 cups) of Chicken stock
1 cup of wine
Salt, Pepper, fresh thyme & fresh rosemary.
Method:
Preheat oven to 375 F (190 C)
Prepare the chicken thighs – trim off any excess fat.
Sear the thighs in butter over a high heat for one minute on each side – just to brown off the edges & crisp the skin slightly.
Place the thighs in the bottom of your romertopf or clay oven.
Arrange all veg on top of the chicken
Pour over stock, wine & lemon juice
Add the fresh herbs and lots of salt & pepper. (however much you desire!)
Place in the center of the oven for 1h & 30mins
Remove from the oven carefully (with oven mitts!) let it sit for 5-10 mins
We serve ours with rice to make it a heartier meal – but if you're watching what you eat – just on its own is perfect!
Tip – If cooking for two people – still put all 4 thighs in the romertopf & then save all leftovers and make soup the next day by pulling the chicken off the bones and adding back into the stock – it makes SUCH a delicious chicken & veg soup!