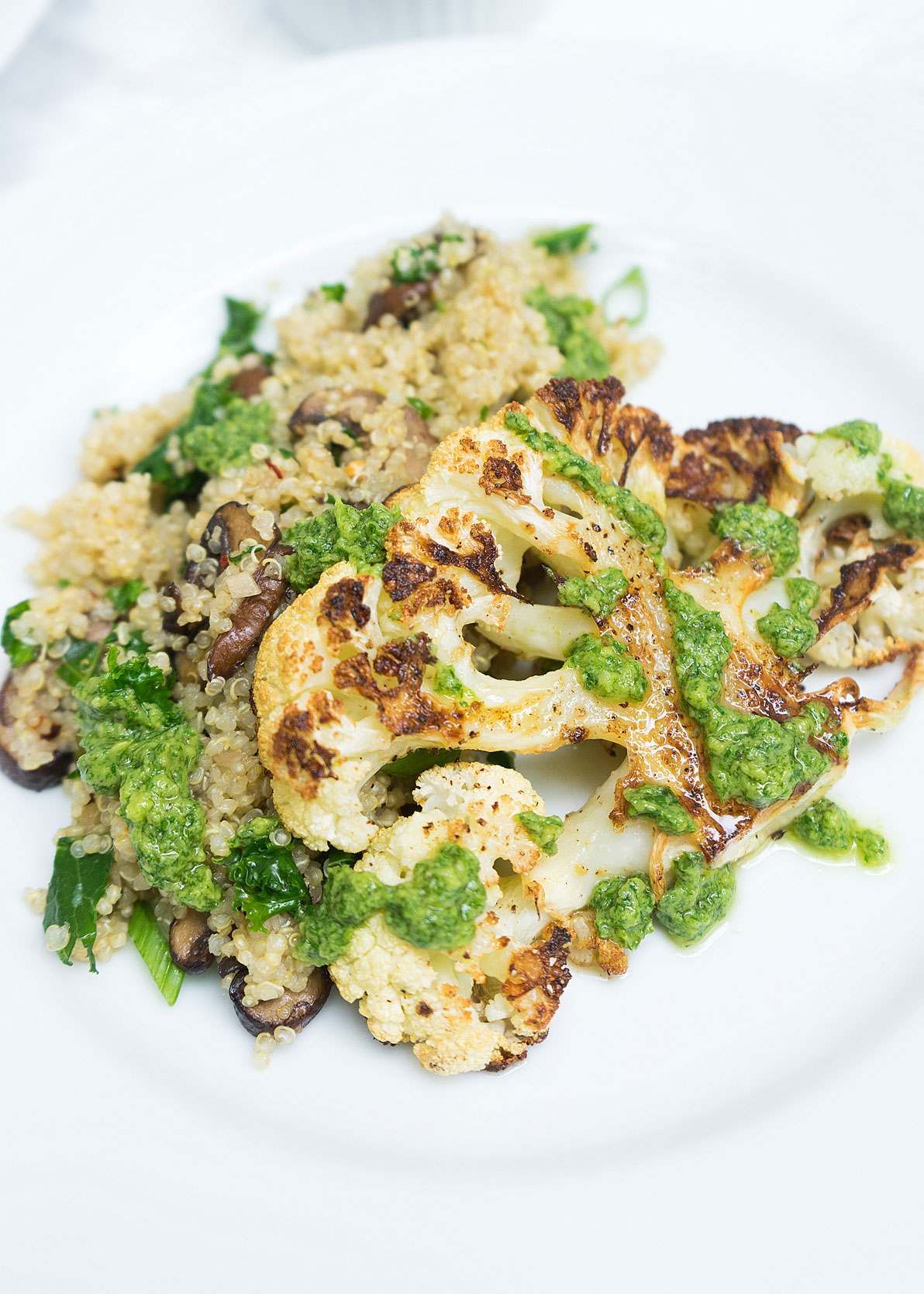 My love for Quinoa is growing by the day…
The love started out with that Fair Quinoa Vodka and its amazingly smooth finish and now I'm just exploding with love. From Quinoa puffed chocolate which is amazing to just the ease of cooking perfect quinoa every dayum time.
I love rice, but it really can be very temperamental. It's either slightly chewy and under done or BAM you leave it 2 extra minutes and you've got mushy overcooked slop. It's a pretty hard one to please. (Unless you fancy and you have a rice cooker…then, maybe rice is your best friend?!)
Well, quinoa is my new best friend and we're getting on splendidly. 👯
We love the texture of quinoa, its sort of a happy medium between rice and cous-cous in my opinion. It goes perfectly in bowls, soups, under curry or our new favorite, with mushroom and kale in this delicious weeknight dinner!
Quinoa is gluten free, super high in protein and has every single essential amino acid that our body needs inside the tiny little grain/seed! Oh and it's also high in antioxidants, magnesium and potassium and other super beneficial minerals and vitamins! Crazy right? Basically the first superfood and something that should be incorporated into every diet if possible! Lets mix that power house with another one, kale! Toss in some mushrooms (my favorite), a little garlic & you have one hell of a side dish!
Lets move onto Cauliflower. I think we've gone a little cauliflower crazy in our house recently. I think I mentioned it before but I have this weird compulsive problem that goes in phases. When I am ordering groceries from Fresh Direct, I click on the same foods two or three times (different suppliers) and I end up with 3 cauliflowers, 2 melons, 5 kiwi fruits etc. etc. It is a REAL problem people! However it does mean I force myself to get creative with my multiple produce.
Cauliflower is another awesome nutrient packed food that we love incorporating into our diet in different ways all the time. Roasting it brings out this great texture and flavor and is probably one of our favorite ways to eat it. It creates deliciously crispy edges and soft mouthwatering insides. Pair it with our super green sauce and you've got a flavor medley fit to rival any meat dish.
We hope you try this one out and if you do you'll let us know!! 💚
Roasted Cauliflower with Kale, Mushroom Quinoa
2017-07-10 13:08:50
Serves 4
For the Roasted Cauliflower
1 Head of Cauliflower
salt, pepper & garlic powder
olive oil (about 2 tbsp.)
For the Quinoa
1 cup Quinoa
2 cups water (or chicken stock if no dietary restrictions)
approx. 8-10 baby bella mushrooms sliced
2 garlic cloves (diced)
2 handfuls of kale, roughly shopped up (large stalks removed)
Optional: chopped scallions & red pepper chili flakes
For the Green Sauce
half avocado
2 garlic cloves
half lime - juiced
Big handful of each: cilantro, parsley
Olive Oil (approx. 3 tbsp.)
For the Cauliflower
Preheat the oven to 400 F
Slice your cauliflower into 4 large 'steaks' (your middle two will be your strongest)
Place 'steaks' onto a parchment lined baking sheet and brush the tops with olive oil and sprinkle some salt, pepper & garlic powder.
Place in the oven with a timer for 15 minutes.
When the 15 minutes are up - flip the cauliflower 'steaks' very carefully and brush the other side with olive oil and sprinkle with salt, pepper & garlic powder.
Place in the oven for a further 15 minutes.
For the Quinoa
Put 1 cup Quinoa and 2 cups of chicken stock (or water) in a saucepan over a medium heat.
bring to a boil and then turn down to simmer with a lid on for 15 minutes.
Fluff with a fork when done.
Whilst this is simmering, place your mushrooms into a sauté pan and sauté with olive oil. After about 5 mins add garlic and sauté for a further 5 minutes. just before serving add the kale and let it wilt down into the mushroom.
Once quinoa is done and fluffed, add the mushroom and kale mixture and stir to combine.
Season with salt & pepper to taste!
Add in your optional extras - scallion and pepper flakes now!
For the Green Sauce
Put all ingredients (apart from oil) together in a blender and blend until well combined and finely chopped.
Add the oil, one tbsp. at a time whilst blending until your sauce becomes creamy and emulsifies. Once it is at your desired thickness, spoon out into a dish ready for serving.
To serve
Put a few spoonfuls of quinoa onto a plate, top with a cauliflower steak & drizzle on some green sauce or leave to your guests discretion!
IVGreenhouse - Exploring Food http://www.ivgreenhouse.com/