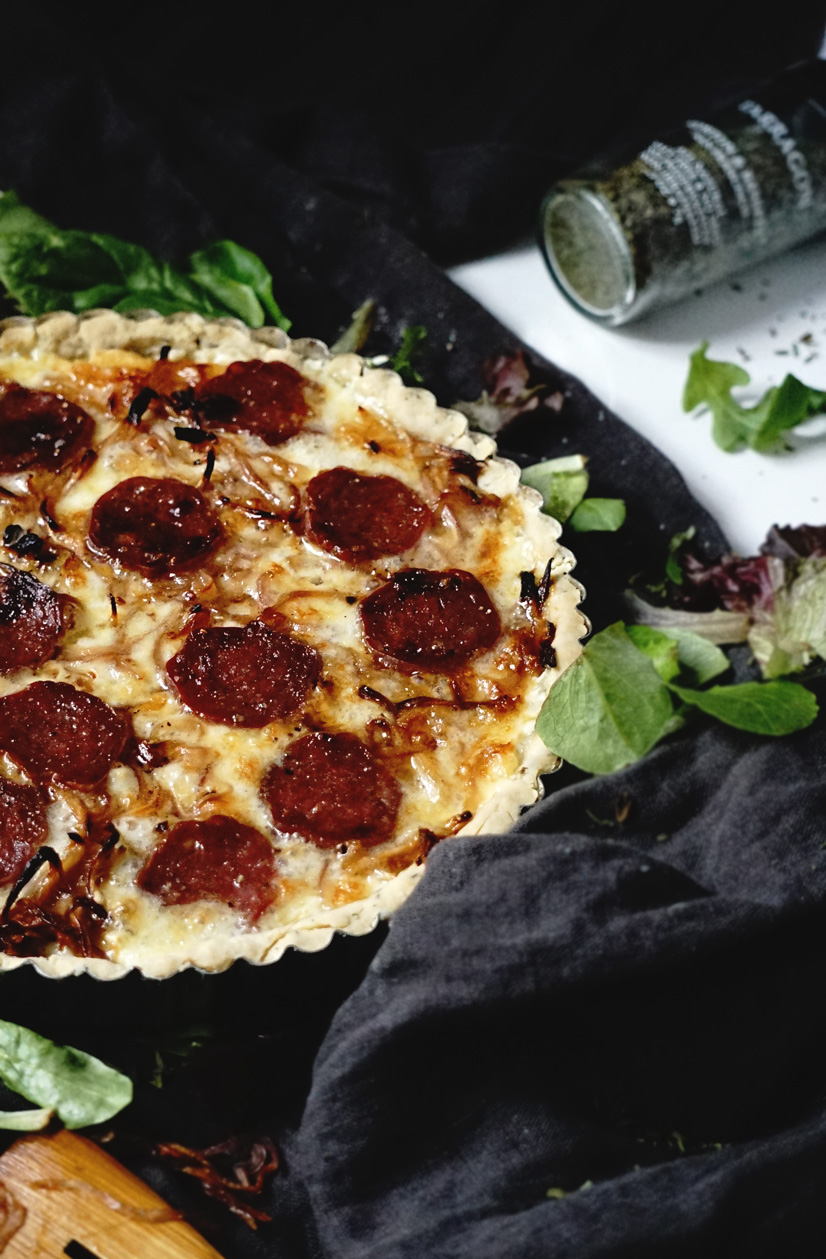 This Tart. Seriously. Richest, creamiest, most delicious thing EVER. Not even exaggerating. Everything about this tart is so indulgent – I mean you had me at Brie base, but then adding caramelized onions, saucisson AND creme fraiche to an already delicious tarragon pastry crust? My Goodness.
This should be added to your list of things to make before or during the Holidays, it will wow guests and family for sure and may become a repeat order from friends! The mix of flavors work so well together and for someone that thinks the meats and cheese board is the best thing about any buffet/dinner/gathering (that's me if you can't guess) this will knock their socks off.
I have to thank our good friend Chef Eliza for introducing us to the inspiration behind this recipe, the Creamery Kitchen cookbook, which was of course showed to me by a fellow cheese and meats lover (who by the way makes the world's best cheese board…like literally, the best.)
Onwards to the recipe!
Red Onion, Brie & Saucisson Tart
2016-12-03 15:07:20
Serves 8
This makes an 11inch rich and creamy brie, red onion, saucisson and creme fraiche tart!
For the Pastry
0.75 cup Vegetable Shortening
1.5 all purpose flour
half a beaten egg
2.5 tbsp. water
0.5 tbsp. vinegar
0.5 tsp. salt
1 tsp. dried tarragon
For the Filling
1 red onion thinly sliced
2 tbsp. maple syrup
200g or 7 oz. brie (sliced)
14 slices saucisson sec (traditional french dried sausage)
4 oz. creme fraiche
black pepper
To Make the Pastry
In a bowl, use a pastry cutter and work the shortening and the flour together until fully combined and looking like course crumbs (it also changes color slightly so be sure to notice)
Add the dried tarragon and salt and stir to combine
Pour in the half beaten egg, the water & vinegar and stir gently until fully combined.
Full your dough into a ball, place on a piece of cling film and flatten slightly into a disc shape and wrap with remaining cling film and place in the freezer while you prepare the filling (or for about 20 minutes).
For the Filling
Heat the Oven to 350 F
Slice your red onion thinly and place on a baking sheet, drizzle with maple syrup and put into your preheated oven for approximately 20 minutes, stirring half way through. It should look caramelized by this point.
Slice your brie & saucisson sec.
Remove your pastry from the freezer and roll out on a floured surface until you reach an approximate 13 inch circle.
Place the pastry sheet over your tart shell and gently lift into place and push on the sides, pinch the tops and cut off any excess leaving a clean edge.
Prick base all over with a fork and place in the oven for 10-15 minutes until pastry is just starting to brown.
Remove your tart shell from the oven and start arranging your brie on the base, then add the caramelized onions, the saucisson sec and then dot the creme fraiche in between the sausage slices.
Sprinkle over some black pepper and put in the oven for approximately 20-25 minutes.
Voila, a delicious rich and creamy tart is born!
Adapted from The Creamery Kitchen - Jenny Linford
Adapted from The Creamery Kitchen - Jenny Linford
IVGreenhouse - Exploring Food http://www.ivgreenhouse.com/