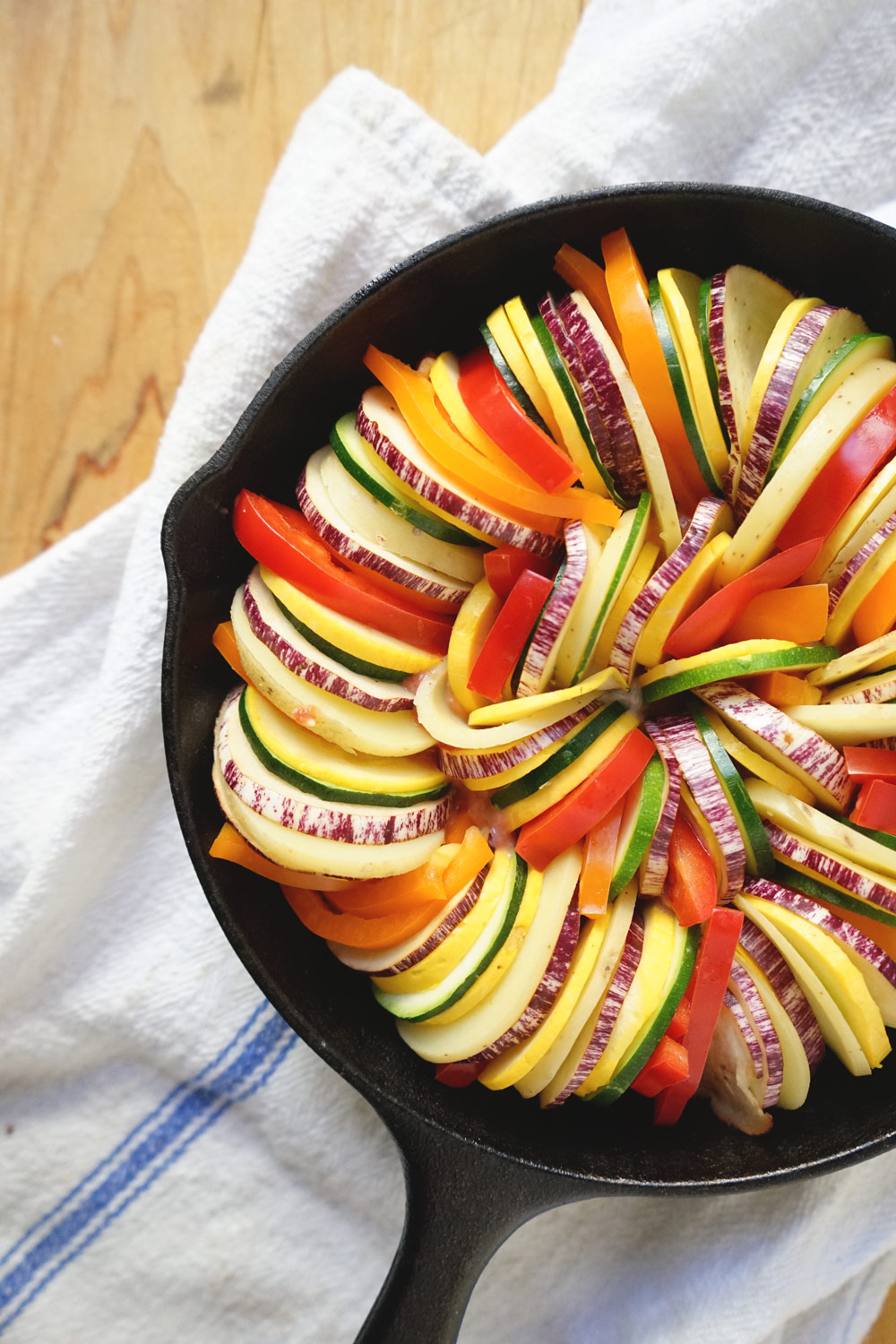 So, one of Allen's favorite movies of all time is … yes you guessed it, Ratatouille! I mean, don't we all wish we had an amazing Chef that could fit inside our hats? My favorite scene by far is when he tastes the different cheeses with accompaniments and hears delightful music for each one. That's how everyone should feel when they eat, don't you agree?!
Buuuut maybe for today, we will keep the rats out of the kitchen and focus on the dish! This ratatouille is beyond delicious, it is simple and pretty darn healthy (if you omit the béchamel I guess…) We have now had it twice this week already and I could probably eat it again and again for the rest of the week! This past weekend teased us with the warm Spring-like warm weather. However, now we have been sent back into the 40's (F) and out come the warming recipes again! This dish is a beautiful compromise of the two – warming enough for the wintery temps but colorful enough for the Spring feel in the air!
One of the best things about this dish is its COLOUR! Just look at it, it is so vibrant and inviting. You can't feel guilty even if you do manage to eat a whole families portion to yourself…ahem…Allen, I'm talking to you there!
If you're going to design your ratatouille in a spiral, know that it doesn't just fall into place, it is a labor of love, but in my opinion, totally worth it. You are said to eat your food first with your eyes, we believe that is true so why not take the extra 10 minutes and make it as pretty as possible for your family! We served ours with a Gruyere & Chive Soufflé this time, but it is just as good with a hunk of crusty bread and butter. Yum!
Let us know what you serve your ratatouille with 💚
Ratatouille – Movie Style
Ingredients
1 Zucchini - thinly sliced
1 yellow squash - thinly sliced
2 baby eggplants - thinly sliced
2 yukon gold potatoes (or similar) - thinly sliced
1 red pepper - thinly sliced
1 orange pepper - thinly sliced
1 can/tin of crushed tomatoes
fresh basil leaves - about 5-6
Fresh thyme - about 4 sprigs
3 cloves garlic - crushed
chilli flakes - 1 tbsp.
Optional: ingredients for a bechamel to mix with the tomato sauce
3 tbsp. butter
5 tbsp. flour
1.25 cups milk
salt pepper & nutmeg pinches
Instructions
Preheat oven to 400 F
Prep all vegetables ready to arrange.
Once you have sliced the eggplant (aubergine) - place on paper towel and sprinkle with salt to reduce moisture
Once you have sliced the potato - place in a small pot of boiling water and boil for 5 minutes, drain and cool on paper towel.
To make the béchamel style sauce:
Heat butter until melted in a small saucepan
Add flour and whisk until combined
Add milk and whisk continuously until it has thickened to the desired consistency
Season with salt pepper and a pinch of nutmeg.
To Arrange the Ratatouille:
Pour the can of crushed tomatoes into the base of your chosen dish
Add crushed garlic, thyme leaves, 1 chopped basil leaf and chilli pepper flakes, stir to combine
Add the béchamel and swirl into the tomato sauce.
Begin arranging your vegetables - you can do this any way you want, I liked the spiral (as they do in the movie...!) but you can play with it and make it your own!
Once arranged and you are happy with your layout, place on baking sheet in the oven.
Cover your dish with parchment paper
Cook for one hour - check to make sure all your vegetables are tender and serve!
http://www.ivgreenhouse.com/ratatouille-movie-style/