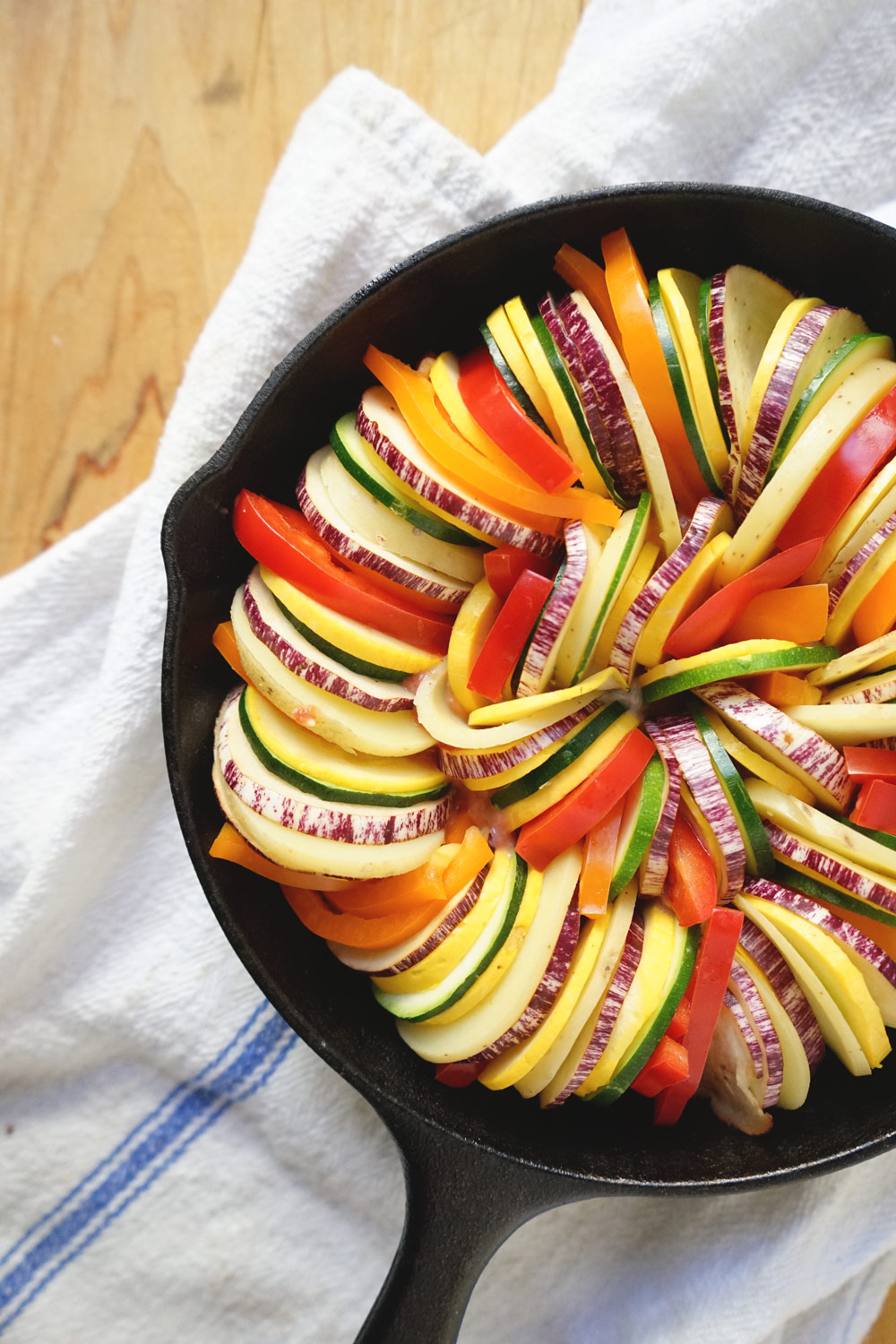 So, one of Allen's favorite movies of all time is … yes you guessed it, Ratatouille! I mean, don't we all wish we had an amazing Chef that could fit inside our hats? My favorite scene by far is when he tastes the different cheeses with accompaniments and hears delightful music for each one. That's how everyone should feel when they eat, don't you agree?!
Buuuut maybe for today, we will keep the rats out of the kitchen and focus on the dish! This ratatouille is beyond delicious, it is simple and pretty darn healthy (if you omit the béchamel I guess…) We have now had it twice this week already and I could probably eat it again and again for the rest of the week! This past weekend teased us with the warm Spring-like warm weather. However, now we have been sent back into the 40's (F) and out come the warming recipes again! This dish is a beautiful compromise of the two – warming enough for the wintery temps but colorful enough for the Spring feel in the air!
One of the best things about this dish is its COLOUR! Just look at it, it is so vibrant and inviting. You can't feel guilty even if you do manage to eat a whole families portion to yourself…ahem…Allen, I'm talking to you there!
If you're going to design your ratatouille in a spiral, know that it doesn't just fall into place, it is a labor of love, but in my opinion, totally worth it. You are said to eat your food first with your eyes, we believe that is true so why not take the extra 10 minutes and make it as pretty as possible for your family! We served ours with a Gruyere & Chive Soufflé this time, but it is just as good with a hunk of crusty bread and butter. Yum!
Let us know what you serve your ratatouille with 💚
[amd-zlrecipe-recipe:3]