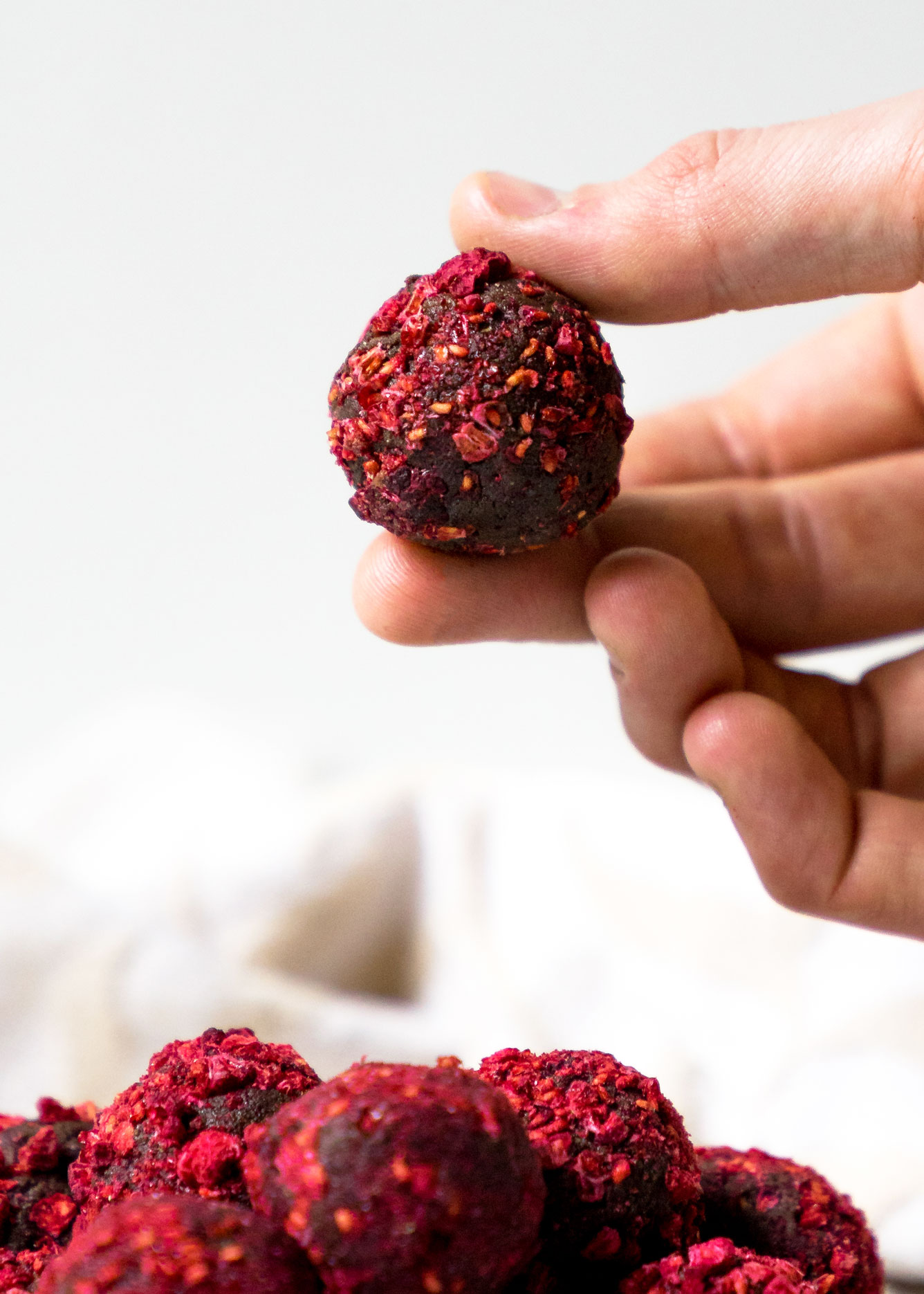 These Truffles 😍
Not only are the B-E-A-Utiful to look at, they're also super healthy and crazy delicious!
I have to admit, there were a few recipe fails this weekend, I blame the weather! Constant rain for 36 hours isn't the most inspiring, BUT it does make for a cozy weekend none the less! There were a couple of lights at the end of the rainy tunnel however, and these raspberry avocado chocolate truffles were definitely one of them!
These truffles are nothing but goodness all rolled up into a tiny, lovely little package of love! I was hoping to make something special for this years valentines day. I usually fall back on my old favorite – these red velvet cupcakes! Which, don't get me wrong, are wonderful but I was hoping for something a little more on the healthy side without missing out on any indulgence.
Back to the Drawing Board I went…🤔
I headed to the health store near our house and wandered the isles to get some inspiration and I came across two things that struck my fancy. Some Beet powder (not in this recipe but watch out for an upcoming one!) & freeze dried raspberries 💥. I knew I had to make something with these vibrant little things! The color alone was so striking.
I have previously tried to make Avocado based truffles but something just wasn't quite clicking for me – either the avocado taste was too strong or the truffle was too sweet and I couldn't seem to find the right balance. So, I ended up trying and failing a few more times this weekend and ended up with these amazing raspberry avocado chocolate truffles which I couldn't be happier with!
The tang of the raspberry with the sweetness of the maple syrup, plus the texture from the coconut flour leaves you with one healthy & delicious truffle! Not to mention the benefits from antioxidant rich raspberries, healthy fats from the coconut oil & avocado plus the magnesium from 100% cacao, you're winning!
Will you make these for someone you love this Valentines Day? 💯
Whether you celebrate Valentines, Galentines, singles appreciation day or something entirely different, we hope you have an AMAZING day filled with all of the love! 💚
ps. We're working a Valentine's Event but that just means we get to share and appreciate the love of many people sharing theirs and we wouldn't have it any other way! Who doesn't love love!
Raspberry Avocado Chocolate Truffles
2018-02-12 17:22:57
A Healthy Truffle (GF, V) with loads of love rolled in!
Ingredients
0.25 cup 100% cocoa powder (you can use sweeter if you prefer!)
6 pitted dates
1 ripe avocado
2 Tbsp. Maple Syrup
0.25 cup freeze dried raspberries (plus more for rolling if desired!)
1.5 tbsp. coconut oil
2 tbsp. coconut flour
Pinch salt
Instructions
Place your pitted dates in the blender and pulse a few times to break them up.
Add in all other ingredients until fully combined.
Taste & adjust sweetness to your own liking.
Roll the mixture into 16 balls
Roll into crushed freeze dried raspberries & place in the fridge for 2 hours or so until firm!
Notes
Add more coconut flour if your mixture is runny
Add more maple syrup if you like a sweeter truffle (if you add more syrup you will need to add another tbsp. flour)
IVGreenhouse - Exploring Food http://www.ivgreenhouse.com/
SaveSave
SaveSave
SaveSave
SaveSave
SaveSave