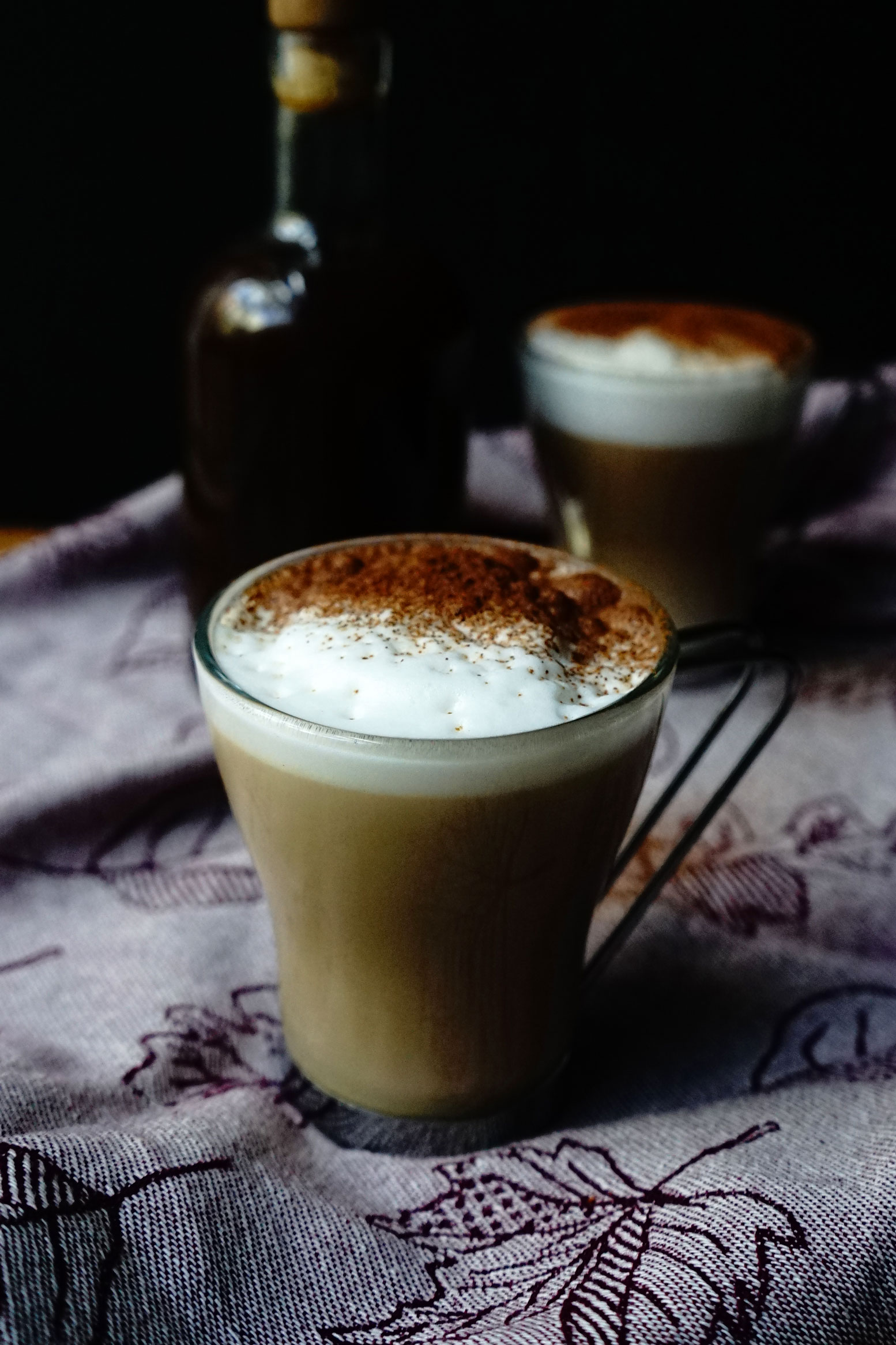 I think I may have mentioned our love of Pumpkin? But if I haven't yet (or this is the first post you're reading) we LOVE pumpkin spice errrrrrrythang. ESPECIALLY our coffee, we may be mildly addicted to Pumpkin Spice Lattes, but what US. Resident isn't? In New York, the streets practically smell like it due to everyone's love of their PSL's! Well I started to get a little annoyed that I had to spend dollars to enjoy this Fall ritual, so I decided we would experiment with our own syrup and cinnamon/nutmeg dusting skills. I have to say, the result was even BETTER than the site bought latte, and you know why? Because we could tailor it to us. We usually have at least one thing to say about whether our latte that day is too sweet or tastes a little burnt etc. etc. We may be picky (but no-one else knows!) about our PSL, so we have created this syrup recipe that is not quite as sweet as the Coffee Shop version and you can actually still taste your delicious coffee underneath, which we think is perfection!
Try it out and let us know if it matches up to yours!
Pumpkin Spiced Syrup
2016-10-26 09:10:05
Ingredients
1.5 cups water
0.75 cup light brown sugar (or coconut sugar)
1 cup granulated white sugar
2 tsp. ground cinnamon
0.5 tsp. ground ginger
1 tsp. ground nutmeg
0.5 tsp. cloves
0.25 cup pumpkin puree
1 tsp. vanilla extract
Instructions
Put the water & sugar into a saucepan over low heat and stir until sugar dissolves.
Add in your spices & pumpkin puree
Keep stirring until thoroughly combined
Let your syrup simmer for approx. 5-8 mins until you start to see it thicken (It won't thicken up too much as it is a much thinner syrup than others)
Strain your syrup through either a cheese cloth or a fine mesh strainer such as a sieve into a jar.
Once it has cooled to room temperature, stir in your vanilla extract.
Store in an air tight container on the side for up to a month or in the fridge for 2!
Notes
You will need extra nutmeg & cinnamon for dusting your latte!
IVGreenhouse - Exploring Food http://www.ivgreenhouse.com/