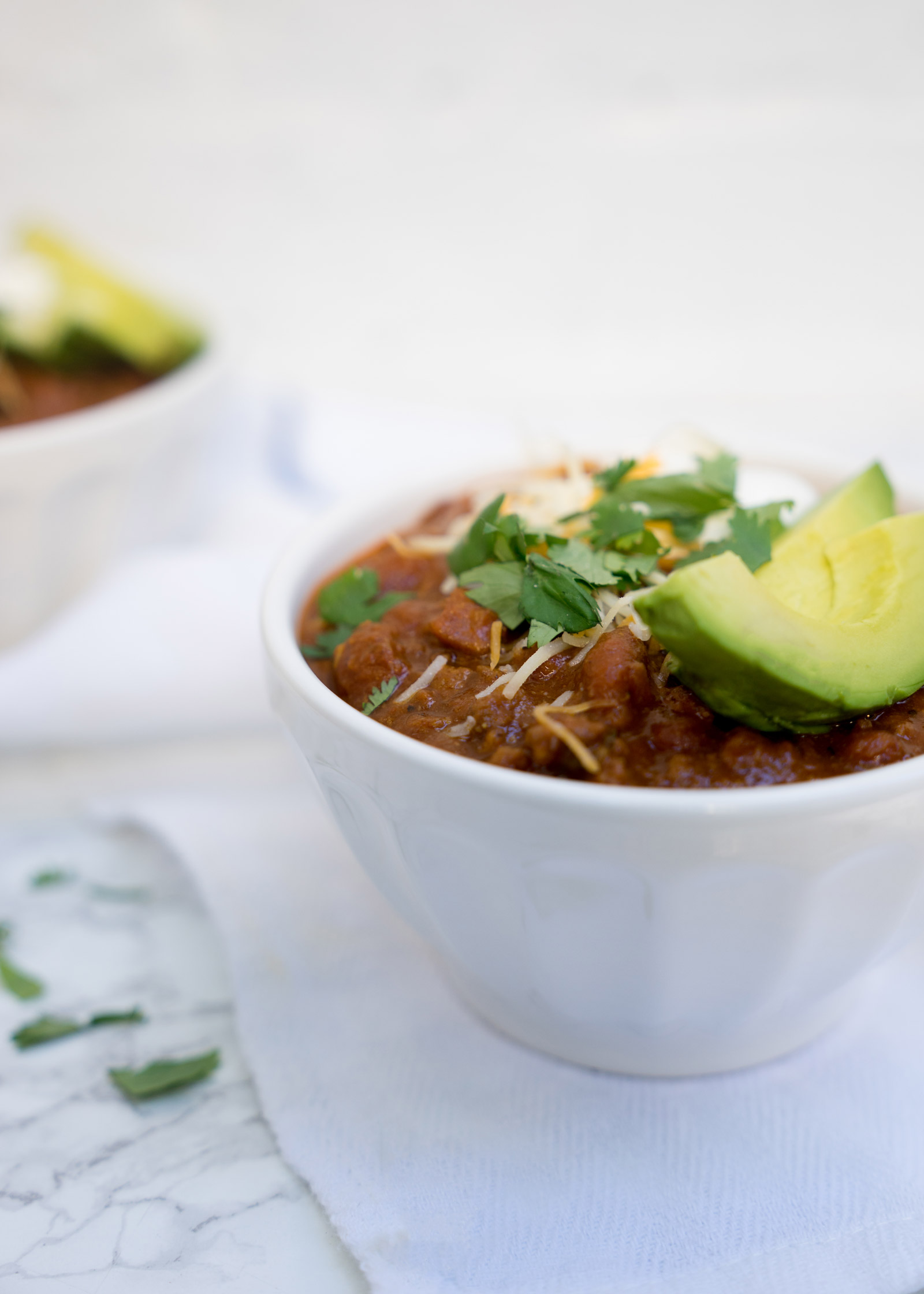 Chilli, Chilli, Chilli 🔥
Chilli is one of those dishes that can turn a freezing cold night into the coziest, most comforting one. This Pumpkin Chilli is no exception, in fact it may be the best chilli I have ever tasted. The Pumpkin and the autumnal spices add such a warmth and depth of flavor to an already delicious bowl of goodness.
Who has been Pumpkin picking already this season? 🎃
We have! We have! Oh my, it has to be one of my favorite days of the year. Getting to be out with my little family, picking apples & pumpkins and decorations ready to make our home as festive as humanly possible. It's just my favorite and you can read all about this year's experience here! (And if you want to delve a little, you can see a tiny little bit of 2016's fun here).
We recommend that you make a nice big batch of this pumpkin chilli on Sunday afternoon, have some with your family whilst enjoying some Sunday football (or watching the NYC Marathon!! Cheer for Allen!) or a cozy film night in front of the fire. Then (depending on the size of your family and the quantity you made), pack it up ready for the most delicious ready made meal or meal addition. It's perfect to add to baked potatoes, or on top of some pasta or rice. This meal can really stretch if you want it too. We love a meal that can transform into other meals and never go to waste. (Find our traditional chilli here)
This is also the first recipe where I have used pre made pumpkin puree and I have to say I am converted! I feel I used to be a purist when it came to anything and everything pumpkin. I now love the ease of opening that cardboard box and pouring it in! However, I know (especially in the UK) it is not easy to get your hands on, so there is no problem in either roasting pumpkin and blending or simmering chunks in a pan with a little stock until soft and then blending too!
Now, what else can I add pumpkin too? Oh I know, EVERYTHING!
Can't wait to see what you all think of this one! Let me know in the comments! 💚
Pumpkin Chilli
2017-10-28 17:27:25
Serves 6
Ingredients
2 slices bacon - roughly diced
2 onions - roughly diced
1 red pepper - roughly diced
2 cups bella mushrooms - quartered
1 zucchini (courgette) - roughly diced
4 cloves of garlic - crushed
2 lbs. ground beef
800g crushed tomatoes
2 cups Beef stock
450g pumpkin puree (boxed or homemade)
800g red kidney beans (drained & rinsed)
2 tsp of each - paprika & chili powder
1/2 tsp. of each - turmeric & cinnamon
1 tsp. cumin
Salt & pepper
Instructions
Prep all of your vegetables.
Add bacon to the bottom of a dutch oven or heavy pot and cook until just cooked on medium heat (you can add a little oil if you need to, but should be fine!)
Add onions and pepper and cook until your onions are translucent and beginning to soften.
Add mushrooms and zucchini and stir
Add in your crushed garlic and ALL spices and stir to coat all veggies.
Add in your ground beef and turn the heat UP.
Cook beef until it begins to caramelize and starts sticking to the base of the pan, this is when the flavor really comes out.
Now add your stock, crushed tomatoes & pumpkin puree and stir to combine.
Bring the pot to the boil and then allow to simmer for 30 minutes.
Add your kidney beans now and stir. Bring back to the boil and simmer for a further 15 minutes.
Your Chilli should be ready to serve!
Notes
The longer you let chili sit (ie. make it the day before you want it) the better it tastes as the flavors have more time to deepen and meld with one another. You can also allow it to simmer for longer if desired!
IVGreenhouse - Exploring Food http://www.ivgreenhouse.com/
SaveSave
SaveSave
SaveSave
SaveSave
SaveSave
SaveSave
SaveSave
SaveSave