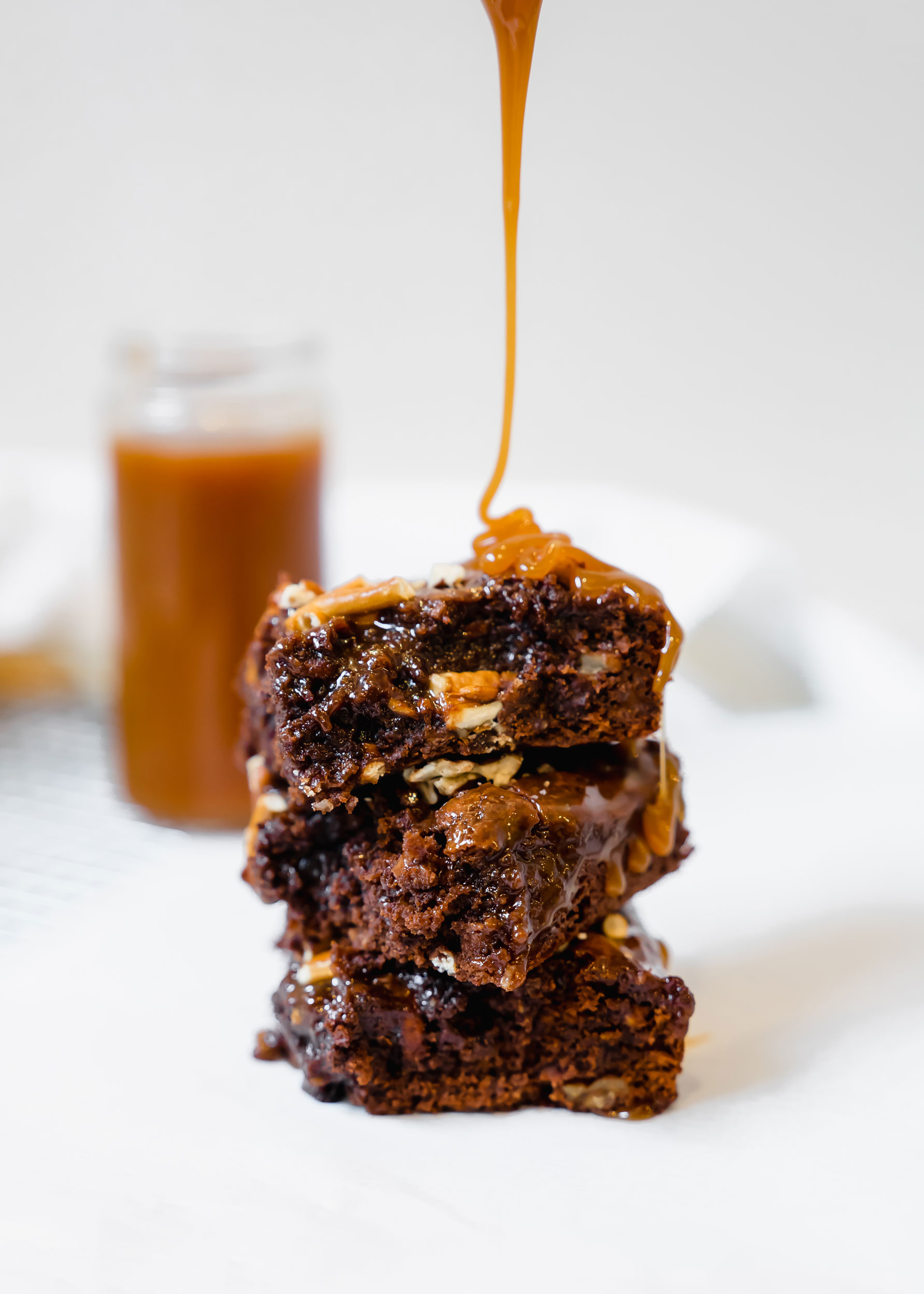 Just stop what you're doing and take a look at these Turtle Brownies! 😍
These Brownies are the best, most luxurious and just down right wonderful brownies ever. Especially perfect for Thanksgiving or your next family party! I plan to make some for our Boxing Day bash at Grammy & Pete's for sure!
Why Turtle, you say? 🐢
Well, do you remember me gushing about these turtle cookies last Christmas? That is where the idea came from for this amped up version! Mixing my two all time favorite desserts/snacks together! What is funny is I am not a dessert person. I love something sweet to end a meal but desserts are usually too much or too sweet or too rich to be honest! And while these brownies are definitely rich, sweet & a little bit much…they also have the salty element to balance them out.
But anyway, back to turtles. Tricia made these turtle cookies, wow it must have been three or four Christmases ago now and I just couldn't help myself, in and out of the tin all day & all night for three solid days. So much so that we had to make more before I left. These things are addictive I tell you!
Also, Pecans (🙌). I love them all year round, but there is something extra special around the festive season when Chocolate covered or candied pecans seem to be on everyones table!
Heavenly! 🍫
These Turtle Brownies are the ooiest & gooiest of all the brownies. Add a little salty texture from the pretzel, a little nutty aspect from the pecans and a little extra something from the salted caramel drizzle and you have a little bite of heaven!
Let us know your thoughts and what family event you might take these to! 💚
Turtle Brownies (Pretzel, Pecan & Salted Caramel)
2017-11-14 17:19:45
Serves 9
For the Brownies
1.25 cups sugar
0.25 cup water
1 oz. dark (70% upwards) chocolate
1/3 cup 100% cacao powder
2 large eggs (lightly beaten)
0.5 cup melted coconut oil
1 tsp. vanilla extract
0.5 tsp. baking powder
Pinch of Salt
0.5 cup dark chocolate chips
0.5 cup crushed pretzels
0.5 cup crushed pecans
For the Caramel Sauce (1 cup)
1 cup sugar (granulated white sugar works well)
6 tbsp. butter
0.5 cup heavy cream
1 tsp. salt
For the Brownies
Preheat the oven to 350 F
Grease an 8x8 dish or line with parchment paper.
Put the water, sugar & chocolate into a saucepan over a low heat and stir until sugar is all dissolved - you can add solid coconut oil to this pan and let it slowly melt in once you have turned off the heat.
Put all other ingredients for the brownies (apart from chocolate chips, pretzels & pecans) into a large mixing bowl, add in your warm sugar mixture from the stove and stir to just combine all of the ingredients.
Add in your chocolate chips, pecans & pretzels now and stir again to just combine.
Put in the oven for 22 minutes.
For the Caramel Sauce
Whilst your brownies are in the oven, put your sugar into the bottom of a heavy base saucepan over a medium heat.
Whisk the sugar until it begins to form clumps, keep whisking and it will eventually dissolve into a liquid consistency - keep going, I promise you're almost there!
When the sugar has become an amber brown color and is giving off a lovely toasty aroma (don't let that become a burnt aroma!)
Add your butter gently to the pan all at once (be careful it will bubble up, but keep whisking!).
When you add the butter the consistency will change dramatically. When it is all mixed in, turn off the heat and add your cream. (It will bubble up again but not quite as large)
Whisk until a smooth consistency is achieved.
Add your salt and whisk one last time.
Allow it to cool slightly while you remove your brownies from the oven!
To finish
Remove Brownies from Oven after 22 minutes at 350 F.
Poke some holes into your brownie slab with a toothpick or something similar and pour over a little of the salted caramel so that it can really soak into the brownie.
Crumble over a few more pecans & pretzels and a little seas salt.
Chop into 9 large brownies or 12 smaller ones.
Drizzle extra caramel if you feel so inclined & enjoy!
IVGreenhouse - Exploring Food http://www.ivgreenhouse.com/
Save
Save
SaveSave
SaveSave
SaveSave
SaveSave
SaveSave